If you're a caregiver or parent of a person with autism, you may have experienced wandering at some point in time. When it happens, it can be terrifying. You don't know where your loved one is off to, when or if they will return, or how to locate them.
Most importantly, you're likely concerned about their well-being. What if someone who isn't aware of their condition finds them? What if something happens to them? Your mind can run wild with all the "what-ifs" and possibilities. Fortunately, an autism alert bracelet can be a simple yet effective solution for those times when your loved one wanders.
What is Wandering?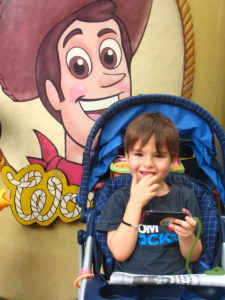 Wandering, sometimes called "elopement," occurs when an individual who is emotionally, cognitively, or mentally impaired takes off alone from a supervised location. There are two different types of elopement or wandering:
Bolting: A rapid, goal-directed movement away from a supervised protected area.
Wandering: Walking without any great speed away from a supervised area with no clear course or destination.
Both of these are often referred to under the general term of "wandering."
Wandering is not specific to people on the autism spectrum. Individuals with a variety of developmental disabilities and cognitive impairments are also prone to this behavior.
It's important to understand that wandering is not caused by poor supervision by caregivers. Rather, it is caused by the condition itself. In fact, in family studies, wandering is four times more likely in children with autism than in their neurotypical siblings. Bottom line: wandering is not your fault, but it's certainly scary when it does happen.
How Wandering Relates to Autism
Both adults and children with autism may, without warning, wander. In fact, according to Autism Speaks, nearly half of children with autism walk or bolt from a safe and supervised place.
Wandering comes with many dangers and risks. People with autism may:
Be unable to ask for help or find their way home.
Respond atypically to first responders or others who try to offer assistance.
Endanger themselves in traffic and other precarious situations.
Have a higher risk of drowning due to the common affinity for water among people with autism.
Experience medical repercussions such as heat stroke, exposure, dehydration, missed medications, etc.
With such serious risks, it's no wonder that caregivers of adults and children with autism find the risk of elopement highly stressful.
Oftentimes, caregivers are not sufficiently educated about wandering to help prepare themselves and the person with autism for these scenarios. Understanding this behavior and properly preparing for it can significantly reduce the stress and danger of wandering.
Example of a Wandering Situation
People with autism may leave a place of safety for reasons only known to them. However, these individuals frequently leave because they want to get away from something or because they want something. Here are some examples of situations in which a person with autism might wander:
They're avoiding something disturbing in their environment such as loud noises, crowds, or other stimuli.
They want to go to a favorite place, like a train station or park.
They're avoiding a situation they don't like, such as the social or academic demands of school.
They want attention from being chased.
Autism Wandering Prevention Tips
Since it cannot always be stopped, keeping a person with autism safe during a wandering episode requires a two-pronged approach. The first step in preventing wandering behavior is to understand the warning patterns and eliminate potential triggers. The second is a mix of different tactics to prepare for the possibility of wandering:
Have the person with autism wear a medical ID bracelet for quick identification.
Build a safety network of people to call in your neighborhood – alert neighbors and introduce them to your loved one.
Consider using a tracking device.
Introduce your loved one to local first responders so they can become familiar with him/her.
Make sure the individual knows how to swim (or enroll them in lessons).
Create an emergency kit that includes current photos and vital statistics of your loved one.
Thoroughly teach the individual the rules of road and traffic safety.
Install cameras outside your home.

Autism Bracelets Can Save the Day
We can't always prevent wandering, and those who wander frequently may not have the necessary communication skills to get help when they walk away or bolt from a safe environment. This is where an autism alert bracelet can help. Sometimes, that's all it takes to bring your loved one back to safety.
An autism bracelet ID is a special bracelet that is worn by a person with autism. It typically features the caduceus symbol, which is an internationally recognized symbol that indicates the presence of a medical condition. In addition to this symbol, the autism bracelet or band features the wearer's name, medical condition(s) and allergies (if any), and emergency contact phone numbers.
The purpose of the autism bracelet is simple: to alert others of the wearer's condition. Additionally, first responders can have a better understanding of the person's baseline functioning, possibly eliminating the need for a very stressful examination.
Tips for Buying an Autism Alert Bracelet
People with autism vary in their individual responses to colors, textures, types of materials, and other sensory stimuli. As a caregiver, you're familiar with the sensory preferences of the person with autism in your life. Take these into consideration as you shop for an autism alert bracelet. Lauren's Hope carries ID bracelets in a variety of colors, textures, and materials.
Here are some other things to consider when purchasing an autism ID bracelet for your loved one:
Make sure the bracelet is waterproof.
Educate the individual on the need to wear the autism alert bracelet at all times.
Custom engraving is very important. Include the wearer's name; autism diagnosis; any other medical conditions, allergies, or treatment considerations; dietary or medication restrictions; and at least one emergency contact number. We highly recommend including multiple cell phone numbers, which improves the chances of being able to reach an emergency contact at all times.
The team at Lauren's Hope is happy to help you with your engraving needs, whether for an autism alert bracelet or any other medical ID.
Autism Wandering Prevention Starts with Love
Every day is autism awareness day. Keeping adults and children with autism safe is a constant worry to parents and caregivers. An autism bracelet can alleviate some of the fear associated with wandering, and it also can minimize the trauma that can affect the wanderer.
A proper autism medical bracelet can help safely and quickly return people with autism to their loved ones. It gives the necessary information to provide an understanding of that person's baseline and why he or she may not be able to respond appropriately or at all to verbal commands.
The Lauren's Hope team has years of experience supporting the autism community. Learn more about getting an autism bracelet, or feel free to contact us for personal assistance.