We want to thank each and every person who sent us their story of how a Lauren's Hope medical ID bracelet touched their life. It means the world to us when we get to share in your experiences. It was practically impossible for us to choose just 1 story among so many, but we managed to narrow it down to a 7 year old girl named Grace.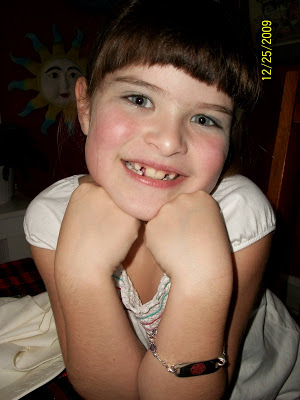 Grace's Story…
On January 9, 2009 our lives changed. Our 6 year old daughter, Grace, was diagnosed with Type 1 Diabetes. We spent five very long days in the hospital, learning to care for her. It was a shock to our family and to her. We left the hospital as different people, now coping with a lifelong chronic illness.
There was so much to absorb in those early days of diagnosis. I had to learn so much about insulin, carbohydrates, carb counting, dosing and syringes. It was enlightening and also scary. I knew no one who had a child this young with Type 1 diabetes. As I spoke with the doctors and nurses at the hospital, they all would mention that Grace should wear a medical alert bracelet of some kind now. Among all the things I now had to do, I added this to my list.
I went online. I would show Grace the bracelet and she would respond "It looks like a boy's bracelet." or "That's not pretty, like a girl would wear." She was still 6 years old. She wanted something pretty that would sparkle. As I searched, I happened onto laurenshope.com and lo and behold, there, right there, on their web page, they had sparkly bracelets. I scanned through to find the pinkest one I could find, 'Carole's Choice and I showed it to Grace. Her face lit up. 'That, Mama, THAT'S a girl's bracelet. That's the one I want." I ordered it right then and there, from the hospital room.
Grace is now the proud owner of three Lauren's Hope bracelets. She wears them every day. She adores how they sparkle and look 'girly.' As her mother, I wanted a bracelet that was a medical ID for her and also was something that she wanted to wear. I found it at Lauren's Hope. It gives me great pleasure to know I have found something that she willingly and proudly wears.
I have found strength from others in this last year with Type 1. Friends and support online that I would never have known have surfaced in our lives. People are good. It will all be OK. We will carry on with this chronic illness. I will raise a child with diabetes, not a diabetic child. The Lauren's Hope bracelet reminds me that while she has Type 1, she never stops being a little girl, who wants sparkly things.
You can read more about Grace and her journey with Diabetes on her blog: http://www.asweetgrace.blogspot.com/
Call us at 1-800-360-8680 if we can assist you, or email us at info@laurenshope.com.