That's a question we are asked each day at Lauren's Hope and a question that you, at some point, may have asked yourself– "Should I wear a medical ID?" or "Who should wear a medical ID?"
Some of the top reasons to wear a medical ID are if you live with or have had:
Diabetes
Epilepsy
Food Allergies
Drug Allergies (sulfa, penicillin, etc.)
Gastric Bypass Surgery
Lymphedema
And More…

There are common misconceptions that by wearing a medical ID you are labeling yourself or bringing unwanted attention to your condition or diagnosis. The truth is that medical Identification can be, and often times is, life saving.
If you have been diagnosed with a medical condition, allergy or if you're on medications, a quick diagnosis of your condition will lead to faster and more effective treatment in an emergency. Your medical ID bracelet or necklace will alert doctors, paramedics and school nurses of your medical history so that time is not wasted.
Do I really need a medical ID?
If you've been diagnosed with a chronic condition, have food or drug allergies, or take medications, then you should wear a medical ID. Any of the following conditions may alter the treatment you might normally receive.
If you are a caregiver, you should also wear a medical ID to alert emergency personnel of your loved one who needs attention. Let your medical identification jewelry speak for you when you can't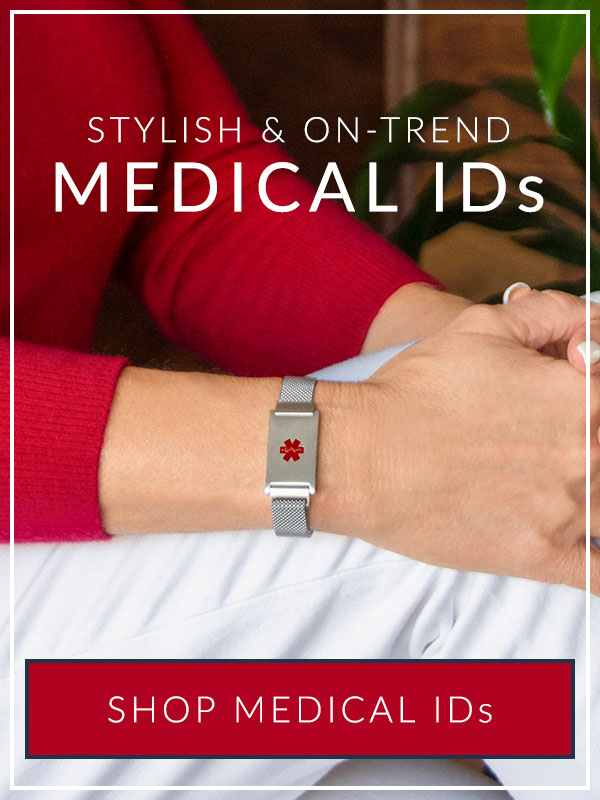 Here is a short list of conditions and people who should wear a medical ID bracelet or medical ID necklace. If we left anything out of this list, please bring that to our attention by commenting on this post.
Diabetes
Heart Patients with Pacemakers, Heart Stents, Atrial Fibrillation, Mitral Valve Prolapse, Arrhythmia
Hypertension
Lympedema Alert
Food Allergies including Peanut Allergy, Tree Nut Allergy, Gluton Intolerace including Celiac Disease
Allergy to Medications such as Penicillin Allergy, Sulfa Allergy, Morphine Allergy, Allergy to Contrast Dye, Bee Sting Allergy, Allergic to Cephalosporins
Asthma
On Blood Thinners, Von Willebrand's, Hemophilia
Gastric Bypass Patient, Lap Band Patient
Alzheimer's, Memory Impaired
Manic Depressive, Schizophrenia
Hearing Impaired, Cochlear Implant, Sight Impaired
Organ Transplant Patient, Organ Donor
Hypothyroidism
Adrenal Insufficiency
Autism
COPD
Epilepsy, Seizure Disorder
On Multiple Medications
No MRI
Any other Chronic Condition
The Lauren's Hope philosophy is to combine the safety of a medical ID with the style of fashionable handmade creations you'll be happy to wear.
Our wide range of medical IDs include trendy, fun medical IDs designed for kids as well as classic, dressy jewelry for the ladies. Men aren't left out in our line of medical IDs with sturdy, durable stainless steel and sterling silver options that are long lasting and rugged.
Shop Custom-Engravable Medical IDs