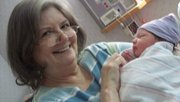 This post is brought to you by a special customer of ours, Linda Britnell. We met Linda earlier this year and have had the pleasure to learn about her amazing journey over the last few months. Her words of encouragement on our Facebook wall and here on the blog are always insightful and heartfelt. Thank you Linda for being such an inspiration!
I am a young 63 year old great-grandmother. At times I feel 23 and other times, 103! I've always had bronchitis. As I got older, I got somewhat better until I began smoking. I should have known better, but I did it anyway. Then, I began having pneumonia. I still smoked. When my Daddy was diagnosed with cancer, I took a good look at myself, laid the cigarettes down and never smoked again. That was 16 years ago.
"…I took a good look at myself, laid the cigarettes down and never smoked again."
In 1980, I decided to go back to school. I went to Atlanta Area Tech, took my clinicals at Grady Memorial Hospital and graduated top 3 of my class. I became a nurse and I loved it. After 22 years as a nurse, I retired due to Fibromyalgia and Polymyalgia Rheumatica. I rocked along dealing with Fibro and PMR until last year. Then, in February, I was sent to the hospital by my doctor and diagnosed with Bilateral Pneumonia, Asthma and Bronchitis. Six days after being released on oxygen, I ran a temperature of 103 degrees and was rushed back to the hospital and admitted. They did an open-lung biopsy and found I had BOOP, which is Bronchitis and Pneumonia. I also have Fibroid Lungs. I went back home on oxygen and high doses of steroids. I gained up to 220 pounds on those steroids. In April of 2010, my left leg and ankle began to swell, so I went back to see my doctor. She admitted me, yet again, where they found not just one blood clot, but five of them in my leg.
"So, once again, I was to undergo a procedure to remove the clots and then put a basket or filter into my aorta to prevent any clots from traveling to my lungs or heart."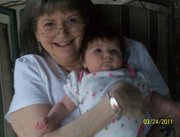 In August of 2010, I began a Thursday by throwing up straight for 3 hours. David, my husband of now 40 years, took me back to the doctor and again admitted me with electrolyte imbalance. It's bad when you've been to the hospital enough that everyone knows your name, but they were a great bunch of people who wanted to see me get better. Fast forward to February of this year and my doctor put me on blood pressure medication because my blood pressure kept rising. When I came off the steroids, I began to lose weight and have now lost 32 pounds.
"I had looked into the other medical ID bands and they were just not my cup of tea."
So, I was with my grand-daughter and her newborn for her 1st month check up and I saw a Lauren's Hope Medical ID Bracelet pamphlet in the doctor's office.  I picked it up and as I looked through it, I could not believe my eyes.  There, in the pamphlet, was an assortment of gorgeous ID bracelets.  When we got home, I went online to see what this company was up to and was pleasantly surprised.  What a world it has opened!
That is my story and I appreciate you taking the time to hear/read my story. You never know who you will touch. That is the beauty of life.
Thank you, Linda Britnell
***
Being diagnosed with a medical condition doesn't mean you need to sacrifice safety with style. Lauren's Hope offers hundreds of medical ID bracelets, necklaces, pendants, sports bands and more. You can view our full collection of medical alert jewelry at www.LaurensHope.com and you may reach us at 1-800-360-8680 Mon-Fri 8:00am – 4:30pm Central Time.