This post is brought to you by our very special customer, Sharon Sebolt. Sharon and her son Leo first shared their story last September. Leo was diagnosed with Hemophilia A, a bleeding disorder caused by a deficiency in or absence of clotting Factor VIII. Blood cannot clot properly to stop bleeding in persons with Hemophilia and other bleeding disorders.
Leo's mom, Sharon, describes what she went through once her child was diagnosed with a medical condition. Sharon and Leo's journey is one that any parent can relate to once their child has been diagnosed with a medical condition. Leo proves that life after diagnosis can be one filled with laughter and joy. He is truly an inspiration!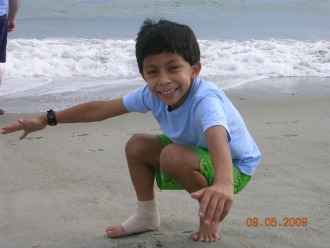 I was living in New York City in 2004 when I decided to adopt a child from Guatemala. Literally nine months later, I traveled to Guatemala City and picked up the best gift I've ever received in my life – young master Leo. From that very first day, Leo's nose would bleed profusely on a daily basis, and occasionally, a joint would swell and cause him insurmountable pain. Six months later, we moved to North Carolina, and a year after the adoption he was finally diagnosed with Hemophilia A in Chapel Hill by its fabulous Pediatric Hemophilia Clinic.
"During the first few years following his diagnosis, I was an insanely over-protective mother."
Normally, Hemophilia is diagnosed in the first days/weeks of life; there was no information about Leo's birth or his first three years of life in Guatemala so I could only imagine some very challenging times for him early on in his little life. During the first few years following his diagnosis, I was an insanely over-protective mother – calling the clinic constantly, rushing to the ER every other month and forever asking Leo each day if he had hit his head. As with all parents of children with Hemophilia, you learn to calm down to an extent because you learn over time what will most likely cause a bleed or maybe even when it will happen.
"The one thing I can never calm down about is whether or not Leo wears his medical ID bracelet."
He learned early on that the car simply doesn't move unless that bracelet is on his wrist. The very first bracelet we received was given to us the day he was diagnosed – the tiniest little bracelet I've ever seen. Soon thereafter, I found Lauren's Hope while searching the Internet and have always and will always purchase our medical ID bracelets from this wonderful organization. I have watched Lauren's Hope grow from an almost boutique-sized company into a booming one and have no doubt that it will continue to blossom utilizing the brains and creativity that are easily recognized in its marketing efforts and jewelry design.
Thank you and Kudos to Lauren's Hope!
Sharon Sebolt
To learn more about Hemophilia A we invite you to visit the following sites:
What obstacles have either you or your child overcome lately? Share your triumphs in the comments section below.