With just days before the official kick off to summer, for many, Memorial Day weekend means an extra day off work and fun in the sun.
Break out your flip flops and head for the mall – but also take a moment to remember the purpose behind this summery celebration. It's because of the men and women in the military who have put their lives on the line that we get to celebrate a weekend like this. Please press pause this weekend and take a moment to remember those who have served, allowing us the opportunity to celebrate and spend time with those we love.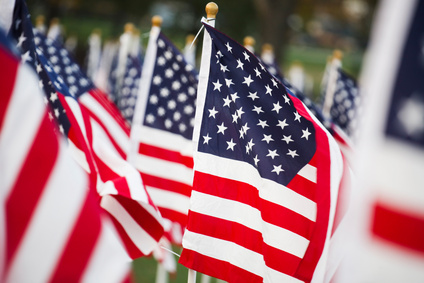 Here are 5 facts about Memorial Day everyone should know.
1. Memorial Day was originally called Decoration Day because the tradition was to decorate Civil War soldiers' graves.
2. It originated shortly after the Civil War and became an official holiday in 1971.
3. Today, a small American flag is placed on each grave in Arlington National Cemetery in an annual ceremony. The president (or vice-president) makes a speech about the contributions of the dead and lays a wreath on the Tomb of the Unknown Soldier. About 5,000 people attend each year.
4. Several southern states still observe Confederate Memorial Day, a special day set aside for honoring the Confederate dead.
5. A national moment of remembrance takes place each Memorial Day at 3:00 p.m. local time.
However you choose to spend your time this Memorial Day please take a moment to honor the lives of fallen heroes who have sacrificed so much for our freedom.