For years, Lauren's Hope has been dedicated to making beautiful medical alert jewelry for people with life-altering medical conditions. We like to think of it as a fun, small way to brighten a challenging and sometimes scary situation. We try to send a positive message through our jewelry, reminding our customers that above all, they must have HOPE. We recently discovered we aren't the only Lauren's Hope putting a positive spin on a seemingly negative situation…
Meet Lauren Hope, a remarkable young lady with a message to share.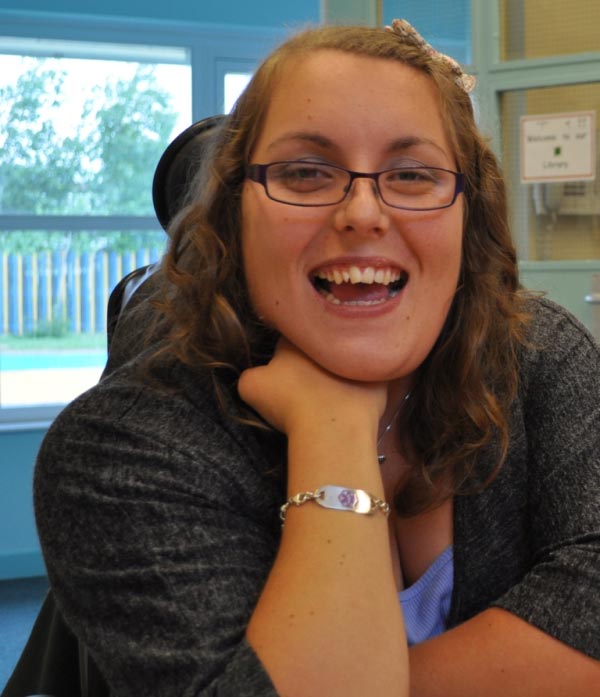 Lauren is a new customer to Lauren's Hope who recently came across us on the internet all the way from the United Kingdom!
"Our attention was drawn to your website as obviously Lauren's name is indeed Lauren Hope!" her friend, Kirstin said. "We laughed for hours about it, but on a serious note we found what we were looking for, and that was a fashionable medical ID which would serve such an important purpose."
Lauren began shopping for a medical ID bracelet because of a serious disorder she had lived with her entire life: cerebral palsy.
"Lauren has cerebral palsy as the result of brain damage at birth caused by a lack of oxygen. This has resulted mainly in a physical disability. She is a wheelchair user and is totally reliant on other people for all physical activities," Kirstin explained.
Cerebral palsy is a broad term that refers to a variety of movement or posture disorders. It deals with the brain's ability to adequately control the body, according to 4MyChild, an educational organization committed to providing families with information about cerebral palsy. More than half a million Americans have some form of this disorder, and an additional 4,500 infants and children are diagnosed each year.
There is no cure for cerebral palsy, but the effects it has on the body can be treated and managed with therapy, if the signs and symptoms are recognized early. Since this disorder affects posture and movement, many people, like Lauren, use wheelchairs to improve mobility.
Despite her condition and the obstacles she has faced, Lauren is determined to prove that she can lead a normal, productive and meaningful life.
She attended mainstream schooling, college, and graduated from University. She now works in a school library. Since graduating from college, she has become more independent and likes to spend time going out with her friends.
"[With] her increasing independence and now that she works part time, we felt now was the right time and it was important for her to start wearing [a medical ID] for peace of mind," Kirstin told us. "We felt it was important that she wore something which, should she be unable to speak for any reason or was involved in an accident, would alert the medical professionals to her disability and her allergy to penicillin, as obviously that can affect any treatment she may receive."
Luckily for us, Lauren chose to order one of our bracelets and was willing to share her incredible story of courage, perseverance, and hope.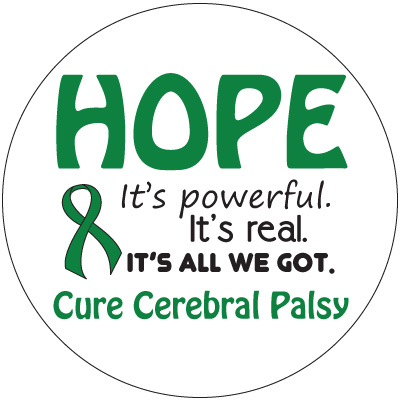 To anyone recently diagnosed with cerebral palsy or to any parents who have been dropped a bombshell, Lauren would like to say this: "Never give up hope.
"Believe in yourself and in others and you will achieve something with your life. Set small, realistic targets and be proud of who you are. Fight for everything, be positive and prove all nonbelievers wrong. Most importantly have fun, take every opportunity and do your best. Take support from family and friends and never be negative. Laugh, have fun and be proud to be you. Teach and help others to understand your disability. It worked for me! The doctors said I would be nothing. I am a 24 year old young lady with 10 GCSE's, 2 A Levels and a degree. I work part-time, have amazing friends, family and a boyfriend. I live every day to the max and am proud to be me!"
For more information on cerebral palsy and related disorders, visit www.cerebralpalsy.org.
Lauren's message is one that we must all take to heart. Holding on to HOPE, staying positive and moving forward with your life is advice that will never let you down.
Has HOPE touched your life lately? We would love to hear your message of HOPE in the comments below.