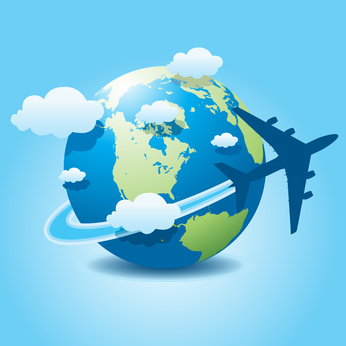 Summer is starting to wind down and the furthest you've gotten from home is the doctor's office. Give yourself a break with a little much-needed time away. Don't let your epilepsy interfere with your travel plans! People with epilepsy may need to do a little extra planning before hitting the highway, but it's worth making the trip. Here are just follow a few simple tips from the Epilepsy Foundation to keep yourself safe on the road, in the air, and wherever your travels take you!
If you have frequent seizures or experience loss of consciousness, confusion, or changes in behavior during or after a seizure, you should probably have a companion with you. Your companion should know what to do in case of a seizure and should be able to explain to others around you what is happening, especially if you are flying. Added bonus: you'll make tons of memories together, and your trip could be a lot more fun if you have someone to share it with.
Consider your type and frequency of seizures when making travel arrangements. Most people with epilepsy should be able to travel safely by air, but it might be helpful for them to carry a doctor's letter. The letter should state that the person can fly safely and give the flight crew a few guidelines in case of a seizure during the trip.
Carry at least a day's supply with you at all times. If you are flying, pack two sets of medication – one in the bags you check and one in your carry-on. That way, if your luggage gets lost, you'll have backup. Store and carry medications in properly labeled bottles to avoid any unnecessary issues with airport security. Pay attention to time zone changes, and carefully plan so that you don't miss a dose. Talk to your doctor to plan out a medication schedule and to decide how much to pack.
A vagus nerve stimulation (VNS) device is a small battery or generator that is implanted in the chest wall and sends pulses of electrical energy to the brain to prevent seizures. As airport security has recently become stricter, they are likely to question this piece of equipment. To avoid any unnecessary delays, carry your VNS registration card with you and have your doctor include an explanation of the device in their letter.
If you have epilepsy, you should be wearing a medical ID bracelet at all times – and it is especially important when you are traveling. Medical personnel should immediately be alerted to your condition so they can treat you as quickly and effectively as possible in the event of an emergency. When you are away from your doctor, family, and friends who understand your condition, a medical ID is essential. We recommend engraving your epilepsy alert bracelet like this: 
FIRST AND LAST NAME
EPILEPSY OR MEDICAL CONDITION
MEDICATIONS AND ALLERGIES
IN CASE OF EMERGENCY CONTACT NUMBER
DR. PHONE NUMBER
Epilepsy doesn't define you, and it shouldn't define your summer vacation plans, either. However, you don't want to take any chances when traveling – so be sure to follow these tips and talk to your doctor before you plan a big trip. Don't leave home without your medical ID bracelet. Visit www.LaurensHope.com and choose a medical ID bracelet or necklace that can help keep you safe in style!