Maybe you wear your Lauren's Hope medical ID bracelet every day, everywhere you go. You may live with a serious medical condition and understand the importance of always wearing your medical ID bracelet, but you may have never thought about your perfectly healthy parents, children, or significant other as needing emergency identification in the event of a crisis. What's the difference between ICE IDs vs Medical IDs?
ICE IDs vs Medical IDs – What's the Difference?
Simply put, a medical ID bracelet is necessary for anyone with a serious medical condition.
Medical jewelry is custom engraved with your vital health info and includes a medical caduceus symbol, which immediately alerts medical personnel to the fact that you have some sort of condition that they need to be aware of.
You should be wearing a medical alert bracelet if you live with: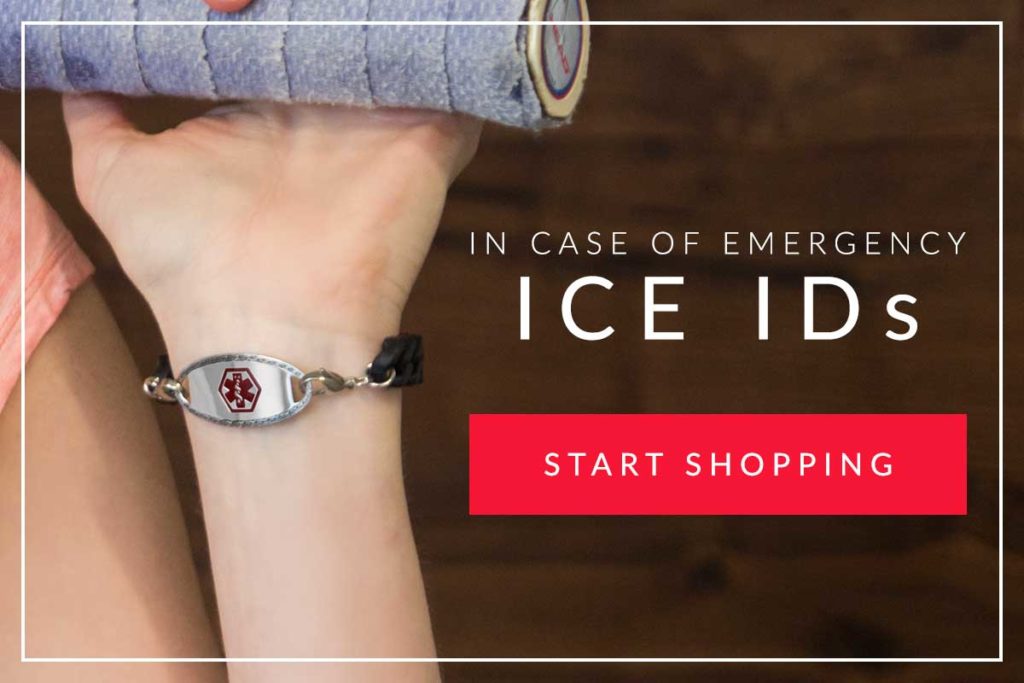 An ICE bracelet, on the other hand, is an identification bracelet that can be worn by anyone – whether or not they have a serious medical condition.
ICE stands for "in case of emergency," and emergencies can happen to anyone, anytime, regardless of their health history! ICE bracelets list any information you would like readily available in the event of an emergency. Your name, emergency contact information, and any special instructions you might want to convey should be engraved.
ICE bracelets are NOT just for people with medical conditions.
ICE IDs can be extremely helpful (and potentially life-saving) in the event of an emergency, such as:
Separation of parents and children – especially in a crowd
In the event of a serious disaster, like a tornado or flood
Car accidents
Overheating/dehydration/trouble breathing
Heart attack/chest pain/stroke/seizure
Sudden confusion/memory loss/disorientation
Choking
Burns
Near drowning
Head trauma
Unexpected reaction to a medication or medication overdose
Injuries/unconsciousness (could result from sports, exercise, natural disaster, fainting, etc.)
What should I engrave on my ICE ID?
We recommend:
First and Last Name
Address or Emergency Contact Number
Emergency Contact Number or Doctor's Phone Number
Examples:
ASHLEY MARIE SIMMONS
1234 SOUTH MAIN STREET
KANSAS CITY, MO
ICE 555-768-8375
ICE 555-768-8574
DR 555-938-3957
JOSEPH HERNANDEZ
5678 SOUTH STREET
INDIANAPOLIS, IN
PCN, SULFA ALGY
ICE 555-476-6878
ICE 555-583-8576