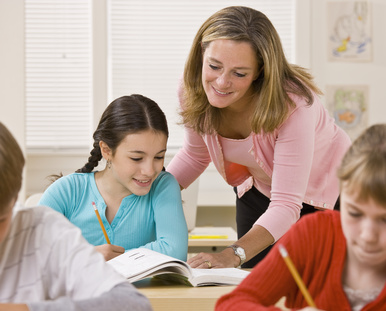 Teachers: givers of knowledge, confidence, and advice. Teachers play a huge role in your kids' lives. They are the role models at school, the all-knowing question answerers, the keepers of the hall passes. Your kids depend on them to tell them what they need to know, and you as parents depend on them to keep your kids safe at school.
The beginning of a new school year often means new teachers…and for you, that means another explanation of your child's diabetes and how it should be handled in the classroom. Start the school year off right by giving them a few basic pointers, and help them remain the well-informed mentors your kids have come to trust.
5 Things Every Teacher Should Know About Diabetes:
Most kids with diabetes don't want to be different, and they don't want to be treated differently.
It is very unlikely that they will pretend to feel high or low to get out of the classroom. Take them seriously, and never deny the child's request for water or a blood sugar test.
3Kids who inject insulin may need a little extra time before lunch to accommodate their injection.
Kids with diabetes must be able to check their blood sugar levels. If the child has low blood sugar, he or she must have access to glucose. If he or she has high blood sugar, the child must be given access to water and the restroom.
Children with diabetes must have access to emergency glucose in case of hypoglycemia. If a doctor prescribes snacks for a child with diabetes, they must be allowed to eat. Coaches and gym teachers may need to keep glucose tablets on hand in case of hypoglycemia.
The best thing parents can do is take preventative measures to keep their children safe at school. Educating your child's teachers, classmates, and school faculty members on your child's condition can help save his or her life. It is also imperative that he or she wears a medical ID bracelet. Make sure your child's medical ID bracelet is up-to-date with their diabetes information, medications, and emergency contact numbers. Additionally, we recommend medical backpack tags to keep your kids safe at school. Check out our entire line of back-to-school diabetes alert products…if your child has diabetes, this is the most important school supply you can give them.