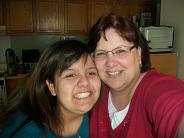 This post is brought to you by a very special customer of ours, MaryJo Prado. MaryJo and her daughter, Francessca, have P.O.T.S. and have written this informative post full of details on this condition and resources anyone with P.O.T.S. may find useful.
I was diagnosed in August of 1980 before P.O.T.S. even had a name. In fact, they told me it was "Autonomic Neuropathy" for the longest time. It wasn't until the mid 90's when doctors began using the word P.O.T.S. I spent 3 months in the hospital waiting for doctors to find out what was wrong with me.
My daughter, Francessca, was 12 when she began exhibiting symptoms of P.O.T.S. I began noticing things Francessca would say or do. She was always hot and feeling "woozy". The symptoms she was complaining about just seemed all too familiar. I kept thinking she was showing symptoms of P.O.T.S., but at that time I did not know it was hereditary. Therefore, when I saw some of her actions I thought, "No it just can't be." It wasn't until New Years Eve when I witnessed her fainting. She was in a hot tub with her cousins and she said, "Mom, I feel funny." It took three of us to get her limp body out of the tub. I didn't want to believe it, but I knew in this moment she had POTS. I would have bet my life on it at that point. In August of 2007 at age 13, she was diagnosed with Orthostatic Intolerance, which was later changed to P.O.T.S. and hypermobility syndrome, possibly EDS.
What is P.O.T.S.?
Postural Orthostatic Tachycardia Syndrome or more commonly known, as P.O.T.S., is a rare disorder that is characterized by the body's inability to make the necessary adjustments to counteract gravity when standing up. The hallmark symptom of P.O.T.S. is an increase in heart rate from the supine to upright position of more than 30 beats per minute or to a heart rate greater than 120 beats per minute within 10 minutes of head-up tilt. This tachycardia response is often accompanied by a profound decrease in blood pressure and a wide variety of symptoms associated with P.O.T.S.
P.O.T.S. is a complicated and rare disease that affects the autonomic nervous system. This is the one system in our body that works "automatically" (i.e…Our heart, blinking, tears, bowels, motility, mobility of the bowels, swallowing etc…) This disease tends to affect people between the ages of 15 and 50. Women are five times more likely than men to develop this disease.
P.O.T.S. can be hereditary too. The onset of P.O.T.S. can be sudden or gradual. Activities such as housework, bathing, and even meals can exacerbate the symptoms. The symptoms of P.O.T.S. can be life altering and debilitating at times. The severity of the symptoms can vary from day to day.
P.O.T.S. symptoms include:
dizziness (but not vertigo, which is also called dizziness)
exercise intolerance
extreme fatigue
syncope (fainting)
chronic or acute hypoperfusion of tissues and organs in the upper parts of the body are thought to cause the following symptoms:
cold extremities
• chest pain and discomfort
• disorientation
• dyspnea
• headache
• muscle weakness
• tremulousness
• visual disturbances
• autonomic dysfunction (this thought to cause additional gastrointestinal symptoms)
• abdominal pain or discomfort
• bloating
• constipation
• diarrhea
• nausea
• vomiting
• cerebral hypoperfusion can cause cognitive and emotive difficulties
• brain fog
• burnout
• decreased mental stamina
• depression
• difficulty finding the right word
• impaired concentration
• sleep disorders
• lightheadedness (fainting)
• feelings of fear
• flushing
• overheating
• nervousness
• overstimulation
How has P.O.T.S. changed or affected your life?
P.O.T.S. has changed absolutely everything about our lives. For me, it changed the way I live, the way I eat, the way I have to plan before going places, the way I think and feel. Some of changes were for the better but many things were not.
When I was first diagnosed with P.O.T.S. I was very bitter. I hated life, hated P.O.T.S., and hated God. The bitterness consumed me. I was like that for almost 10 years and finally, I decided I was not going to let P.O.T.S. rule me. I was going to rule it! Therefore, I began implementing changes. Many of us walk through life with blinders on. We don't stop to enjoy even the simplest things. Before P.O.T.S. my life was busy and I worked long hours in advertising. I didn't have time to enjoy life, as I was always so busy and pre-occupied. Being diagnosed with P.O.T.S. made me change the way I look at life. After that bitter period, I decided I wasn't going to lie around and feel sorry for myself any more. I had a life to live and I was going to "stop to smell the roses" as they say.
P.O.T.S. has changed many things, even the simplest of things like getting out of bed in the morning. We cannot just jump up and get out of bed. Those of us who have P.O.T.S. know what I am talking about. We need to flex our feet, sit up slowly and sit there on the side of the bed for a few minutes before finally standing to walk. If we want to go grocery shopping we need to make sure, we are having a good day. If it's a good day, we may be able to walk around the store and get things. If it's a mediocre day than we may have to use a scooter. Moreover, if it's a bad day we need to just stay home.
However, we try very hard to not let P.O.T.S. rule our lives. I have limitations, but after 30 plus years with P.O.T.S. I have learned to adjust and make those limitations part of my life. Ask my daughter, I hate the word "can't." I refuse to allow P.O.T.S. to rule my life.
As for my daughter, she is still having a rough time. She is in that bitter phase. It takes each person their own good time to accept what is happening to their body. Each person goes through a grieving period before they can accept what is happening to them. Sometimes I am too hard on her but it's because I don't want her to waste her life as I did. The bitterness is worthless and it only makes you sicker and sicker. It is like a weight that holds you down. She has to get through this rough patch and believe that her life is NOT over. Right now, for her, it's hard to see past this obstacle. In time, it will come for her and for everyone diagnosed with a life altering illness. It just takes time.
What have you learned from your experience with this condition?
I have learned to accept what God has dealt me. I may not understand why, but he has a plan for me. Maybe it is to help others. Maybe it is to slow down. Maybe it was to change my life. Maybe it is to write and help others. Only God knows those answers, but this disease has made me more understanding, more compassionate and given me strength, perseverance and patience.
What advice do you have for others with this condition (or any chronic illness)?
My advice would be: If you feel in your heart that something is not right, then never give up. Doctors are not God; they are people just like you and me. They are putting the pieces of our health together just as if we were a puzzle. You know your body better than anyone, so follow your instincts and intuition.
The other thing I would say is, Never let your illness rule you. You must control it. Don't stop living just because you are sick. Lastly, I would say stay off the Facebook message boards as too many dwell on their disease and let it control them.
How did you find Lauren's Hope?
Actually, my daughter found Lauren's Hope. I bought her a medical bracelet and she hated it. She thought it was ugly and that it looked like something an old person would wear. Therefore, she began a search for decorative medical bracelets and Lauren's Hope came up. She clicked on the site and was amazed by the designs and colors, some of the bracelets even glowed in the dark, which she thought was so cool. I told her to pick which one she wanted and we would get it when I was paid. She chose a really pretty one called, "sugar and spice". At first, I balked at the price, but she was happy and I knew it was something that she was actually going to wear. Francessca already has at least 2-3 more bracelets picked out for me to purchase so she can "change them up" as she told me. lol
What made you decide to wear a medical ID bracelet?
Well, with P.O.T.S. you never know when you will pass out. Therefore, that was the number one reason for choosing to wear a medical ID. The second reason is we are both severely allergic to Sulfa, amongst other things, and we both have other health issues besides P.O.T.S.
Has your medical ID ever helped you in an emergency?
No, having a medical ID has not helped either of us in an emergency…yet. However, it gives both of us peace of mind to know it's on our wrist and it is there should we need help. As a Mom, I am glad to have been able to purchase a bracelet from Lauren's Hope for Francessca. I like the fact that you can put more information on her medical ID tag than the average medical ID bracelet. For instance, we have Francessca's first and last name, her illness, allergy, and contact information.
Where can I go to learn more about your experience and P.O.T.S.?
I have a blog called, P.O.T.S. and Plans. It is stocked full of information for those who have P.O.T.S. or a chronic life altering illness. I have diabetes and other health issues so I add tips for these as well. My daughter also has a blog entitled Positively P.O.T.S.ie (it's for teens basically and tells how she deals with P.O.T.S.).
If you have any questions or want to know more about P.O.T.S. you can write me at P.O.T.S.ie_Mom@comcast.net or visit my blog at http://p-o-t-s-andplans.blogspot.com/. I have written a children's book called "Mommy What Is P.O.T.S." and put our story into print as well; it's called, "P.O.T.S. and Plans, Learning to live with Postural Orthostatic Tachycardia Syndrome". Both will be out in early spring.