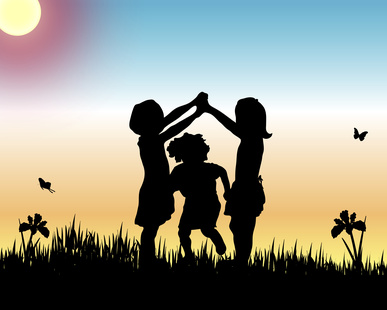 Our little ones are the most precious resource we have. Child health and fitness has become a serious topic in recent years, and for good reason. Poor food choices and lack of physical activity have compounded this problem to make many of the illnesses that plague obese adults such as diabetes, arthritis, and heart disease. But here's the good news: A child's health is something parents and caregivers of children can actively influence on a daily basis. Choosing fruits and vegetables instead of processed foods promotes healthy food choices and establishes a model for kids to follow. Switch time in front of the television for more physical activity to burns calories and increase stamina. With a few modifications like these any family can incorporate into their schedule, child health and fitness will be on the rise one family at a time!
Proper nutrition is crucial to maintaining a healthy lifestyle.
According to the Center for Disease Control and Prevention, approximately one third of adults in the U.S. are obese; and these numbers aren't falling. Children's obesity rates have tripled in the last thirty years too. Children are following the example set by the adults in their homes. Poor food choices made by the parent or caregiver normalizes eating nutrient poor food for children. Without exposure to fresh, healthy options, a child will continue to go back to choosing foods that are normally eaten in the home. That being said, even the most health conscious parent can have a frustrating time encouraging a picky eater to try something new. The best strategy to employ is patience and variety. Encourage the child to try a variety of things until they find something they like. Let them know it is ok not to like everything, but they should genuinely try before they make that decision. This will encourage children to explore unfamiliar food options, and not be afraid to express dislike for something. Healthy eating leads to healthy body weight.
A healthy body is less likely to suffer short-term illness or long term disease.
Child health and fitness isn't as simple to incorporate into life as it used to be. More technology, organized activities, and longer work days seem to crowd out time for physical activity. Kids divert themselves in more sedentary ways than their parents and grandparents ever did, so physical activity must be intentionally included in the day's routine. Carve out time to take a walk as a family after dinner or consider getting an exercise DVD from the library aimed at kids which the whole family can do together. If these options don't work, try incorporating stretching before bed or doing basic calisthenics each morning (push ups, sit ups, jumping jacks, etc.). The type of exercise can be modified to your child's interest; just make sure you are doing at least one hour of that activity everyday. The benefits of exercise go way beyond the body. Children who exercise regularly are more focused in school, sleep better at night, and generally have improved attitudes – in addition to looking and feeling great. The power to lead a fit and healthy lifestyle belongs to each individual. Every parent can make a positive impact for their own child's health and fitness.
Now it's your turn! How do you encourage healthy eating and an active lifestyle with your family?