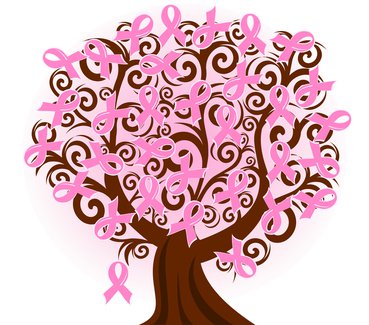 Our October Story of Hope is brought to you by a special customer of ours, Veronica. Veronica courageously battled breast cancer in 2008 and wanted to share her story with you.
Veronica, please tell us a bit about yourself. I am 51 years old and a stay at home Mom. I live in a small town (pop. 12,000) in Delaware. I am married to the best husband in the world. I have four children. Three daughters that are 25, 25 and 22. I have a 17 year old son who is a senior in high school. I have three Pugs (all girls-2 fawns, 1 black) that I adore! I am the President of our Homeowners Association and a mentor with our local Breast Cancer Coalition.
Prior to your diagnosis did you have a family history of breast cancer?
Zero. No family members have been touched by this disease. I knew a few friends of friends that may have had an aunt or mom who had the disease. It was never a big concern for me.
How and when were you diagnosed with breast cancer?

I was getting my annual mammogram Nov '08 (a little later then usual-due to a move). The radiologist felt some calcification's that showed up on the films that needed to be looked at. My surgeon said I could 'wait & see' for six months (he felt there was a 90% chance it was nothing) or I could get it biopsied. I decided on the biopsy. Stereo core biopsy Dec.8, '08, Lumpectomy Jan. 9, '09. Radiation therapy 2/13/09-4/02/09. Present—–Cancer FREEEEEE!
What lessons have you learned throughout your battle with breast cancer?
How blessed I am to have a loving family. How much I enjoying living! How much more I want to do on this earth.
What is your greatest achievement?
Sharing my journey with others so they can see that it is not all gloom & doom when you hear the 'C' word & being the best role model for all my children. Never ever giving up!
What advice do you have for others who have either been diagnosed or have a family member or friend recently diagnosed with breast cancer?
Be positive. It is key. I know you hear that all the time. I did too & was like …really…BUT IT'S TRUE. Sure you can have an off day. Everyone does. Even the famous people with BC who look like it was a breeze for them! Let yourself have the off day & start over tomorrow with a smile on your face. I hated going to my radiation therapy because it was a 40 minute drive & it was 5 days a week for 6.5 weeks. First I thought, what a pain in the neck. Then I decided to look at it differently. I said, I am going to one of the best Cancer Treatment centers in the US. I love my radiation oncologist team, they are the best of the best. So I told myself to shut up-others don't have all these opportunities! Then I got out of the bed each day, for those 6.5 weeks & got myself all cute (I didn't want to be the 'pathetic' cancer patient) for my visit to my team. They always received me with a smile. I thought the least I could do for people that deal with Cancer patients all day was to return the favor! So I smiled big & wide everyday, knowing I was going to get rid of this disease! The medical field has come so far in the research & development of treatments that each day is filled with more hope for people with all different cancer types. Don't despair!!
What resources can people find online?
I first turned to the Susan G. Komen web-site & the American Cancer Society web-sites. They were super helpful & informative.
What words of encouragement do you have for others going through a similar situation?
Four words I lived by through out my diagnosis, then treatment & now as a Cancer Thriver! Faith, Hope Courage & Strength. We all have it in us just waiting to come out! Sometimes it needs a little tap, tap.
If you have breast cancer, or have battled it in the past, it is important to wear a medical ID bracelet. Breast cancer medical ID's may be engraved with the following important medical information. Remember to check with your doctor or nurse to see what they recommend you have engraved on your medical ID tag.
First and Last Name
Breast Cancer Survivor
Lymphedema Alert
List Allergies or Medications
Emergency Contact Number