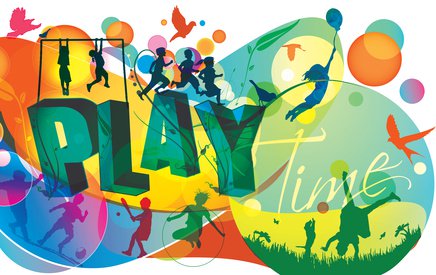 Somehow, it's already May, and that means summer is really right around the corner. For parents, that means school is almost over, and it's time to gear up for camp and kid-friendly travel! When your child has severe allergies, diabetes, epilepsy, special needs, or other chronic medical conditions, however, planning for summer fun takes a little extra work than average. So, today, we'll take a look at our Top Five Tips for A Safe Summer.
"My daughter [has had Type 1 Diabetes] since age three. Now six [she] loves her bracelet!! Keeps her safe at ball, swimming lessons, etc. I know if something happened to me when she was with me, emergency personnel would know she is diabetic! Thanks!!" – Lauren's Hope Facebook fan, Allison Rice.
5. Equip
Summer means more time spent outside and away from the confines of a home or classroom where First Aid kits, EpiPens®, insulin, and other medical equipment can be safely stored nearly within arm's reach. Create properly labeled kits for all the places your child will spend the most time this summer. Include all necessary medications and add written instructions in case your child experiences an emergency while with someone who is unfamiliar with his or her needs.
4. Advocate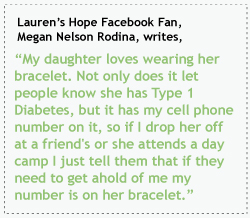 If your child is going to attend a day or overnight camp, speak with the Camp Director, Nurse, Lifeguard, bus driver, and your child's specific counselor. Be open about your child's diagnosis(es) and needs, and work with the staff to ensure that everyone knows what to do in the event of a medical emergency. Ask the tough questions: Is the whole staff CPR and First Aid trained? Will you ensure that the entire staff knows what to do in the event that my child has a major medical problem? Do you have posters and information in the staff areas reminding them how to handle medical emergencies such as seizures, diabetic shock, allergic reactions, and the like?
3. Empower
Empower your child to be his or her own best advocate. If your child is able to perform his own blood sugar checks, encourage him to do so. If your child has food allergies, encourage her to speak out for herself when asking about ingredients at a restaurant so she'll become accustomed to asking the right questions and talking openly about her allergies. Kids who feel embarrassed, shy, ashamed, or confused about their medical conditions are less likely to speak up when something is wrong, especially in a new or unfamiliar environment. By empowering your child to advocate for herself, you're letting her know that she can and should speak up.
2. Label
Camp, whether day camp or overnight camp, means GEAR: lunchboxes, clothes, shoes, cups, containers, thermoses, water bottles, sunblock, and on and on. Protect children with food allergies from accidentally ingesting dangerous foods by using the same color label or Sharpie on all of your child's food and drink containers. Consider purchasing washable vinyl labels with your child's name and food allergies clearly listed, and put these on all food containers and plastic surfaces for even better protection. Does your child carry a backpack? Consider a Bag Tag with your child's name and most pertinent medical information on it.
1. Wear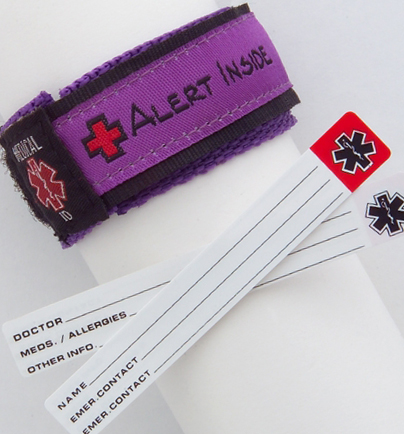 If your child has any medical issues, known allergies, cognitive challenges, or other chronic issues, s/he should wear a Medical ID at all times. If your child's Medical ID isn't appropriate for swimming due to the material or style (e.g.: Chlorine is corrosive to finishes on silver, gold, and leather; Long dog tag necklaces can get in the way during swim. These should be removed prior to swimming and then put right back on.), you may want to supplement your usual Medical ID with some particularly camp-friendly gear, such as Adjustable Medical Alert ID Bands, silicone Allergy Alert Bands, or temporary tattoos.  Lauren's Hope Facebook fan, Michelle Williams, writes, "We use the seizure tattoos when [my daughter is] at camp or during swimming lessons. Easiest way to keep her safe and keep my peace of mind!"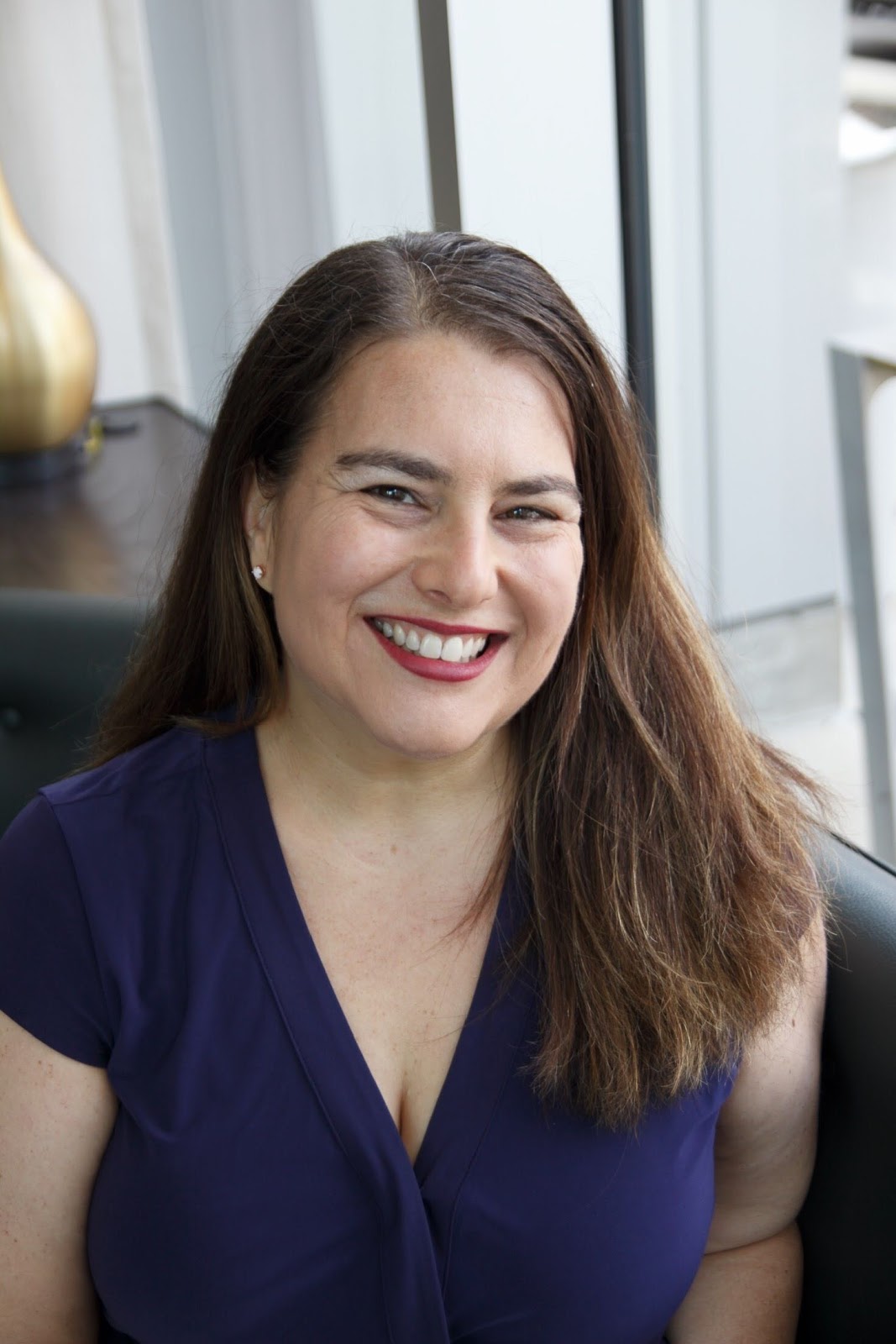 As Director of Sales, Marketing, and Business Development for Lauren's Hope, Tara Cohen is often the voice of Lauren's Hope. Whether she's writing the Lauren's Hope blog, crafting a marketing email, or describing a new product, Cohen brings a little personal touch to everything she creates.
Part of the LH team since 2012, Cohen has spent years learning about various medical conditions and what engravings are most helpful for each.
In addition to her years of experience at Lauren's Hope and all of the research she puts into writing for LH, Cohen draws on her own life experiences to bring a human touch to the LH blog.