Today I'm catching up with the very first Lauren's Hope employee. That's right, Grace was just a young girl when she first began working for Lauren's Hope and has done just about everything from stuffing envelopes to chatting with customers on Twitter to being part of our customer service team and helping out customers like you!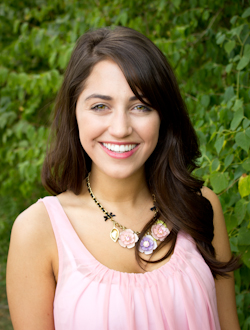 Jenna: How long have you been with Lauren's Hope?
Grace: I've been with Lauren's Hope since day one. I was nine years old when I started stuffing envelopes and helping with grunt work! I've been lucky enough to grow up in this business and learn a lot in different departments.
Jenna: What do you enjoy most about being a customer service representative for LH?
Grace: I love our customers. Seriously, I do. I love hearing their stories and being able to relate or learn from them. I also love being a personal shopper sometimes and helping them find the perfect piece to fit their lifestyle or taste.
Jenna: What do you enjoy most about staying active on Twitter and Facebook?
Grace: Twitter and Facebook have really opened up a new way for us to communicate with our customers. I can ask a question or opinion and have instant feedback from twenty people in five minutes. It's so easy to hear their thoughts on what they like or don't like. It's an awesome tool in aiding in the design process.
Jenna: Is there someone in your life who wears a Lauren's Hope medical ID? If so, tell us a little about him or her.
Grace: My grandpa wears a Lauren's Hope bracelet because he has a pacemaker. I also wear one because I have multiple food allergies and carry an EpiPen. My ID gives me peace of mind that a stranger would know what to do with me if I were to have a reaction. During an allergic reaction everything happens so fast and I wouldn't have time to explain what to do. My tag does all the talking for me. My tag indicates that I carry the EpiPen in my purse, to administer it and call 911.
Jenna: How do you feel when customers call and tell you how their Lauren's Hope medical IDs have helped them in emergencies?
Grace: It's awesome. I think that's the best word to explain it. No one should have to feel different because they need to wear an ID. The fact that they can feel comfortable in their own skin while possibly saving their life is a necessity.
Jenna: What would people be surprised to know about your work?
Grace: I take everything here to heart. If a customer calls for the sole purpose of telling me how pleased and excited she is about her new bracelet she just received in the mail… you have no idea how much it makes my day.
Jenna: What's playing on your iPod right now?
Grace: Want U Back by Cher Lloyd on instant repeat.
Jenna: What's the last book you read?
Grace: Hunger Games
Jenna: Name someone who inspires you and tell us why.
Grace: It sounds so cliché, but the women in my life truly inspire me. My mom and older sister are both very successful and they push me every day to be the best ME I can be.
Jenna: If you could go anywhere for a day, where would it be? Why?
Grace: I would go to Hohenwald, Tennessee with my sister to visit the Elephant Sanctuary. The Elephant Sanctuary rescues and rehabilitates elephants from circuses and zoos from all over. I'd love to see that beautiful sight one day. We love them!
Jenna: What's your favorite inspirational/motivational quote, song, poem, etc.?
Grace: "Be yourself, everyone else is taken." –Oscar Wilde