This week, February 11-17, 2013 is Random Acts of Kindness Week. It's a great reminder to give back, pay forward, and do some good! We wanted to do our own little random act of kindness here at Lauren's Hope. So we thought, who better to receive our random act of kindness than our Super Fan, Kayla Kidwell?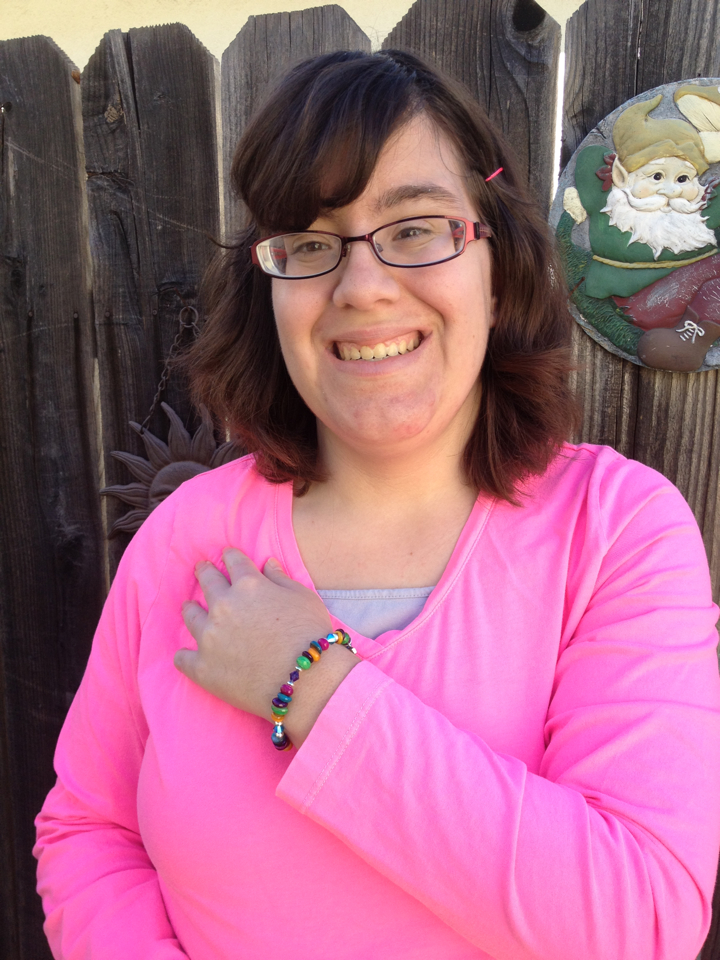 If you follow Lauren's Hope on Facebook, you know that Kayla, a 21-year-old college student in Woodland, is one of our most outspoken Brand Ambassadors, often answering other customers' questions, engaging with our team, and generally just being awesome. Kayla always enters Free Stuff Friday, is quick to respond when we put out an opinion poll on Facebook, and has been one of our most demonstrative fans since buying her first Lauren's Hope medical ID bracelet in July of 2010.
So, in honor of Random Acts of Kindness Week, we decided to surprise Kayla with a Lauren's Hope gift certificate to spend as she saw fit. Then, we caught up with Kayla and asked her to share her thoughts.
Lauren's Hope: Could you share a little bit about yourself for those who don't know you?
Kayla: I live in Woodland with my mom and my dog Rudolph. I attend Woodland Community College, and I'm majoring in Early Childhood Education. I volunteer at the local Yolo County YMCA here in Woodland with preschoolers. In my free time, I like to listen to music, read, watch TV, play with Rudolph, do Special Olympics, and spend time with my friends and family.
LH: Why do you wear medical ID jewelry?
Kayla: The reason I wear a Medical ID is because I have Epilepsy. I feel that it's important for people with my condition to wear a Medical ID because you never know what may happen from day to day, and you never know where you may be when you have a seizure.
LH: Have you ever been in a situation in which you needed your medical ID? Would you please tell us a bit about that?
Kayla: Thankfully, not yet, but it's there if I ever do need it.
LH: What would people be surprised to know about you?
Kayla: That I was born 4 months premature, and I weighed 1lb, 10 ½ oz. and I was 12 ½ inches long at birth. After spending 4 ½ months in the NICU (Neonatal Intensive Care Unit) and many surgeries and setbacks, I got to come home.
LH: What did you think when Jenna (Marketing Director for Lauren's Hope) contacted you to offer a gift certificate? What did you buy with it?
Kayla: I was pleasantly surprised!! I purchased Spree Time and Dancing Zebra Medical ID Bracelets.
LH: What are your favorite pieces from Lauren's Hope?
Kayla: My favorite bracelet that I own is Plum Dandy, because purple is my favorite color. I got it from Santa this past Christmas.
LH: How many Lauren's Hope medical ID bracelets, necklaces, and other products do you own?
Kayla: Nine.
LH: What do you like best about the Lauren's Hope products?
Kayla: That when you look at the bracelet, you don't think it's a Medical ID. Most people just think it's a beautiful bracelet, and then when I turn my wrist over and show them it's a Medical ID, they're shocked and want to know where I got it.
LH: Last question! What do you want people to know about Lauren's Hope?
Kayla: What I want people to know about Lauren's Hope is that they make beautiful medical ID bracelets, and if you or your loved ones have a medical condition and don't wear any medical identification, you should definitely check out Lauren's Hope.
Stay tuned in to the Lauren's Hope Facebook page this week! There are more random acts of kindness to come! What do you have planned for this week? Share your random acts of kindness with us on Facebook. Let's spread some joy!