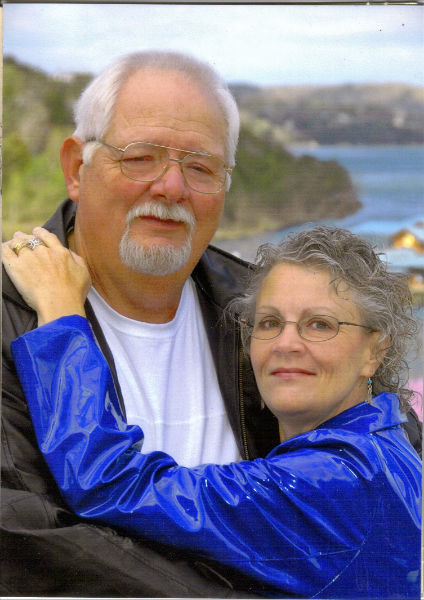 It's A Wonderful Life…With Gorgeous Alert Jewelry
Robin L. Watkins lives in a town smaller than some high schools: Neodesha, Kansas, population 2500. Mom, grandma, and former Registered Nurse (RN), Robin is now a full-time homemaker who volunteers at the local public library and has been wearing a Lauren's Hope medical ID bracelet since 2009.
"I am married to the greatest guy," says Robin. "I met him on Match.com. Charles and I have been together for ten years now and married for nine of those years. We have four children. He has two and I have two. His children live here close to us, with two of our ten grandchildren. My sons are both in the military and have been for 14 years. My oldest son and his wife have six children. My younger son has one daughter and a stepson."
With such a big family, plenty of volunteer work, and her hobbies of cross-stitching and quilting, Robin's life is busy and full with good things. One of the things she enjoys is wearing her Lauren's Hope medical ID bracelet. "I started wearing a medic alert bracelet as a young adult after I developed a severe allergy to sulfa antibiotics," says Robin, who was not a fan of the plain, old-school medical IDs she found for her drug allergy. "When I first starting wearing a medic alert bracelet, it was a sterling silver chain with a medic alert tag on it. There were no other options."
Like many people, Robin really disliked wearing unattractive medical ID jewelry and her plain old bracelet ended up getting the boot. "I stopped wearing a medic alert bracelet for years because I had no option other than the plain bracelet." But Robin had to reevaluate the choice after having gastric bypass surgery. "When you have a gastric bypass," Robin explains, "your 'new' stomach is only the size of a large egg. A blind insertion of an NG tube could easily perforate your stomach. Having a medic alert bracelet lets an emergency team know that you have had a gastric bypass and they cannot place an NG without the use of a lighted scope. Wearing the medic alert bracelet can save your life."
With so much on the line, it's a good thing Robin found a medical ID bracelet she could actually enjoy wearing. "Lauren's Hope gave me the one thing I was looking for in a medic alert bracelet: beauty," says Robin. "The bracelet I am wearing now has to be my favorite piece (Lauren's Hope carries). It is the bracelet that has beads representing your birth month. And it has the beads that look like butterflies. I also have a butterfly charm on my bracelet, too. I really am looking forward to buying another bracelet soon." 
Asked what she would say to people considering or just recovering from gastric bypass surgery, Robin has some practical advice, "First of all take good care of yourself. The bypass is simply a tool to help you lose weight. It isn't a magic fix. And, secondly, wear a medic alert bracelet that lets emergency personnel know that you've had a gastric bypass, if you are unable to do so."
"My life has been one with many twists and turns, some good and some not so good," Robin says in closing. "But life is an experience to live and enjoy. We are never guaranteed another day. Live and love life to the fullest!"
People with drug allergies and gastric bypass recipients have specific needs when it comes to their medical ID jewelry. Click here for some ideas on engraving your drug allergy medical ID bracelet or gastric bypass medical ID jewelry.