Thank you for visiting!
This give-away has ended. Please check back soon.
Scott Benner is a stay-at-home dad turned blogger whose adventures in parenting are both touchingly and humorously relatable to nearly all parents, regardless of their children's medical conditions. On Scott's blog, Arden's Day, he's celebrating six years of blogging this week, which is a great way to cap off a summer filled with rave reviews for his first book, Life Is Short, Laundry Is Eternal. For his blog-iversary, he's been posting quite a bit all week, and we are thrilled that he's finishing the celebrations off by giving away two signed copies of his book here on the Lauren's Hope blog! Both winners will also receive one of our fantastic interchangeable or adjustable paracord medical alert bracelets in his or her choice of colors or a Swiss Army Dog Tag medical alert necklace! Learn how to enter at the end of this post!
So, without further ado… welcome to FREE STUFF FRIDAY with Scott Benner, who recently tested the medical ID jewelry waters again for his daughter AND started wearing a caregiver ID himself!
Tell me if this sounds familiar…
My nine-year-old daughter Arden was diagnosed with type I diabetes just after her second birthday and we visit her doctor every three months as a part of her care. At the end of each of those appointments, Arden's doctor always asks the same question.
"Are you wearing any medical ID jewelry?"
Of her twenty-eight appointments, I believe Arden has perhaps been able to twice answer "Yes" to that question.
I think that jewelry is something that you must want to wear. I don't personally enjoy wearing jewelry yet I've worn my wedding ring every day for over seventeen years. In those years I've never worn another piece of jewelry because I find it uncomfortable yet my ring has never bothered me once, I actually love wearing my ring. Up until very recently, Arden couldn't be talked into wearing a medical ID. We've tried necklaces, bracelets, shoe tags and every other thing you can think of, all of which now sits in the bottom of a drawer. I'm reminded frequently that she should be wearing something that identifies her as a person with type I diabetes but I cover up that knowledge by making excuses, my go to seems to be, "We are always together, she doesn't need it…". Still the thought nags at me because I know that the day will likely come when she will require intervention from a stranger and when that days arrives, she will benefit greatly from having a medical ID.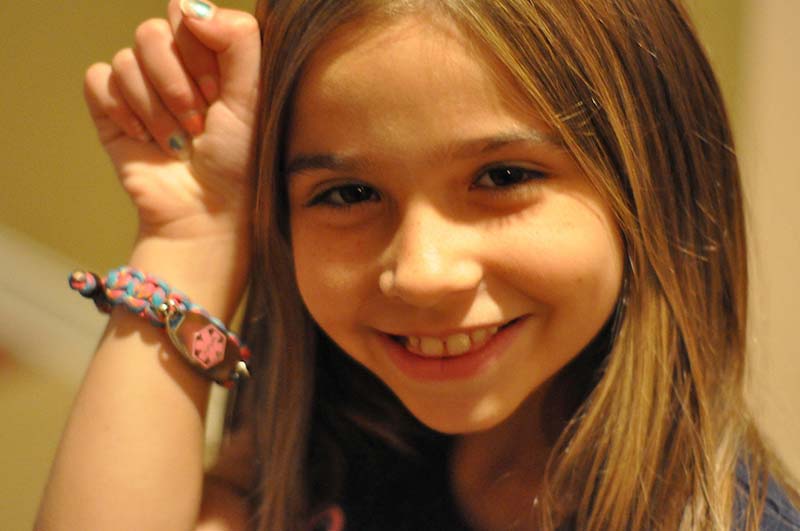 To say that I was not hopeful that there was an option out there that would catch Arden's eye is an understatement. As I said, we've tried them all and I was sure that the items Arden chose from Lauren's Hope would be met with the same cold fate that all of the other IDs have endured. I was sure Arden was going to hate them and banish them to the drawer.

But you could have knocked me over with a feather… right out of the box she was happy and only an hour later I heard the voice of her friend over FaceTime exclaiming, "That bracelet is cute!" I quickly turned my head and saw Arden holding her wrist to the screen as she smiled with delight because her girlfriend loved her new jewelry as much as she did. Her contagious smile quickly found it's way onto my face and I thought, "Finally we found something that she loves… I hope the shock doesn't kill our doctor when she finds out!"
When I saw how much Arden was enjoying her bracelets, I made the decision to try something for myself. Now I have a wonderful necklace that tells rescue workers that my daughter has type I diabetes. Bonus: It matches very nicely with my wedding ring!
And Now…The Freebies!!
To enter to win both a FREE copy of Scott's book and a FREE medical alert bracelet or necklace (you'll get to choose one of our paracords or a Swiss Army Dog tag necklace as shown above), simply leave a comment telling us what you think matters most about wearing medical alert jewelry! Please remember we only allow one winner per household, every six months. There are some other rules and regulations about how winners are chosen randomly, your prize has no cash value and has to be redeemed within three days, yadayadayada.
***Good luck!***
UPDATE: WINNERS WILL BE ANNOUNCED MONDAY, AUGUST 19TH BY NOON CENTRAL. PLEASE FEEL FREE TO ENTER ALL WEEKEND! STAY TUNED…
AND THE WINNERS ARE…
CYNTHIA who entered with the following comment:
My daughter will be attending school for the first time since being diagnosed with Leukemia. I would like to get her a dogtag with her medical info because even though there is a nurse at school they cannot be there every minute and if anything to happen I would feel at eas knowing that her emergency contact info is there. I think when your child is away from you there is a sense of relief knowing that all someone has to do is look at their dogtag and have access to lifesaving information.
and…
DONNA who entered with the following comment:
I'm hoping to win so I can read Scott's book and hopefully win the paracord bracelet for my soon-to-be 14 year old. She's had Type1 Diabetes since 10 years old and it has always been managed well. The onset of these "teen years" are proving to be different though. Even though she still tends to take care of her condition well, we all know that teens are stressed, forgetful, temperamental, and seem to have a lot more on their minds than taking care of themselves properly. Now that I am not with her 24/7, as a mom I worry a lot more now. When she was little I always stressed how important it was for her to wear a medical ID at all times. She would forget it sometimes when she was going with me somewhere and think it was okay. I would make her go get the bracelet and stress to her that she should be wearing it because even though she is with me, something could happen where I wouldn't be able to speak for her and her medical ID would. Now that she's a teen, it's even more important because she will be starting high school this year and I am sure her T1D is not going to be a conversation starter when meeting new friends. Therefore, as I have told her in the past, the medical ID will speak for her if she cannot. As a parent I pray that the bracelet that my daughter wears will never have to be used for it's purpose and only gets used as a piece of jewelry. It is very nice to know that Lauren's Hope Medical ID bracelets serve both purposes!
Alright, ladies! You have until close of business Wednesday to reach out and claim your prizes by emailing tara@laurenshope.com. Congrats!
Thanks to everyone who entered!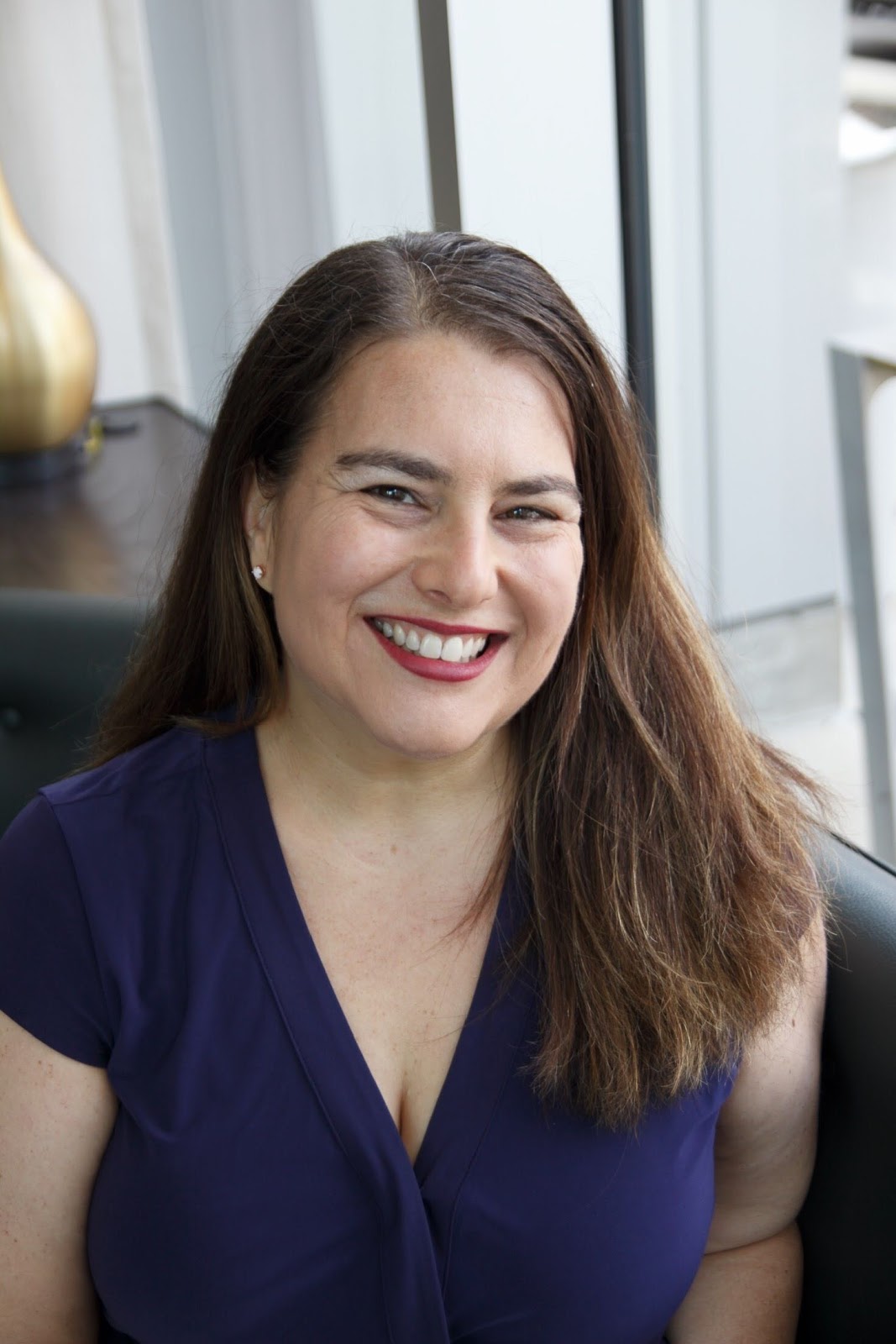 As Director of Sales, Marketing, and Business Development for Lauren's Hope, Tara Cohen is often the voice of Lauren's Hope. Whether she's writing the Lauren's Hope blog, crafting a marketing email, or describing a new product, Cohen brings a little personal touch to everything she creates.
Part of the LH team since 2012, Cohen has spent years learning about various medical conditions and what engravings are most helpful for each.
In addition to her years of experience at Lauren's Hope and all of the research she puts into writing for LH, Cohen draws on her own life experiences to bring a human touch to the LH blog.