Those of you participating in the Lauren's Hope Health Challenge (which you can still join!) may have noticed that my biggest concern about trying the "Paleo" way of eating for February isn't the lack of bread or chocolate or even milk for my coffee. It's cooking. My "cooking" to date has been a long-standing family joke. I would invite family for holiday meals and they would not-so-subtly ask who was going to be handling the kitchen duties. My mom would come visit and offer to bring in Chinese food for dinner or suggest we all eat out. Until this month's challenge, I had basically mastered the art of taking tofu crumbles out of the freezer, adding some sauce, and microwaving them with some steamed vegetables. It's not my proudest accomplishment.
So, a few weeks ago, when I decided to go Paleo for the month, I knew I was in for a lot of change and a pretty big challenge. I sat down with the Paleo cookbook I'd purchased and started reviewing the recipes. There were mentions of cheesecloth and whisks and mortar & pestle sets and something about broiling and how easy it is to make your own sage-rosemary-and-thyme-infused broth from the bones of the chicken you are surely raising organically in your backyard. My first thought was something along the lines of, "How did I get myself into this? Has that blog article run yet?" But I knew it had run, and I was secretly glad it had, because there's nothing like telling tens of thousands of people you're going to do something to make you feel just a tad obligated to…you know…DO that.
So I set to work. I've always found that big jobs or goals are much more easily managed when broken up into manageable chunks. So I chose just four recipes, wrote out lists of necessary ingredients and tools, and headed to the store. I decided to make roasted turkey legs, crustless quiche, paleo blueberry muffins, and a chicken dish, to be determined. I also picked up dark mixed greens (organic) for salads and some other essentials.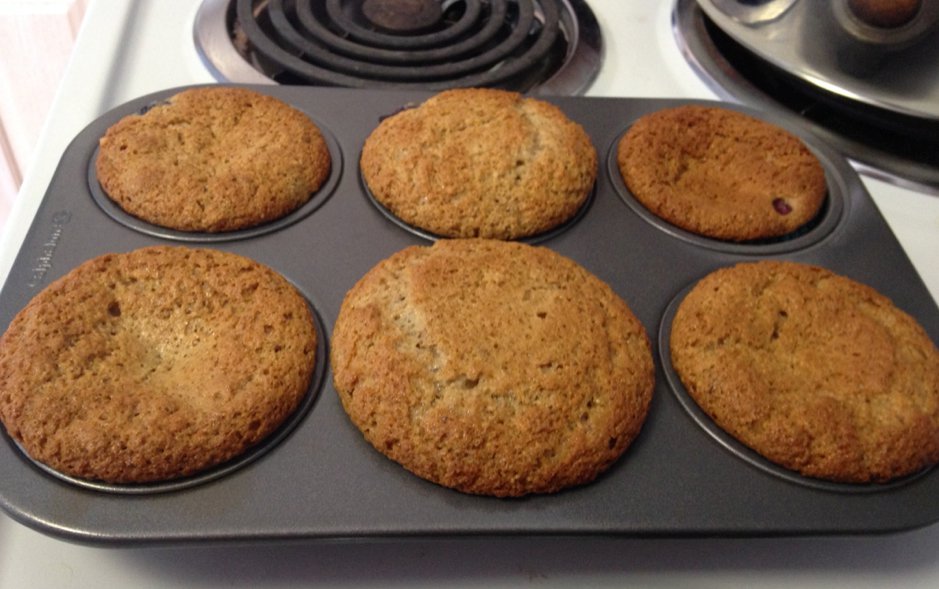 The first go-round there were mixed results. The cute little puffy organic, paleo, free-range, sparkly unicorn utopia blueberry muffins I found on Pinterest turned out concave (they caved in right after this photo) and dark but I have to say, completely delicious. I inflicted them on a few folks here at Lauren's Hope who called them, "Nice!" and "Amazeballs," and even asked for the recipe. If you try this one, I would say that less is more. When I filled the muffin cups 3/4 of the way, they puffed way up and then collapsed. Trying about half full worked better. Next time, I'm going to add a banana slice in each muffin cup to add some structure and see what happens. I also think they'd make good mini muffins! (Side note: I didn't have shaved coconut on hand, so I left that out. Also, raw honey was insanely expensive at the local fancy food store, so I went with local, all natural instead.)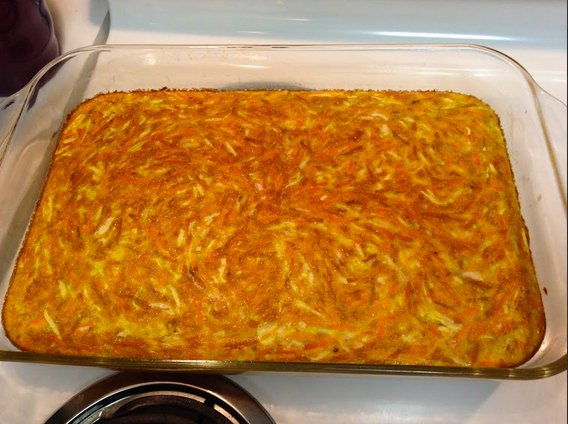 While my muffins were baking, I started on the crustless quiche. This one came straight from the book I bought, Practical Paleo. I found an online version of the recipe. Now, this one scared me. It called for cheesecloth, and I had no idea where to find that or what one would do with such a thing. But, when shopping for a whisk, I happened upon the cheesecloth, which I did figure out is basically a fishnet tablecloth meant to be cut into little pieces for straining. Live and learn.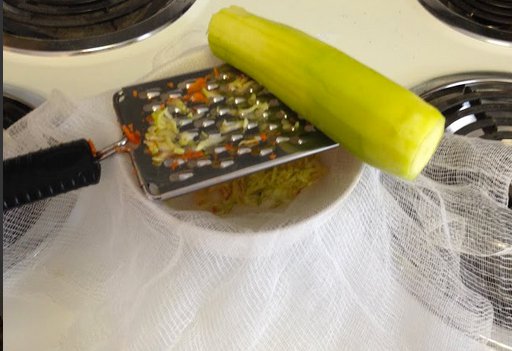 So quiche. Ok. First, I grated two large carrots into a bowl. That was pretty easy. Then I laid the cheesecloth into another bowl, grated a peeled zucchini into that (all without injury, I might add, which, trust me, is noteworthy for me), picked the corners of the cheesecloth up, made a little bundle, and squeezed lots of zucchini juice out into the sink. I dumped the zucchini in with the carrots. Next time, I'll do the zucchini first and then grate the carrots over that — saves one bowl, and I'll tell you, anything that saves on dishes is helpful when adjusting to cooking for the first time! Next up, eggs. I whisked 12 eggs with a fork, despite having just bought a whisk, because my mom always used a fork for eggs and who am I to argue with Mom?
The recipe also called for Rosemary-Sage Salt, which I am supposed to have made with a mortar & pestle in all my spare time. I used a dash of sea salt instead. I greased the pan with whole, real butter, and baked it.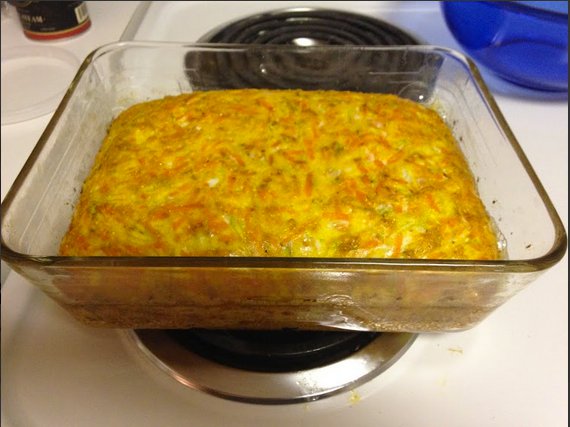 The results: I used too large a pan, so the quiche was thin and therefore done cooking faster than the recipe indicates, but I accounted for that and checked it early. Basically, if you shake it a little and it doesn't jiggle, it's done. I cut it up into squares, froze some, and ate the rest for breakfasts during the week. It was good! I already made this again, this time using a smaller-than-recommended pan (Where is my 9×11″ pan!?!), added some leftover chopped onions from my chicken experiment (more on that in a moment), and added some rosemary. It's a big puffy quiche that looks like my sister made it. And THAT is saying something. Because she's a fantastic cook.

The next thing was roasted turkey legs. Basically just buttered turkey legs coated in sea salt and fresh cracked pepper. I have to say, this was just not worth it. There was very little yield for all the work, and a lot of dark meat, which isn't my favorite. I won't be making that again. On the plus side, it turned out just as it should. I just didn't particularly care for it.
I needed a side dish for all of this and decided to go rogue with some sweet potatoes. I boiled and peeled them, smushed them up with a potato masher I didn't know I had, added some lemon juice and a little honey, and baked them in a buttered brownie pan. I was a little giddy at that point from having actually cooked a bunch of things in my own kitchen, so I just went with it. And you know … they were GREAT. I added cinnamon on top and baked them at 350 for about 30 minutes. They reheated very well and made a nice side.
Last, but definitely not least, I cooked chicken. I didn't know what to do with the boneless organic chicken thighs I'd bought (other than cook them), so I started looking for paleo chicken thigh recipes. I found this one for honey garlic chicken on Pinterest and thought…why not? I coated the chicken pieces with fresh sea salt and pepper on both sides, then put it in the oven at 420 for 20 minutes.
This recipe called for molasses, which, stunningly, I did not have on hand. It also presumed I knew how to microplane garlic and onions and turn them into pastes, which was also not happening. But I did have some minced garlic in the fridge and an onion. So I cut one slice of onion, chopped it up very fine, and used just a teaspoon of that with half as much garlic (not my favorites). I mixed those in a bowl with more of that locally fabulous honey and some 100% pure maple syrup I'd picked up for the pumpkin pancakes I promised myself I'd make next if this didn't all stink. I skipped the brown sugar, added a pinch of sea salt, and mixed that all together. It was all ready by the time the oven beeped.
I was supposed to put the chicken pieces in the bowl with this mixture, using tongs I really do not own. So I used two wooden spoons. After only dropping one piece of chicken (onto the stove), I got all four pieces into the bowl and coated in the honey goo. Also, per the original recipe's instructions, I poured all the liquid that had accumulated in the pan into the bowl. I mixed it all up (note to self: use a bigger bowl next time), put the chicken back into the pan, and then used my new silicone brush thing to coat the chicken with the rest of the sauce.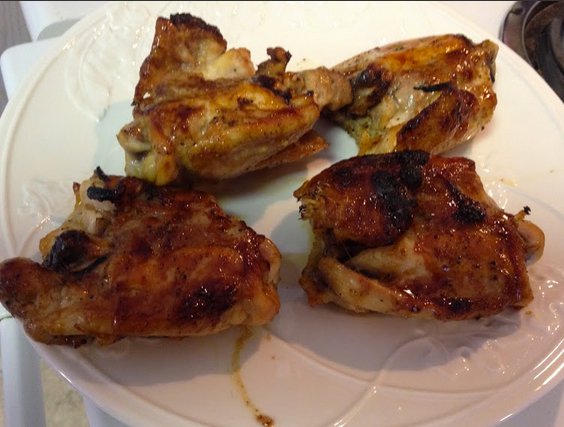 After broiling (I did it!) for five minutes on one side, I flipped the chicken, painted it some more with the brush, and broiled for another five. The end result: GREAT. There was some black schmutz in the pan from the sugars in the honey burning off I think, but that came right off. The chicken was terrific and will become a go-to recipe. I put each piece in its own container for lunches, pouring the baking juices over each piece to keep it moist. I reheated one for lunch already, and it was excellent. Really really good.
Overall, for my first full week of cooking and eating Paleo, I have to say, I'm pretty pleased. My food might not make for blog-worthy photos, but it was healthy and, with the exception of the turkey, pretty delicious! I even made a fresh greens salad, no dressing, with leftover fresh blueberries and some almonds to go with my chicken as a workday lunch, and it was both fast and delicious!
What do you think? Do you want to hear more about the Paleo cooking? Have a recipe you'd like to see this novice try out? I'm all ears.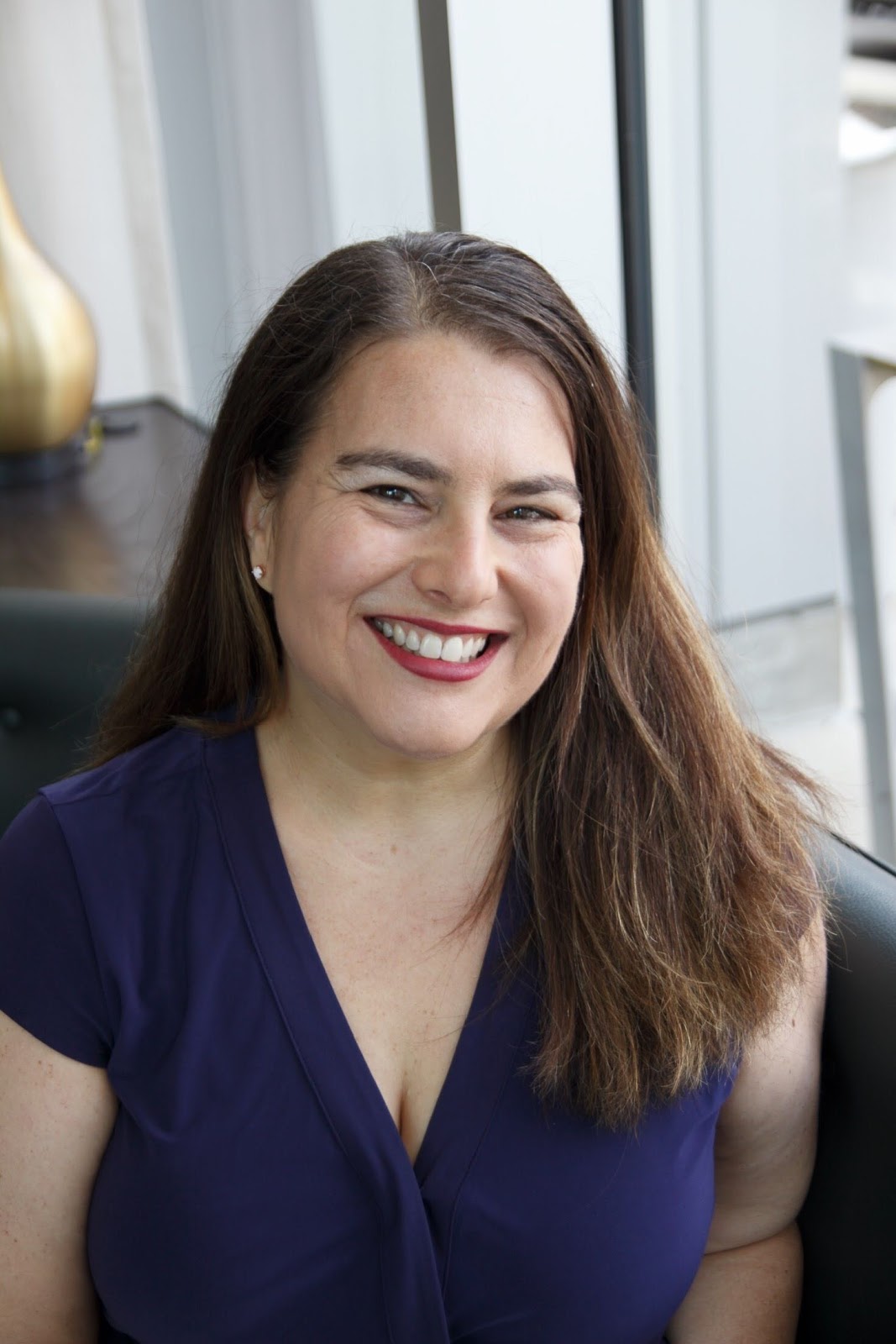 As Director of Sales, Marketing, and Business Development for Lauren's Hope, Tara Cohen is often the voice of Lauren's Hope. Whether she's writing the Lauren's Hope blog, crafting a marketing email, or describing a new product, Cohen brings a little personal touch to everything she creates.
Part of the LH team since 2012, Cohen has spent years learning about various medical conditions and what engravings are most helpful for each.
In addition to her years of experience at Lauren's Hope and all of the research she puts into writing for LH, Cohen draws on her own life experiences to bring a human touch to the LH blog.