Since I work here at Lauren's Hope, it might seem pretty obvious as to why I'm such an advocate for Medical ID Jewelry, but the reality is, working here has only served to open my eyes as to why most Americans should wear one. Medical ID jewelry isn't just for those with certain medical conditions, drug or food allergies. Medical IDs are also a live-saving tool for caregivers too.
I know that in the event that I am unable to speak for myself, my medical ID jewelry will be able to speak for me. It'll tell medical professionals and first responders that I have an allergy to sulfa and to avoid giving me any medications that might contain gluten. It also tells them that I have a thyroid disorder that requires daily medication. It gives me the power to advocate for myself, and that's just such a powerful thing.
In the last post of my Celiac Trilogy, I spoke about purchasing my first Medical ID Bracelet, the Hooty Who Medical ID Bracelet. I still 100% love it, and since I'm a sucker for cute jewelry, namely jewelry that serves a real purpose, I decided to purchase another bracelet. This time, I settled on the Marcy Medical ID Cuff.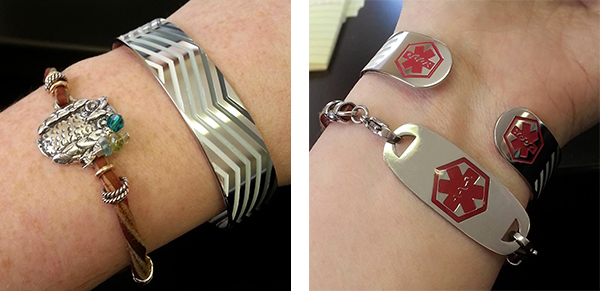 I must admit, I was a little leary at first about wearing a cuff– Aren't they stiff and bulky? What if it doesn't fit right? I've never owned a cuff before, so I was admittedly pretty standoffish about this purchase.
My mind was quickly put at ease when I tried it on. Not only is this medical ID cuff incredibly light, it's also totally comfortable. Since I spend the majority of my day in front of the computer with my hands on my keyboard, having a medical ID bracelet that won't bother me as I type was an absolute necessity. I've been wearing the Marcy Cuff Medical ID for about a week now, and I have yet to rip it off in frustration– As I have with some of my other, non-medical ID jewelry. In fact, the only time I have been made aware of the medical ID bracelet during my everyday routine was yesterday when it was complimented by a complete stranger.
I was able to customize my brand new Marcy Medical ID Cuff with all my important medical information including my name, my drug allergy and medical conditions. Our awesome master engravers use a rotary technique on medical ID cuffs that's smooth and indelible, so I'm never worried that my information might get worn off (since I wear it every single day), and since it's so smooth, it doesn't scratch or bother my wrist in the slightest even on my sensitive skin.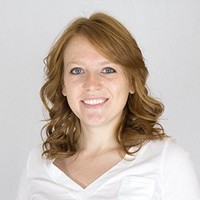 As UX/UI Designer and Website Manager for Lauren's Hope, Brittany Raum wears a lot of hats. Wearing her UX/UI Designer hat, Brittany creates positive customer experiences on the website by creating and implementing a blend of functional design that helps each visitor more easily find their way to the right products and information. Her Website Manager hat is no less integral to the customer experience. In that role, Raum is involved in strategy, analytics, troubleshooting, and a wide array of tech-driven projects. She collaborates with every part of the Lauren's Hope team, always looking for ways to better serve our customers.