Well, it's been a month, and our first-ever Lauren's Hope Health Challenge is complete! Here's a rundown of our team's experience. You'll see "After" shots throughout the article, and our "Before" pics at the bottom. Enjoy!

Tara (Original Goal: Go Paleo)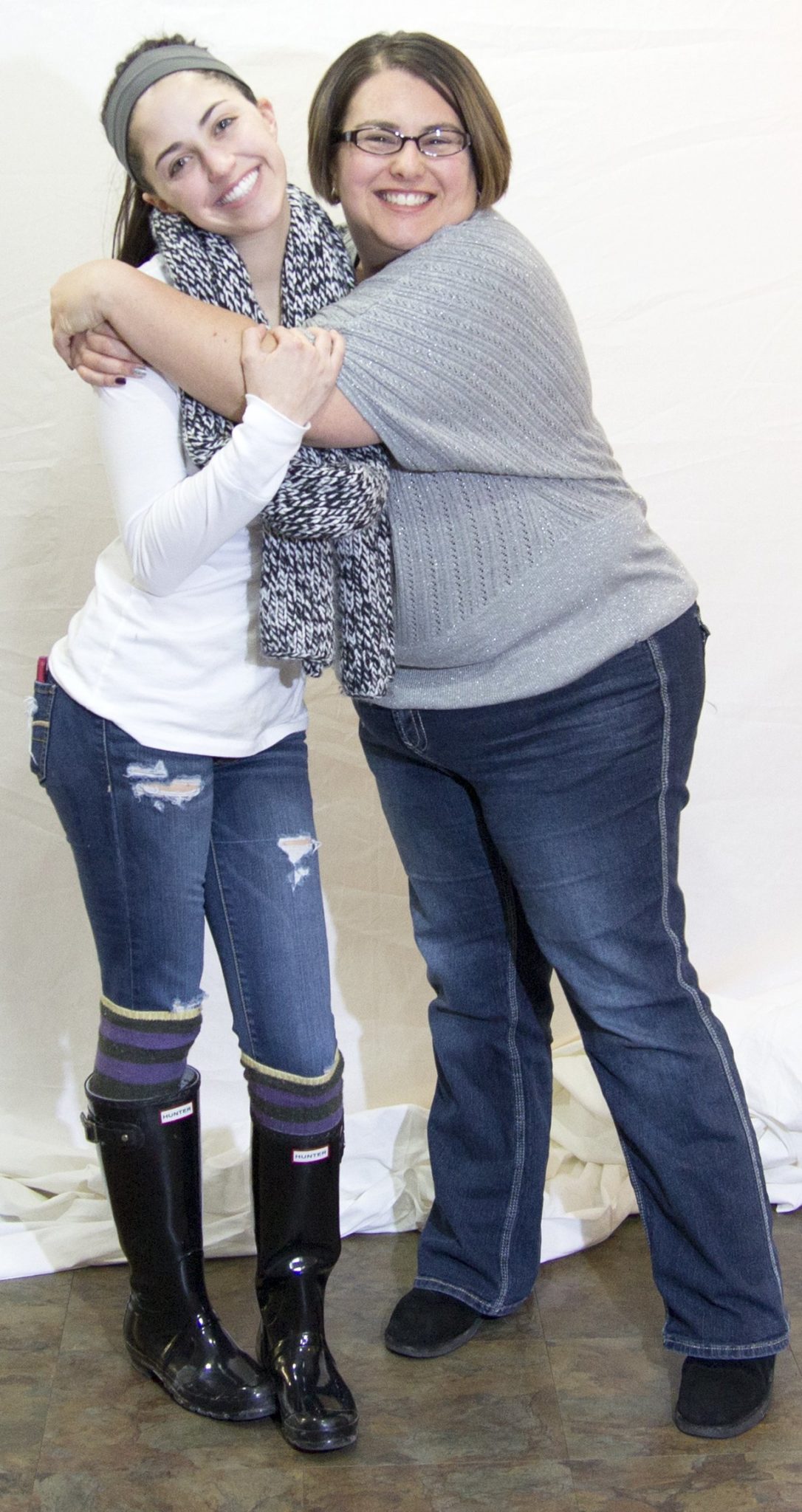 This was a fantastic month. I was 100% Paleo all month, no cheating. I did mess up a couple of times. For instance, I had steamed corn without realizing that wasn't Paleo, and I had sushi but didn't realize the sauce had gluten in it. Other than those errors, I stuck to Paleo all month. I went into this looking to achieve a few things from going Paleo:
1. Get out of bad eating habits (eating out too much, lots of packaged processed foods)
2. Feel better
3. Learn to cook
I'm pleased to report that doing Paleo for a month has helped me achieve all three goals. Now, instead of seeing a mango at the market and thinking, "That looks good, but I won't buy it because I don't know what to cook with it or how to do that," I see the mango, buy it, and think, "Neat! I'll hop on Pinterest and find a good recipe to use this in." For the first time in my life, I'm cooking regularly. I'm eating foods that are completely new to me, trying recipes I wouldn't have imagined myself attempting a month ago, and really having fun with it. I feel better rested, have more even energy levels throughout the day, have lost 8 pounds, and best of all, I haven't had a single migraine since I started.
I'll be sticking with Paleo. It's maintainable, comfortable, and having a great impact on my overall health and wellness.
Above, that's me with Grace. Read Grace's story below!
Grace (Original Goal: Increase hydration and go gluten free)
I'm 5 foot 5 inches and weigh 110 pounds. My goal was never to lose weight, but just overall feel better about what I'm putting in my body. I'm a college student taking 18 credit hours and working about 30 hours a week. Needless to say, I'm always on the go. And when I'm in a time crunch I'm more vulnerable to picking up drive-through or eating whatever garbage I can find in a vending machine while I'm on the way to my next study group. I've learned that the secret to eating healthy is being prepared. I now take fifteen minutes or so each night to pack a nutritional breakfast and lunch as well as hearty, healthy snacks for the next day. Switching out my usual afternoon bag of chips for an apple or some veggies wasn't terribly hard. In fact, I kinda like it. I have more energy, better concentration, and feel healthier about my lifestyle. At a time in my life where I feel like I'm being pulled a hundred different directions, eating healthy is something good I can still find time to do for me. And that feels spectacular.
Don't be mistaken. I'm not perfect and I won't ever pretend to be. You may catch me indulging in Chinese food or a Chipotle burrito from time to time. But these are special occasions for me now. Not my everyday routine.
Katy (Original Goal: Run a half marathon in 6 months, a full marathon in a year)

This was a super fun challenge! My challenge was to keep running and work towards a half marathon in 6 months and a full in one year, it's been going really well! I've been getting stronger the more and more I run, and I have been increasing my distance slowly each week! I thought this challenge was a great motivation for my love of running, and took it to a more challenging level, it also helped my overall health! I've learned that running a marathon isn't easy!! It takes a lot of dedication and working up to being able to run that distance, you have to be very patient with your body. It is definitely a challenge that you take one step at a time with increasing distance. While my body hasn't changed much over only a month, I'm hoping to increase my muscle strength and overall health. I will most definitely stick with my challenge till I get to the finish line!
Megan (Original Goal: Gluten-free, sugar-free, work out 2x a week)
Although I didn't continue with eating gluten free for more than the first week, this health challenge helped me realize what I am feeding my body. I am now more focused than ever on eating "real" non-processed foods and I feel energetic and healthy. The great thing for me about eating healthy food is that I can eat as much as I want without having to calorie count. Now that we've had a few more warm days, I've been getting out to walk around the neighborhood and get my fitness started back up again.
Sari, on the right, with Megan (Original Goal: Go gluten-free and go to yoga 2x a week)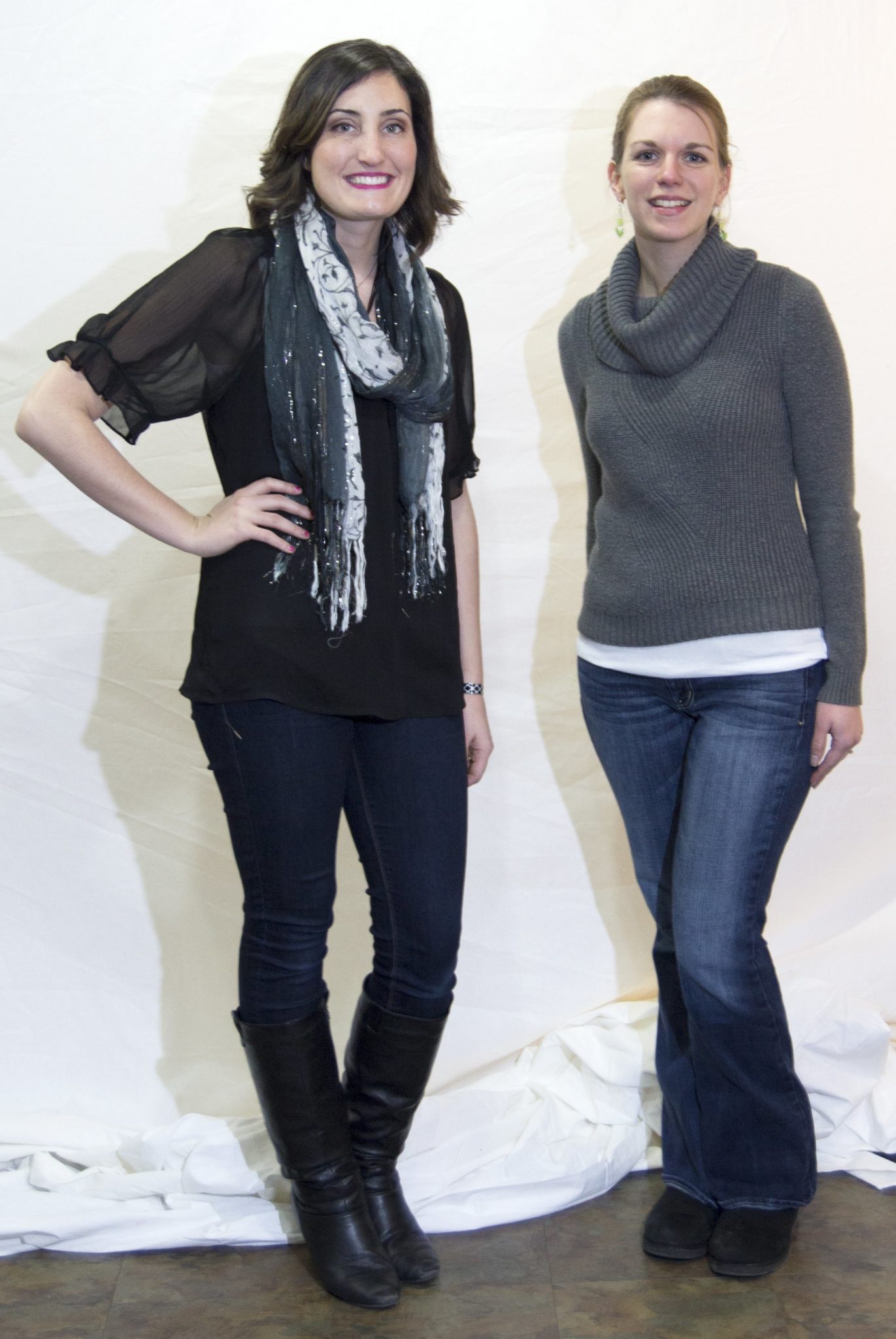 At the beginning of February, my goal was to eat gluten-free for the month, and attend yoga class twice a week.
I tried the gluten-free diet for the first several days. But by dinnertime each day, I was starving and ended up eating bread, a tortilla, or pasta with my dinner. Then I felt guilty because I wasn't even able to make it 24 hours through this challenge, let alone a whole month! I realized I hadn't really prepared for such a drastic change in my diet, and decided to loosen up on the gluten-free rule for myself. The goal of this challenge was to improve health, not to feel frustrated. I used to eat a really healthy diet, but lately I'd slipped back into some junk food habits. So, I changed my goal to simply eating more whole foods and less packaged convenience items. The philosophy can be summed up by the Michael Pollan quote, "Eat food. Not too much. Mostly plants." This is something I can continue to emphasize long-term for myself and my family.
The other part of my personal challenge was to practice yoga twice a week. Yoga is something I've been doing for a while now, but have really focused on for the past year or so. It's a great way to build muscle strength, as well as relax your mind. I stuck with this goal in February, and will continue to do so in the future. My current challenge is to be able to hold the Crow pose, which is not easy for me! I will be pretty proud of myself when I finally master it.
Overall, it has been a great experience to talk about health and fitness goals with everyone here at Lauren's Hope! It's been exciting to see the positive changes made by several people on the team over the past month.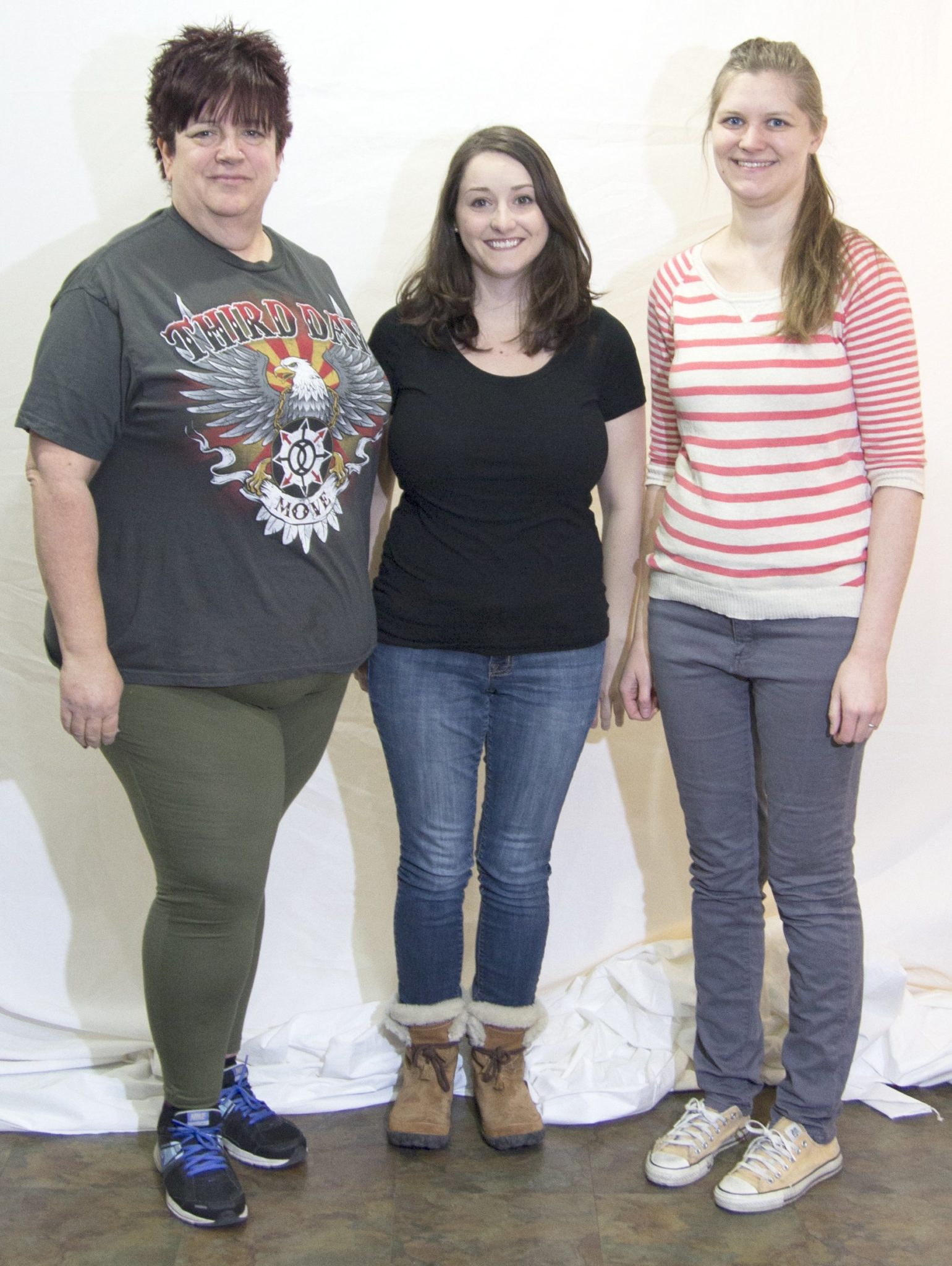 Caitlin, far right, with Lauri (left), and Ashley (center) (Original Goal: Work out once a week, stick with gluten-free eating)
My goal was to work out once a week and of course to keep eating gluten free. It was somewhat a challenge to exercise after I got sick the second week in. That messed my schedule a bit, but I am going to continue the challenge as a personal one for myself. The thing that I learned from the challenge was to do what you can at the pace you are ready for. Don't expect too much out of yourself, but don't give up and do nothing. Make the choice to BE healthier, not just to DO healthier things. Make it a part of who you are, healthy, happy, and living life to its greatest.
Ashley (Original Goal: Work out twice a week)
My fitness plan did not go well. I was good for the first week of February, worked out twice and even got my boyfriend to join me! Then the second week I slipped on the ice and aggravated my broken wrist from last summer, which put me out for a week for recovery. And just when I was ready to get back into the swing of things, I caught the nasty cold floating around and was sick for 3 days, barely leaving my bed. But it is a new month and I'm planning on getting back on track!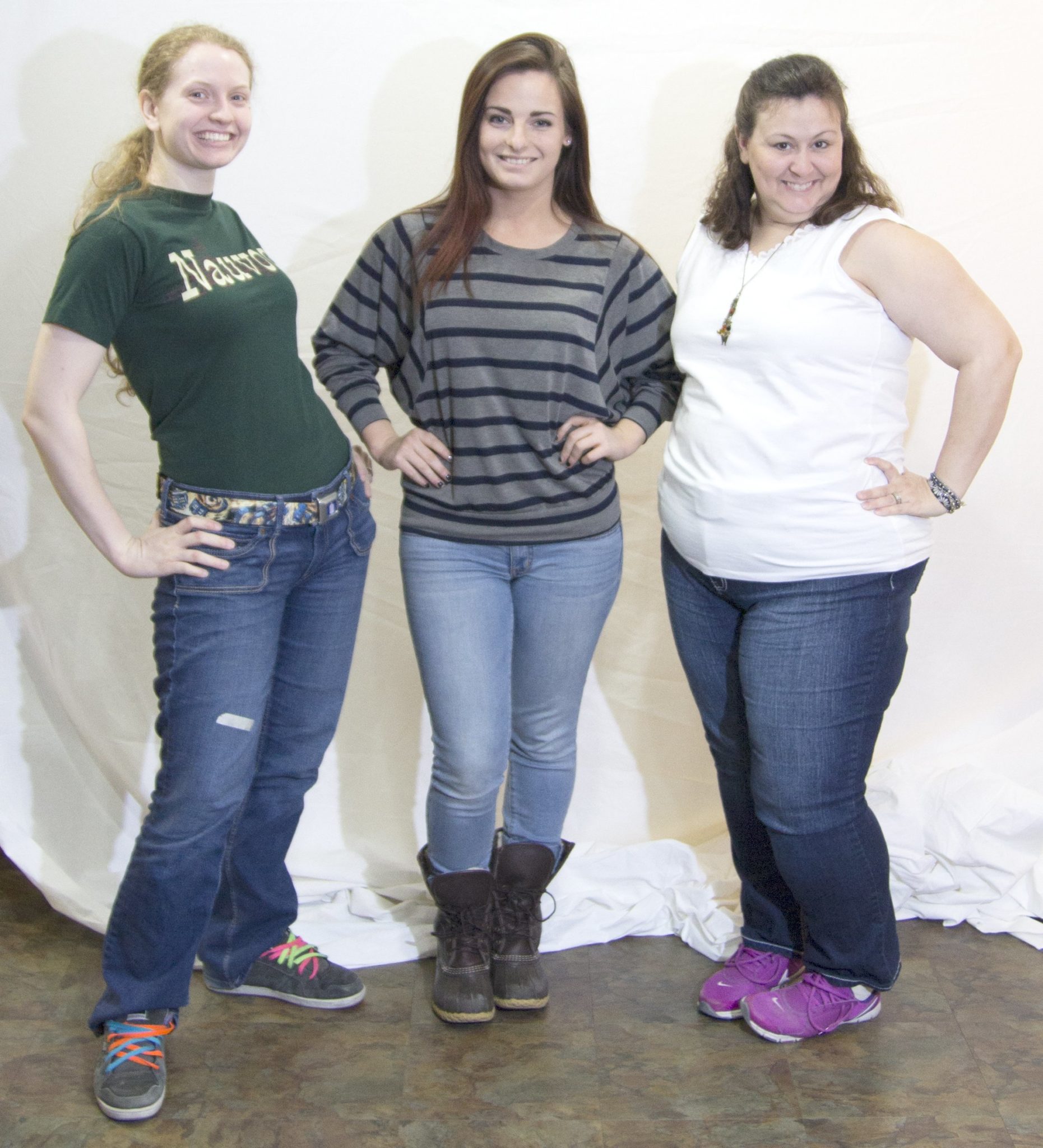 Cherish, far right, with Emily (left) and Quinn (center) (Original Goal: Go gluten-free and sugar-free)
I have not had a Dr. Pepper in a week, and I am feeling great. I have more energy, and I am sleeping better. I am not sure how much weight I have lost, but I have been able to notice that my jeans are feeling a little loose. I am working out and noticing that I would like exercise everyday but haven't started yet. Overall, I am happier with the changes I am making in my life.
Tracy, center, with LeAnn (left) and Alaina (right) (Original Goal: Continue Paleo)
The challenge went well for me. I plan to continue on. Limiting carbs has been a big adjustment, but I feel it is finally becoming more routine. I really enjoyed sharing recipes and having the support of coworkers. The amount of temptations floating around the office certainly decreased while everyone was participating in the LH Health Challenge. My next personal goal is to increase the amount of exercise I work into my day!
The "Before" Shots
Group 1, Before, L->R: Quinn, Emily, and Cherish
Group 2, Before, L->R: Sari, Megan, and Christy
Group 3, Before, L->R: Brittany, Katy,
Grace, and Tara
Group 4, Before, L->R: LeAnn, Tracy, and Alaina
Group 5, Before, L->R: Caitlin, Lauri, and Ashley
How was the Health Challenge for you? We are excited to see your results!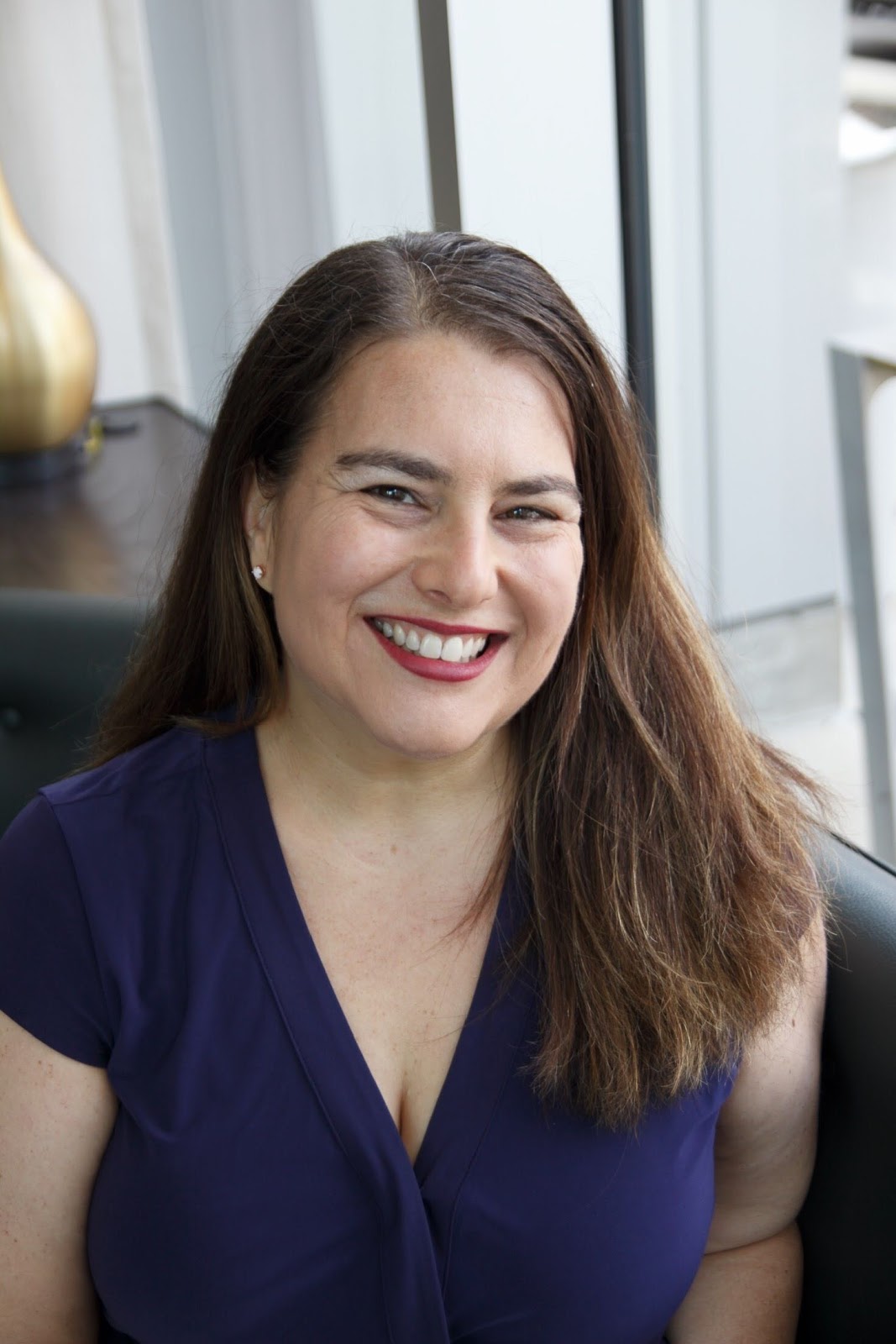 As Director of Sales, Marketing, and Business Development for Lauren's Hope, Tara Cohen is often the voice of Lauren's Hope. Whether she's writing the Lauren's Hope blog, crafting a marketing email, or describing a new product, Cohen brings a little personal touch to everything she creates.
Part of the LH team since 2012, Cohen has spent years learning about various medical conditions and what engravings are most helpful for each.
In addition to her years of experience at Lauren's Hope and all of the research she puts into writing for LH, Cohen draws on her own life experiences to bring a human touch to the LH blog.