When it comes to Summer, aside from the warm weather and pretty flowers, my favorite part is cooking out with friends and family. Since I was diagnosed with Celiac Disease, however, I look at barbecues a bit differently. Instead of seeing a delicious spread of potato salad, coleslaw, and chips, I see unknown cooking surfaces, mystery seasonings, and cross-contamination risks.
My fiancé and I are scheduled to host our rehearsal dinner next month, and, of course, we decided on a picnic-style barbecue. As the date continues to get nearer, I'm constantly thinking of ways to keep me, my Celiac family members, and any other guests with food allergies/intolerances safe. Here are some of the fun tips and tricks I've picked up during my planning that will hopefully keep me and all my guests safe and happy:
Talk to your guests
Find out if any of your guests have food allergies/intolerances that are going to need extra attention. Those who live with allergies/intolerances understand what they can and cannot tolerate, so it's always a good idea to talk with them about it before planning your menu. 
Those of us with food allergies/intolerances want to feel included, and learning ways to help us feel more included is always a welcomed conversation. Plus, that conversation is a great way to learn more about the issues your friends and family members deal with on a daily basis.
Mark your utensils
If you know a guest has a certain allergy or condition that could be triggered by cross-contamination, marking utensils to match their corresponding bowl is a great way to let everyone enjoy the dish without worrying that its utensil has been dipped in a big bowl of what s/he is allergic to.
In the case of my rehearsal dinner, we plan on having several side dishes, some of which contain gluten. I obviously will steer clear of these dishes, but in order to avoid being an accidentally sick bride, we will use colored and patterned washi tape to let our guests know that each utensil must be used with its according dish and not used anywhere else. These fun labels are a clear and fun way to keep things safe for all of your guests.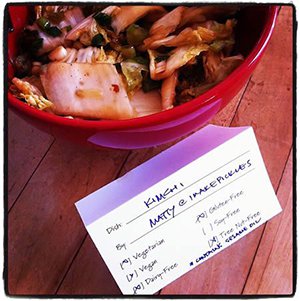 Label your dishes
Although it's fairly clear that potato salad is potato salad and pasta salad is pasta salad, it's always a good idea to label your dishes. Listing ingredients (and even the brands of the ingredients) is a very good way to keep your guests safe. Whether or not it was prepared near allergens is also a helpful tip.
I plan on using small toothpicks with cute flags that label each dish. For larger parties, having a small card that lists the ingredients and cooking conditions near the dish itself is a welcomed sight for anyone with food allergies or intolerances.
Keeping grill clean/food separated
Here at Lauren's Hope, we love to grill, and since there are several food allergies and intolerances in the office, we have a separate grill for gluten-free girls like myself. Since buns are always way more delicious toasted on the grill and since meat is always tastier when it's marinated, it's important that, when you're cooking for someone with food allergies/intolerances, your grill either be cleaned or that person's food be grilled elsewhere to avoid picking up any gluten or allergen that might still be on the surface.
For instance, gluten is sticky, and it can get into the porous surfaces of your grill. So making sure grill and cooking surfaces are thoroughly scrubbed and cleaned is very important. Some of the biggest culprits for hiding gluten are:
Cutting boards
Colanders
Plastic bowls (they can get scraped and gluten loves hiding in the scrapes)
Toasters
Condiments (ones that come in tubs, like butter or peanut butter)
Be prepared for bugs
Allergy issues don't stop in the kitchen, especially during the summer. Insect stings are also a sure way to put a damper on a summer barbecue. Plenty of people are just fine when it comes to food but are allergic to bees and other insects that sting. Make sure you have Benadryl handy, and make sure several adults know about any allergies (insect or food) that might require the use of an auto-injector (i.e. EpiPen) or oral medications.
Wear your Medical ID
This may seem like a no-brainer, but for those with food allergies that can cause Anaphylaxis, wearing a medical ID can be life-saving. Conspicuous medical IDs are also great for kids with issues because they can instruct your adult guests to not feed him/her something s/he's allergic to, and what needs to happen if s/he has an allergic reaction.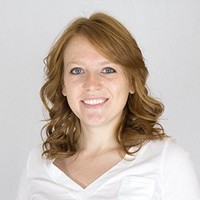 As UX/UI Designer and Website Manager for Lauren's Hope, Brittany Raum wears a lot of hats. Wearing her UX/UI Designer hat, Brittany creates positive customer experiences on the website by creating and implementing a blend of functional design that helps each visitor more easily find their way to the right products and information. Her Website Manager hat is no less integral to the customer experience. In that role, Raum is involved in strategy, analytics, troubleshooting, and a wide array of tech-driven projects. She collaborates with every part of the Lauren's Hope team, always looking for ways to better serve our customers.