So far at my time here at Lauren's Hope, I've had the privilege of hearing some really inspiring stories from and about Lauren's Hope customers. This one, though, I found to be especially neat because it involves our very own Lauren, the namesake of our company.
For those who don't know the story behind our company's name, Lauren's Hope was started because of a 13-year-old girl living with Type 1 Diabetes who didn't want to wear "ugly" medical ID jewelry. Our Lauren — Lauren Philips — lives in Dallas where she works as a hair stylist.
Of course, Lauren has many clients, but one in particular holds a special place in her heart.
"I've known Leah and Stacy for a few months now," Lauren said. "Stacy was at the salon getting her hair done, and she noticed my pump as I walked passed. She grabbed me and asked if I had diabetes etc. She explained to me that her daughter, Leah, is Type 1 Diabetic and is considering a pump."
They talked for a while before Lauren finally asked whether or not Leah wears medical ID jewelry.
"I said she should check out Lauren's Hope," Lauren said. "She told me that that was the brand of bracelet that Leah wore. I screamed kind of obnoxiously and said 'That's me!'"
Stacy, Leah's mother, says her daughter has been wearing her Lauren's Hope Mood Bead Medical ID Bracelet since her initial diagnosis, and meeting the company's namesake was very meaningful for her.
"For some reason that made me cry," Stacy said. "It was so special to meet the inspiration behind something that is such a part of my daughter's safety."
Leah comes in every 6 weeks for a haircut with Lauren, and they talk about their experiences living with Type 1 Diabetes.
Stacy is glad that her daughter has a strong role model when it comes to the challenge that Type 1 Diabetes can pose."We also just get to talk and bond over everyday life," Lauren says. "She is the sweetest little girl, and she brightens up my day every time that she is in. I recently gave her three new bracelets, and one of them was one of my very first Lauren's Hope bracelets. She lit up when I gave those to her."
"Lauren is a great inspiration to show how a challenge in her life has given hope to others," she said.
Lauren says she looks forward to Leah's visits.
"I feel like Leah and I have a strong connection," Lauren says. "I hope that Leah can see that Type 1 Diabetes can't and won't stop you from following your dreams and being whatever you want to be. She is an inspiration to me, and I hope I can be the same for her!"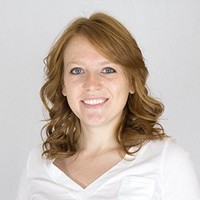 As UX/UI Designer and Website Manager for Lauren's Hope, Brittany Raum wears a lot of hats. Wearing her UX/UI Designer hat, Brittany creates positive customer experiences on the website by creating and implementing a blend of functional design that helps each visitor more easily find their way to the right products and information. Her Website Manager hat is no less integral to the customer experience. In that role, Raum is involved in strategy, analytics, troubleshooting, and a wide array of tech-driven projects. She collaborates with every part of the Lauren's Hope team, always looking for ways to better serve our customers.