Oxygen therapy is a treatment that helps provide you with extra oxygen. Normally, the lungs absorb oxygen from the air, but some conditions and diseases can prevent you from getting enough oxygen. On-going or temporary oxygen therapy can help you be more active and function more normally.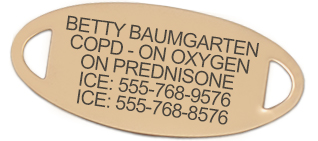 Oxygen is supplied in a metal container and can flow to your lungs in one of several ways:
Nasal cannula – Two small, plastic tubes that are placed inside the nostrils
Face mask – Fits over the nose and mouth
Small tube inserted into your windpipe through the front of your neck – Also called transtracheal oxygen therapy
Oxygen therapy helps many people feel better and live more active lifestyles, and it can also help to improve sleep for those with sleep-related breathing issues, increase the lifespan of those with COPD, and decrease shortness of breath.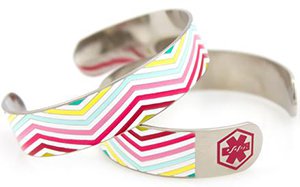 Being on oxygen treatment doesn't have to limit your daily routine. Portable oxygen tanks are a popular option for those who want to continue living an active lifestyle.
If you are on oxygen therapy, it's important to wear a medical ID. The majority of those who are on oxygen therapy have chronic illnesses that require other medications and treatments. In the event of an emergency, the more first responders know about your condition, the more easily they can treat you correctly.
First responders also need to know that you are on oxygen in the event you are no longer near your oxygen or wearing your nasal cannula or face mask. In the event of an emergency, first responders would then know that you needed to be put back on oxygen immediately.
Example:
BETTY BAUMGARTEN
COPD – ON OXYGEN
ON PREDNISONE
ICE: 555-765-9876
ICE: 555-765-8765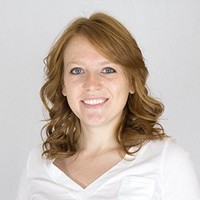 As UX/UI Designer and Website Manager for Lauren's Hope, Brittany Raum wears a lot of hats. Wearing her UX/UI Designer hat, Brittany creates positive customer experiences on the website by creating and implementing a blend of functional design that helps each visitor more easily find their way to the right products and information. Her Website Manager hat is no less integral to the customer experience. In that role, Raum is involved in strategy, analytics, troubleshooting, and a wide array of tech-driven projects. She collaborates with every part of the Lauren's Hope team, always looking for ways to better serve our customers.