Halloween is definitely one of my favorite nights of the year. I love seeing all the youngsters out and about in my neighborhood wearing their spooky, cute, and funny costumes.
Trick or treating, however, has a whole different meaning for those of us with food allergies or dietary restrictions. Candy can be laden with pesky allergens, so Halloween can be tricky for those who must monitor what they eat. Holidays like Halloween can make the challenges kids with allergies and intolerances deal with every day seem magnified, so here are a few ways to help make sure every little ghost and goblin in your neighborhood is included.

Buy a variety of candy, including some that doesn't contain soy, peanuts, tree nuts, wheat, etc.
If this is a route that makes sense for you, it's important to also be vigilant as to where the candy was manufactured. Aside from the ingredients, it's important to know where it was processed and with what. Candy that was processed in a facility that also processes peanuts, tree nuts, wheat, milk, eggs, etc. can be just as dangerous as candy that actually contains bits of those allergens.
Have non-candy items ready to hand out
Small toys, pencils, activity books, and other fun trinkets can be a great alternative for allergic children. Non-food items are a fun break from candy and can help allergic children feel included.
When trick or treating, bring along any emergency medications your child might need
Even in the event your child doesn't ingest something that contains his/her allergen, having your Epipen or other medication ready to go will give you peace of mind. Adults who are along for trick-or-treating should know how to administer emergency treatment. Keeping your cell phone on hand and available and trick-or-treating before it gets dark are great ways to keep your little one safe.
Give neighbors Halloween treats that are safe for your little one
I have a neighbor whose son has a seizure disorder. He's on a strict Ketogenic diet, meaning, he can't have any sugary treats. Last year, his father brought over a baggie with a few sugar free candies and a note about what costume his son would be wearing, why he needed the sugar-free candy, and instructed me to give him those candies instead. I thought this was particularly ingenious— As someone who often feels isolated due to Celiac Disease, seeing a father make sure his son could participate in Halloween without feeling different was especially touching.
Trade candy when the night is over
As you get home and your child starts to inspect his/her candy haul, sit down with him/her and trade out candy that contains his/her allergen and trade for pieces already at home that are safe. Older kids might want to trade for other toys or books. Another fun take on this idea is the "Candy Fairy". Sort out all the unsafe candy, and put it in a place where the Candy Fairy can trade out allergen-ridden candy with safe ones. The next morning, your little one will wake up to a fresh set of safe candy, all thanks to the Candy Fairy.
Make sure you and your little one are wearing your Medical ID
Medical IDs can make the job of a first responder or even a bystander much easier. Listing your child's allergens and any other important information is very helpful and can make getting your child treatment quicker and more efficient. Caregiver IDs are also important for anyone escorting your child. In the event of an emergency, if you are rendered unable to speak for yourself, your medical ID can do it for you. We recommend you engrave:
For a child with allergies:
NOAH JOHNSON
PEANUT ALLERGY
EPIPEN IN BAG
MOM: 555-555-5555
DAD: 555-555-5555
For a caregiver:
ELIZABETH JOHNSON
SON HAS PEANUT ALGY
USE EPIPEN CALL 911
ICE: 555-555-5555
ICE: 555-555-5555
Keep in mind that candy that was safe to eat last year may not be safe this year
Candy manufacturers often change facilities over the course of the year or they may only manufacture certain candies for a small portion of a year (this Halloween-shaped candy or candy in special Halloween colors). That means, where your candy was made last year, might not be where it's made this year.
Take for example my favorite brand of candy corn. Last year, in my area, I was able to safely eat them. This year, however, is different. This year, it's manufactured in a plant that also happens to manufacture wheat, so this year, it's a no-go.
Bottom line: It's very important to double-check. Bag to bag, store to store— A look over your candy's ingredients and information can mean the difference between a spooky fun or an actually scary night.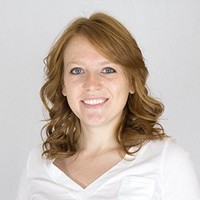 As UX/UI Designer and Website Manager for Lauren's Hope, Brittany Raum wears a lot of hats. Wearing her UX/UI Designer hat, Brittany creates positive customer experiences on the website by creating and implementing a blend of functional design that helps each visitor more easily find their way to the right products and information. Her Website Manager hat is no less integral to the customer experience. In that role, Raum is involved in strategy, analytics, troubleshooting, and a wide array of tech-driven projects. She collaborates with every part of the Lauren's Hope team, always looking for ways to better serve our customers.