About a year and a half ago, I was diagnosed with Celiac Disease. Although now I know that I can enjoy a lot of the same foods (albeit modified) that I could before my diagnosis, there's not a day that goes by that I'm not nose-deep in an ingredients label, sifting through all the jargon and manufacturing information that usually goes unread.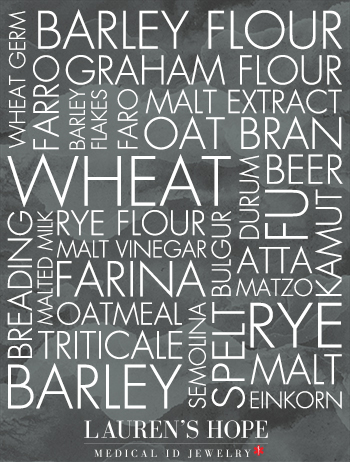 Having Celiac Disease is a challenge, but one that's definitely worth overcoming daily. I feel a little weird using this language, but luckily, my dad was diagnosed with Celiac Disease only a week after I was. I say "luckily" because he's living a healthier life, and, well, now we each have a partner in this new gluten-free world.
Last year was my first Thanksgiving with Celiac Disease, and let me just say, it was a doozy, not just for my dad and I, but also for my mom, who works tirelessly on Thanksgiving dinner every year— And I may be a bit biased, but I think she's the best Thanksgiving chef out there. Our first Thanksgiving as a family with Celiac Disease posed some challenges, but overall, it was an incredible learning experience for us all.
So, let's take a trip through the basics of Thanksgiving dinner when you or a guest is living with Celiac Disease or a gluten intolerance.
Turkey
Seriously, what's Thanksgiving without turkey? The staple of our main course may seem like a fool-proof centerpiece to the big day, but turkey (and other poultry like chicken) is notorious for being a sneaky gluten trap. When you're at the grocery store picking up your beautiful bird, pay attention to words like "broth" and "flavoring." Very often, poultry is injected with that tasty broth to add flavor, but additives like broth are not required to have its ingredients listed. Very commonly, broth contains a thickener like wheat flour.
But my turkey says it's "all natural." Sure, that's a good way to make sure you're getting quality meat, but it's very important to make sure your turkey's packaging says "gluten free" or "no broth added." Similarly, some chicken bouillon contains gluten, so be on the lookout for packaging that explicitly says "gluten free".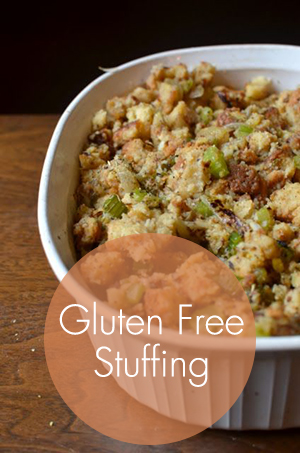 Stuffing
Sadly, classic stuffing is a no-go for those of us with Celiac Disease, but there are tons of great gluten-free instant stuffing options and gluten free stuffing recipes out there. If you choose to serve a gluten-containing stuffing, bake it in a separate dish—Not inside the turkey. Cross contamination is something to be mindful of, and can be easily avoided by using a separate dish.
Mashed Potatoes
Luckily, potatoes are naturally gluten free. Be wary of instant mashed potato mixes, though. Always double-check the packaging to make sure it's clear of gluten-containing ingredients like flour. Natural mashed potatoes are usually a fool-proof idea when you're cooking for someone with Celiac Disease.
Cranberry Sauce
In most cases, cranberry sauce is naturally gluten free. As always, it's important to double-check the ingredients and manufacturing info. If your cranberry sauce was processed in a facility that also processes wheat products, steer clear. Some of us with Celiac Disease can be affected by trace amounts of gluten that might be airborne in the facility when the cranberry sauce is being manufactured.
Green Bean Casserole
This is a recipe that will need some modification if you're cooking Thanksgiving dinner for someone with Celiac Disease. The classic recipe calls for Condensed Cream of Mushroom Soup, milk, soy sauce, black pepper, green beans, and french fried onions.
A few of those ingredients aren't naturally gluten free. If you want to modify this recipe to accommodate someone who is gluten free, you'll need to purchase gluten free Cream of Mushroom soup, gluten-free soy sauce (fun fact, soy sauce contains wheat— Who would have thought, right?), and gluten free french fried onions.
Rolls
Well, this is where we hit the obvious snag. But, not to worry— There are tons of great gluten-free roll options. If you'll also be accommodating guests without a gluten intolerance, make sure to keep your rolls labeled and separated.
Since my dad and I are the only gluten free eaters at Thanksgiving dinner, my mom makes sure to separate butter for rolls into two dishes— a gluten free only dish and a gluten dish. Cross contamination is something to be mindful of. If you serve a gluten free and a gluten-containing version of any of your dishes, label your serving utensil so a gluten-containing dish doesn't get mixed with a gluten-free dish.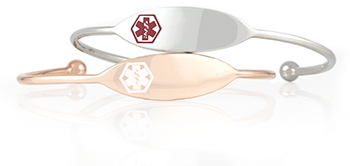 Holiday safety tip
If you're attending a holiday party where few or no people know about your intolerances or food allergies, be sure to wear your medical ID. If you carry rescue medications, make sure someone else knows where they are and how to administer them.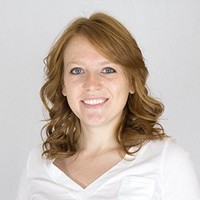 As UX/UI Designer and Website Manager for Lauren's Hope, Brittany Raum wears a lot of hats. Wearing her UX/UI Designer hat, Brittany creates positive customer experiences on the website by creating and implementing a blend of functional design that helps each visitor more easily find their way to the right products and information. Her Website Manager hat is no less integral to the customer experience. In that role, Raum is involved in strategy, analytics, troubleshooting, and a wide array of tech-driven projects. She collaborates with every part of the Lauren's Hope team, always looking for ways to better serve our customers.