If you're asking, then odds are the answer is yes. Wearing medical ID jewelry, particularly when it is custom engraved with your specific information, is a simple daily habit that can make a huge difference in an emergency. If you're not sure, ask yourself: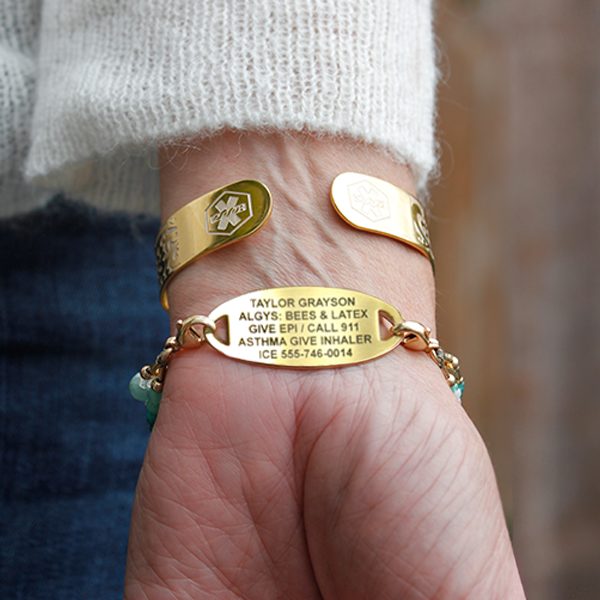 Are you at risk of your health condition(s) causing an emergency?
For instance, people with Type 1 Diabetes are at risk of having a low blood glucose event, which can cause a variety of symptoms, including (but of course not limited to) disorientation, loss of balance and coordination, and loss of consciousness. Wearing a medical ID bracelet custom engraved with your name, diagnosis, treatment instructions/considerations, and emergency contact information can make a tremendous difference in the outcome of that event. If a first responder knows immediate that s/he is seeing a diabetic emergency, s/he can jump straight to checking glucose numbers and treating you rather than doing detective work to figure out what's going on. Says Jeremy*, an EMT and Santa Barbara City Fire Department Engineer,
It really speeds up the decision-making process [as we] try to, One: See what the problem is, and, Two: Try to correct it. If it's something as simple as diabetes, if we give someone sugar, in less than a minute, they can be sitting up and talking to us. But if we don't know they have diabetes, there's a longer process to go through […] One of the most important things is patient history, and any medical problems that are on that bracelet are huge clues [as we're determining] what's going on with that person."

Jeremy, Santa Barbara City Fire
Even before first responders arrive, if a Good Samaritan reads your medical ID to a 911 dispatcher, they can immediately start providing better guidance to those attempting to assist you until medical professionals arrive.
Could your condition(s) cause challenges during or become aggravated by emergency medical treatments?
For instance, if you are allergic to latex, simply being examined by an EMT wearing latex gloves could cause an allergic emergency, including anaphylaxis. If you're allergic to corn, being given an IV with dextrose, which is derived from corn, can also cause such a reaction. Even if the allergic reaction is not as severe as anaphylaxis, when you are already in a crisis, an allergic event of any type can exacerbate the situation. Simply wearing an allergy alert medical ID has the potential to help you avoid these complications and ultimately improve your outcome.
Likewise, drug allergies are a major consideration for EMTs, as Jeremy explains:
"…It's really helpful if you are allergic to a common drug [especially if it's for pain] to put it on there. If you can't verbalize it and we need to give you something, that's important to know."

Jeremy, Santa Barbara City Fire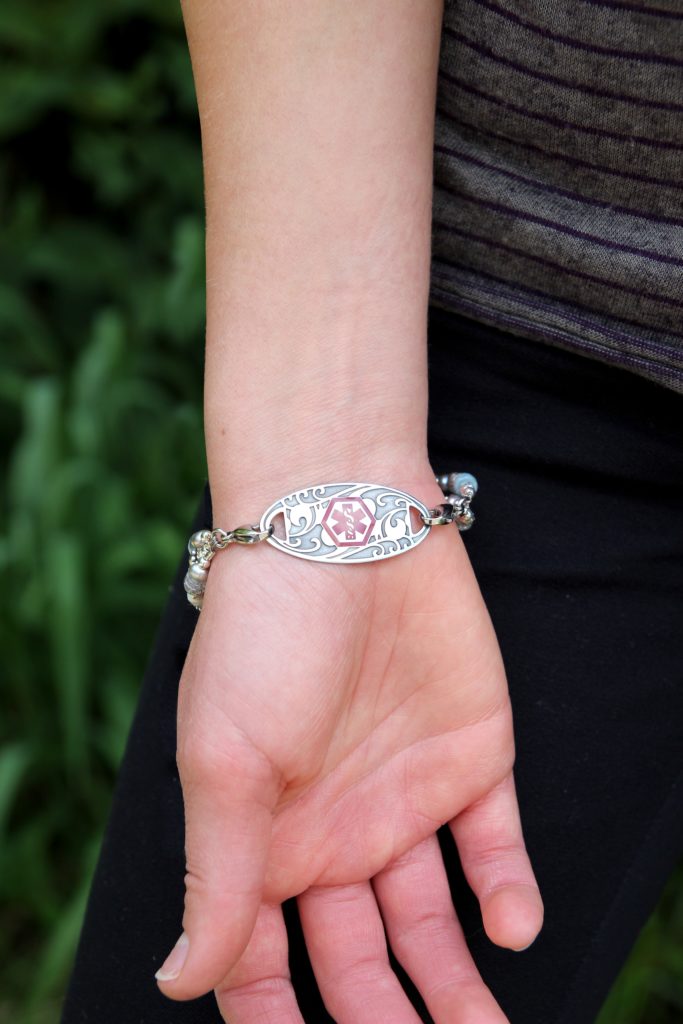 Do you have a complex medical history?
Many people with complex medical histories feel that they are protected by having a medical ID wallet card or a med list in their purse or wallet or by carrying a thumb drive with their medical information. However, EMTs routinely tell us that unless the patient is wearing a medical ID that states, "See Wallet Card" or "See Wallet Med List," patients' wallets and purses usually do not get checked in the field. They're handed off to police who hand them off to hospital personnel to be checked there. That little nudge on the medical ID bracelet matters. If you cannot fit everything you need on your medical ID, using it to let first responders know there's key information in your wallet is essential.
"Your Lauren's Hope tag works underwater. You get snow on it. You get dirt on it. It still works. It's a robust, analog system. That is so much more useful than a MedicAlert ID."

Jeremy, Santa Barbara City Fire
It's the same with systems that require internet connectivity or a phone call. While they can be a great way to impart secondary information (extensive history, insurance information, full doctor listings, etc.), they're not ideal for those immediate needs such as communicating pacemaker, blood thinner, insulin pump, or TENS unit use; a diabetes diagnosis; a history of epilepsy; or a latex, food, or drug allergy. That's an extra step that there often just isn't time for in the field, and sometimes there isn't any cell or internet service. According to Kansas City Fire Department Battalion Chief Matt Mauer, a 25-year veteran in the field, "Your Lauren's Hope tag works underwater. You get snow on it. You get dirt on it. It still works. It's a robust, analog system. That is so much more useful than a MedicAlert ID." And as for those thumb drives? Mauer explains that most EMTs and ER personnel won't use them because plugging in an unknown device (such as a flash drive or USB drive) is against hospital policies due to potential risks to hospital or ambulance computer systems. That's why custom-engraved medical ID bracelets and necklaces are your best bet: They provide immediate access to the most pressing information without relying on any outside systems, and they can nudge first responders to immediately retreive any additional data you may need to relay.

Make sure to check back soon, as up next on the LH blog, we'll discuss how to choose the right kind of medical ID for your needs.
*Jeremy is identified by his first name only in compliance with our editorial policy to maintain privacy for interviewees who request it. In this case, we did so to protect the privacy of this EMT/Firefighter's children, who are featured elsewhere on the Lauren's Hope blog.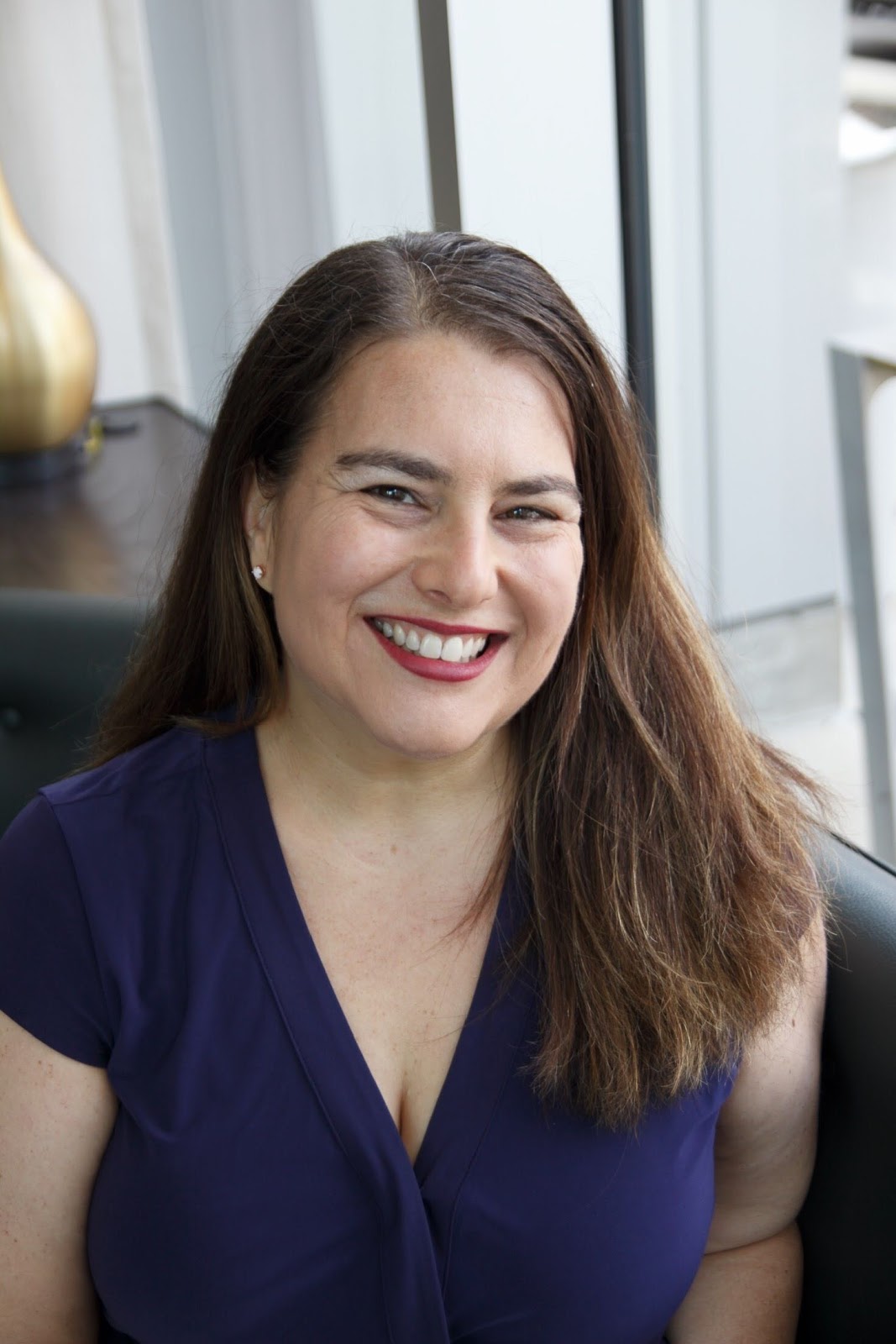 As Director of Sales, Marketing, and Business Development for Lauren's Hope, Tara Cohen is often the voice of Lauren's Hope. Whether she's writing the Lauren's Hope blog, crafting a marketing email, or describing a new product, Cohen brings a little personal touch to everything she creates.
Part of the LH team since 2012, Cohen has spent years learning about various medical conditions and what engravings are most helpful for each.
In addition to her years of experience at Lauren's Hope and all of the research she puts into writing for LH, Cohen draws on her own life experiences to bring a human touch to the LH blog.