If you're wondering what to engrave on your medical ID, we have you covered. Click over here for some great examples and information.
Looking for some other engraving-related answers? You're in the right spot!
Here are our Top 5 (Not-What-To-Engrave) Engraving Questions
What's the difference between the types of engraving?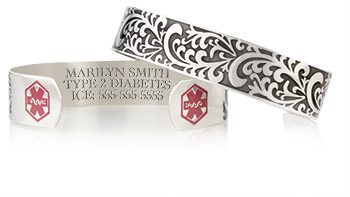 Most of our custom-engravable medical ID bracelets and necklaces allow for two different types of engraving. The first is called rotary, etched, or traditional engraving. This tone-on-tone engraving style is easiest to read in well-lit areas. Your lettering is etched into the metal without any contrast. This makes for a more discreet engraving. The second option is our premium laser engraving, also called "color fill" engraving. With this option, your lettering is actually burned onto the metal, resulting in bold, dark brown or black lettering that provides contrast against the metal, aiding in ease of reading even in low light.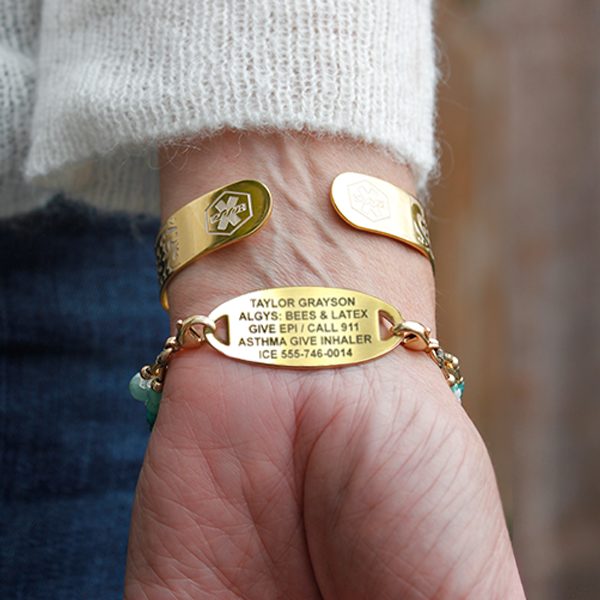 What if I want to add color fill to an etched engraving or change my engraving?
Our traditional rotary (etched) engraving and our premium laser (color fill) engravings are done using completely different machines and processes. It is not possible to add contrast color to an etched engraving, nor can we wipe clean an engraving and replace it with different information or a different type of engraving. If you've made an error on an engraved piece of medical ID jewelry, please email or call our customer service team at info@laurenshope.com or 800.360.8680. We're always glad to help.
What if I need to update my engraving?
If your engraving information becomes outdated, you'll need to order a new medical ID tag. However, if your medical ID bracelet is one of our interchangeable designs with lobster clasps at both ends of the bracelet strand, you can keep your existing bracelet and simply purchase a new ID tag.
Why is my engraving in all caps?
Engraving in all caps typically provides for larger letters and ease of reading, so it is our standard method. If you have a concern about the capitalization of your engraving, please use the Special Instructions field in your order or contact us for personal assistance at info@laurenshope.com or 800.360.8680.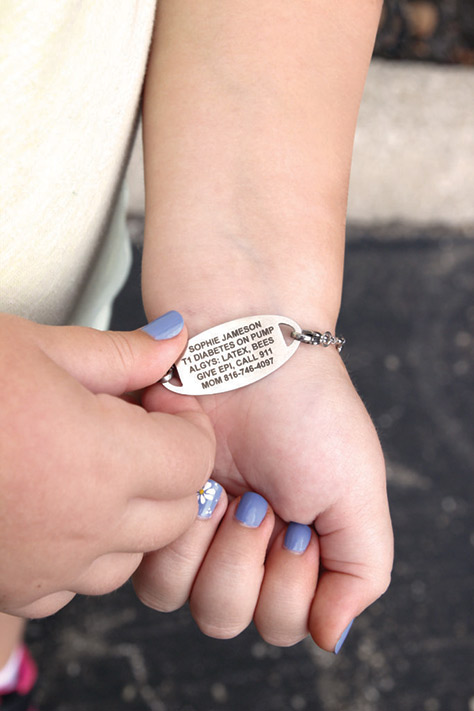 Do you have my old engraving information?
If you've ordered with us in the past, we have your old engraving information. If you have a user account, you can access this information yourself. Please note that having made a purchase and/or being on our email list are not the same as having a user account, which requires that you set up an email address and password with us. If you don't have an account, can't access it, or just aren't sure, don't worry! We're here to help. We keep your engraving and size information on file so you don't have to.
Still have questions? Check out our article on What to Engrave On My Medical ID as well as our handy lists of commonly engraved abbreviations and medication names. And of course, feel free to leave a comment here or email us at info@laurenshope.com for help anytime.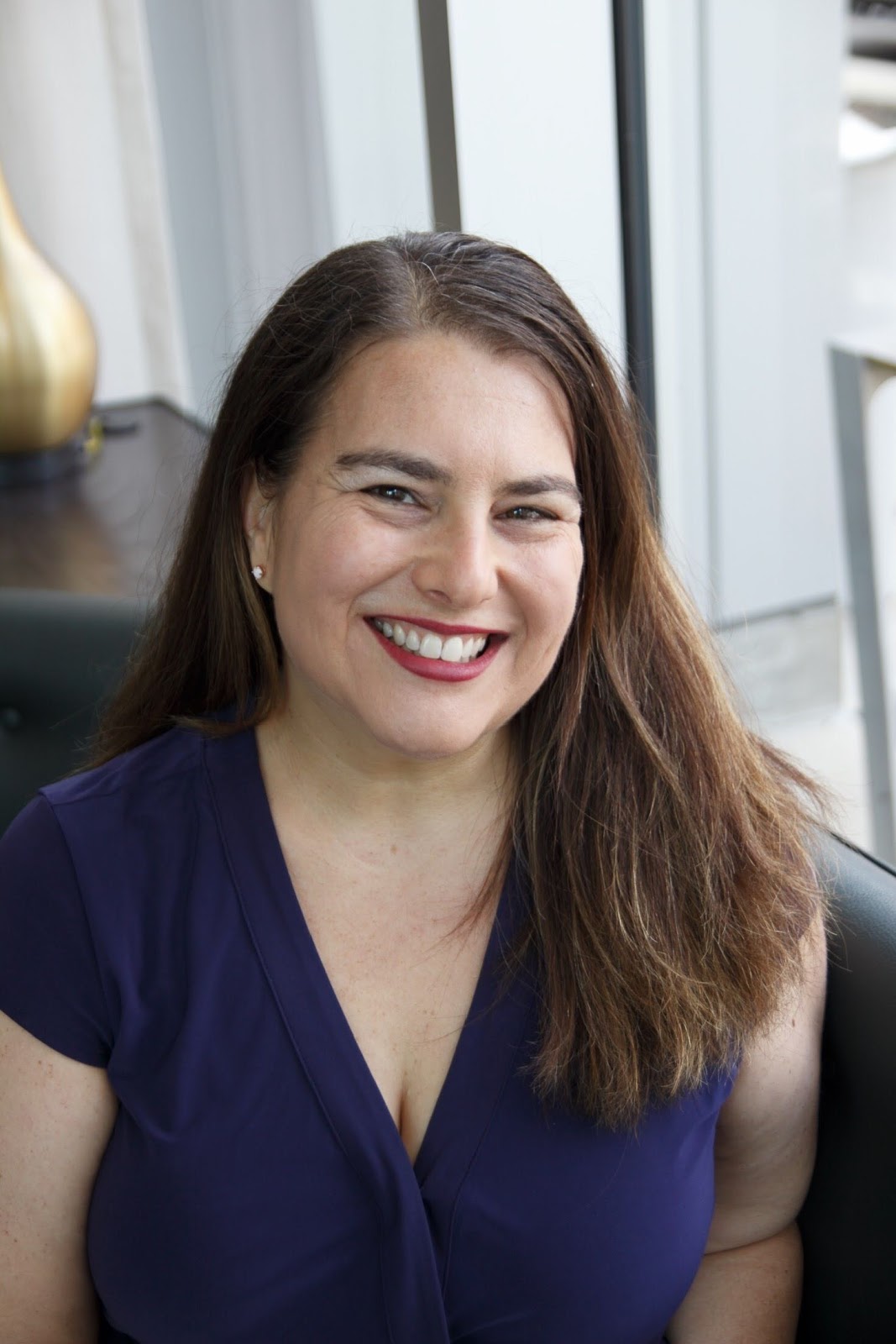 Tara Cohen,  Director of Sales, Marketing, and Business Development
LH Team Member Since 2012
University of California Santa Barbara
LinkedIn Profile: https://www.linkedin.com/in/taracohen
As Director of Sales, Marketing, and Business Development for Lauren's Hope, Tara Cohen is often the voice of Lauren's Hope. Whether she's writing the Lauren's Hope blog, crafting a marketing email, or describing a new product, Cohen brings a little personal touch to everything she creates.
"One of my favorite things about Lauren's Hope is that we are truly here to help people. My first interaction with Lauren's Hope was as a customer, and the helpful, caring manner in which the LH team supported my son's needs was truly remarkable. It's an experience I want our customers to have every time they visit the site. That's why I always strive for a conversational, friendly tone of voice. I write the way we would speak to our customers if they walked into a Lauren's Hope storefront." 
Part of the LH team since 2012, Cohen has spent years learning about various medical conditions and what engravings are most helpful for each.
"We always remind our readers that we are not medical professionals. We aren't doctors or nurses. We are, however, medical ID experts. We talk to customers, first responders, and medical professionals every day about any condition you can imagine, and we discuss what information a first responder needs to know when someone has that condition. I am so grateful to have the opportunity to share some of that knowledge over on the LH blog."
In addition to her years of experience at Lauren's Hope and all of the research she puts into writing for LH, Cohen draws on her own life experiences to bring a human touch to the LH blog.
"Around here, we like to say, 'Everyone knows someone who needs a medical ID,' and that holds true for me as well. In fact, most of my family and many of my friends and their children wear Lauren's Hope medical IDs.
"Personally, I have a salicylate intolerance and some pretty scary food and drug allergies, which I've written about at length.
"My son is nonverbal and has autism, OCD, non-celiac gluten sensitivity, and sensory integration dysfunction. I've written a lot about Will, including our journey with his feeding aversion, which resulted in a two-week hospitalization and subsequent feeding tube placement. I still get emails and calls from moms whose kids are going through feeding aversion therapy or who have been recently diagnosed with autism, and I am so grateful to have the chance to connect with them.
"I have other family members and friends who wear our medical IDs for food and drug allergies, heart conditions, medication restrictions, diabetes, autoimmune diseases, blood thinner use, and more. Being able to help them choose the right med ID with the right engraving is very rewarding. I always tell them the same thing I tell all of our customers, 'I hope you'll never need it, but I am so glad you have it.'"
Areas of Expertise
eCommerce
Content Creation
Digital Marketing
Email Marketing
Product Development
Business Development
Brand Management
Professional Honors and Memberships
Member, Forbes Business Development Council, 2018 & 2019
Nominee, Kansas City's Women Who Mean Business Awards, 2019
Commerce Review Panelist | ROI Revolution's PPC and Marketing Summit, 2017
Guest Speaker, Kids With Courage (Type 1 Diabetes, KC charity) Annual Gala, 2016
Service Recognition Award, Kids With Courage Annual Gala, 2015
Nominee and Finalist, Kansas City's NextGen Leader Awards, 2015 & 2016
Google AdWords and Analytics Certified, 2015
University of Florida's Center for Autism and Related Disabilities (CARD) Guest Speaker | Touch-Screen Communication Technology for Children with Autism
Publications