It's estimated that about 300,000 American live with scleroderma, and since it presents with symptoms that are similar to other autoimmune disorders, scleroderma is often difficult to diagnose. Scleroderma can develop in any age group from infants to the elderly, but its onset is usually between the ages of 25 to 55.

What is scleroderma?
Scleroderma is a chronic connective tissue disease that's usually classified as one of the rheumatic diseases. Considered an autoimmune disorder, scleroderma usually manifests visibly as a hardening of skin.
There are two types of scleroderma: localized and systemic. Localized scleroderma is usually only found in a few places on the skin or muscles, and it rarely spreads. For the most part, localized scleroderma is relatively mild.
Systemic scleroderma can affect more than just the skin and muscles. It can involve the esophagus, gastrointestinal tract, lungs, kidneys, heart, and other internal organs. The tissues of the affected organs become hard and fibrous.
What are the symptoms of scleroderma?
The symptoms of scleroderma vary depending on which parts of the body are affected.
Skin: It is very common for those with scleroderma to experience the hardening of patches of skin. Skin can appear shiny when it's tight, and movement in the area might be restricted.
Fingers and toes: In the earliest signs of scleroderma, numbness, pain, or a change in color might occur to these affected areas.
Digestive system: Acid reflux is a common symptom of scleroderma, and this can damage the part of the esophagus that's closest to the stomach and may cause issues with nutrient absorption.
Heart, lungs, kidneys: Rarely, scleroderma can affect the function of some internal organs. These problems are potentially life-threatening.
What is the treatment for scleroderma?
Currently, there is no cure for scleroderma, but there are treatments that can help to manage some symptoms. Some treatments are directed at decreasing the activity of the immune system. Some people with a mild form of the disease may not require treatment for scleroderma at all, and sometimes people can go off treatment if their scleroderma is no longer active.
What causes scleroderma?
The cause of scleroderma is unknown, but it is known that it involves overproduction of collagen in the body.
How can I protect myself if I have scleroderma?
The first step to protecting yourself when you have scleroderma is to take prescribed medications as they are prescribed. Keeping an open dialogue with your doctors about your symptoms is also vital.
Wearing a medical ID can also be very beneficial to those with scleroderma. For those living with localized scleroderma, it's important that in the case of an emergency, first responders understand that any tightness of the skin or muscles was not necessarily caused by an injury but is a symptom of scleroderma.
For those with systemic scleroderma, first responders need to know what organs are compromised by the illness. Knowing where the condition affects you is incredibly important so first responders can treat you quicker and with better efficiency. A medical ID can advocate for you when you cannot advocate for yourself.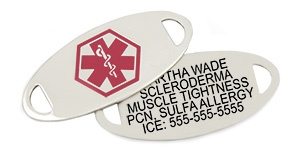 We recommend you engrave:
MARTHA WADE
SCLERODERMA
MUSCLE TIGHTNESS
PCN, SULFA ALLERGY
ICE: 555-555-5555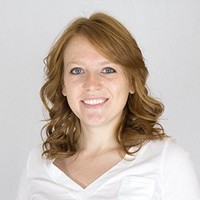 As UX/UI Designer and Website Manager for Lauren's Hope, Brittany Raum wears a lot of hats. Wearing her UX/UI Designer hat, Brittany creates positive customer experiences on the website by creating and implementing a blend of functional design that helps each visitor more easily find their way to the right products and information. Her Website Manager hat is no less integral to the customer experience. In that role, Raum is involved in strategy, analytics, troubleshooting, and a wide array of tech-driven projects. She collaborates with every part of the Lauren's Hope team, always looking for ways to better serve our customers.