Type 1 Diabetes Medical ID Bracelet For Kids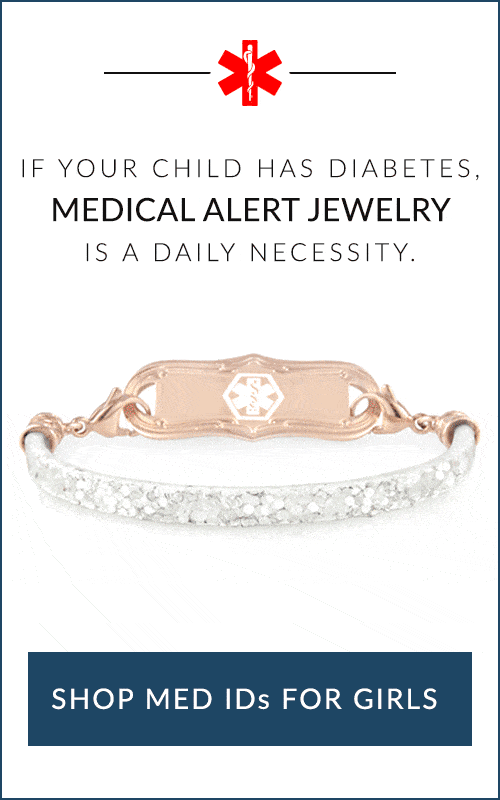 After a diagnosis, parents often ask themselves a few questions about medical IDs for kids:
Does my child need a diabetes alert medical ID bracelet?
The simple answer is, yes. If your child has diabetes, medical alert jewelry is a daily necessity.
What should I engrave on my kid's medical alert bracelet?
Whether it's for toddler medical alert bracelets or older children's medical alert bracelet tags, deciding what to put on your child's medical ID is easy once you know the basic items to include:
Name
Type of diabetes
Whether your child uses an insulin pump
Any other medical conditions
Food or drug allergies
Parent or guardian contact information
Here are a few examples of what people engrave on medical ID bracelets for kids with diabetes: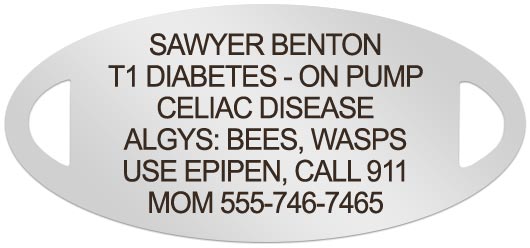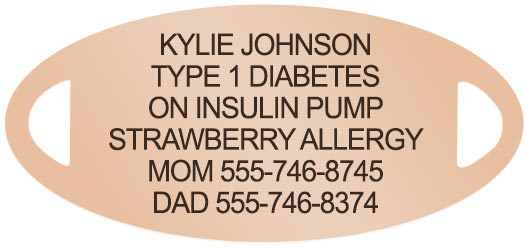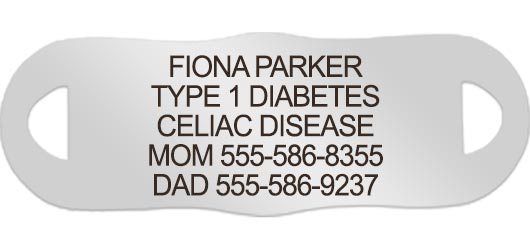 The Facts About Kids' Type 1 Diabetes Medical Alerts
Here are some of our most frequently asked questions about type 1 diabetes medical alert jewelry for kids:

Do kids' medical alert bracelets help in a diabetic emergency?

Overwhelmingly, the answer is yes. In the 2020 Lauren's Hope First Responder Survey*, we received feedback from more than 100 first responders, the majority of whom are paramedics and EMTs. We specifically asked about medical ID jewelry for diabetes and the efficacy of different types of medical alert jewelry.

More than 95% of first responders agree that medical IDs can improve patient outcomes.
More than 85% of first responders specifically recommended medical alerts for people with diabetes.

Where can I buy kids' diabetic medical alert bracelets?

This one's easy. Lauren's Hope has the best medical alerts for kids with diabetes. Shop our boys' medical alert bracelets and dog tags or visit our girls' medical alert bracelets and necklaces. Every kids' medical alert necklace or bracelet we sell can be custom engraved specifically for your child.

Where can I buy medical alert jewelry for a teenager with diabetes?

Our Boys' Medical Alert Jewelry and Girls' Medical Alert Jewelry sections are great for younger kids. Teenagers, however, tend to want more options and a more adult look, so we recommend shopping for teenagers within our Women's Medical Alert and Men's Medical Alert Jewelry categories. 

Did you know? Our medical ID jewelry is handcrafted or custom sized in our Kansas City headquarters. This means even a smaller teen can choose a woman's medical alert bracelet, and we can size it just for her.

Do college students need diabetes medical alerts?

If your child is headed off to college, it's a good idea to do a bit of a diabetes supply check:
1. Review his current medical alert and ensure that the information and emergency contacts are up to date.
2. Order a backup medical alert bracelet or med ID dog tag just in case.
3. Make sure he carries a medical alert wallet card with any additional, relevant information.

What are the best types of diabetes medical alerts for kids and teens?

For active kids: Our sport medical alert bracelets come in several sizes and are popular with kids. Available in multiple colors, our sport medical IDs are custom engravable, hypoallergenic, and low-cost. Shop our water-friendly diabetes alerts.

For little kids: For the younger child, such as a toddler, medical alert bracelets have to be extremely durable while also being safe to wear. We recommend the most basic medical IDs for younger kids with diabetes. Check out our stainless steel chains, which are hypoallergenic, sturdy, and pair perfectly with our custom-engravable medical alert tags.

For the fashionista: Parents tell us that when they're able to provide cute medical alert bracelets, their daughters are much more willing to wear (and proud to show off!) their diabetes medical alerts. Shop pretty medical alert bracelets for girls.

For the shy guy: For kids who want a little more privacy with their diabetic jewelry, check out our boys' medical alert dog tags and girls' medical alert necklaces. These more discreet diabetes IDs are great options for older kids. We do not recommend medical alert necklaces for kids under five.

Learn more about diabetes medical ID jewelry here.
*In 2020, Lauren's Hope conducted a non-incentivized, independent survey of more than 100 EMTs, paramedics, and other medical first responders.
*Over 95% of first responders agreed with the statement that wearing a medical ID improves patient outcomes.
*Over 95% of first responders agreed with the statement that wearing a medical ID improves patient outcomes.
*Over 85% of first responders recommended medical alerts for people with diabetes.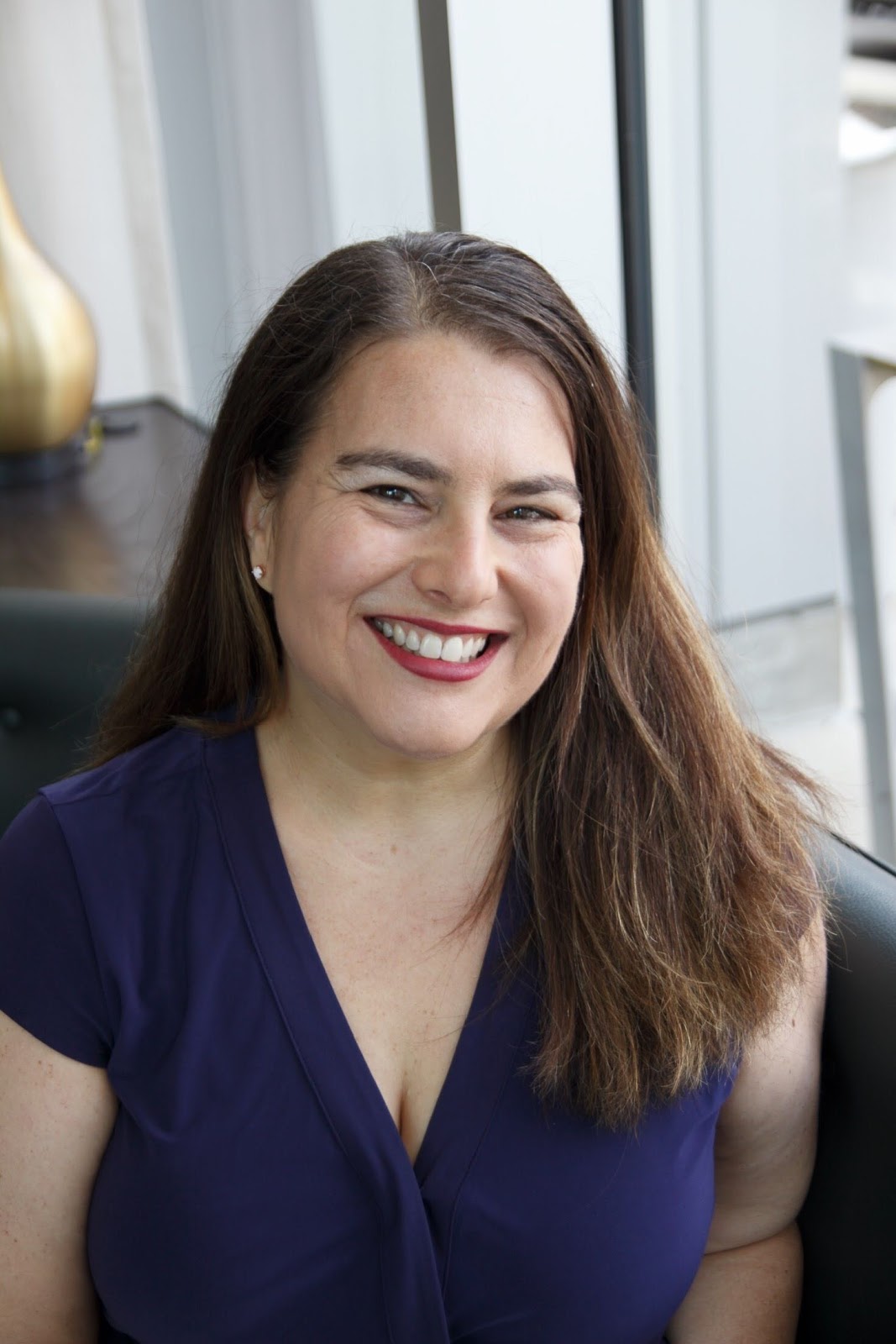 As Director of Sales, Marketing, and Business Development for Lauren's Hope, Tara Cohen is often the voice of Lauren's Hope. Whether she's writing the Lauren's Hope blog, crafting a marketing email, or describing a new product, Cohen brings a little personal touch to everything she creates.
Part of the LH team since 2012, Cohen has spent years learning about various medical conditions and what engravings are most helpful for each.
In addition to her years of experience at Lauren's Hope and all of the research she puts into writing for LH, Cohen draws on her own life experiences to bring a human touch to the LH blog.