September is Alzheimer's Awareness Month, also called World Alzheimer's Month. It is an international movement to raise awareness about dementia and challenge the stigma that surrounds it. The theme of 2017's World Alzheimer's Month is, "Remember Me," and the focus is around the importance of detecting and diagnosing the disease early. There are all kinds of events held all over the world that bring together people living with dementia, their caregivers, medical providers, researchers, and thought leaders, and these events are designed to provide education and raise money for the research needed to put an end to this disease.
What is Alzheimer's Disease?
More than 5 million Americans are currently living with Alzheimer's Disease. The most common form of dementia, Alzheimer's causes problems with thinking, memory, and behaviors. It makes up 60% to 80% of all cases of dementia. Every 66 seconds, someone develops Alzheimer's in the US. It is a progressive disease, gradually growing worse as more parts of the brain are affected. As it grows worse, more symptoms appear, and they become more severe.
One of the earliest symptoms of Alzheimer's Disease is trouble remembering things. Eventually, an individual with Alzheimer's will usually go on to have difficulties with reasoning, thinking, perception, and/or communicating. In later stages, many individuals with Alzheimer's develop behaviors that are out of the ordinary, such as agitation, aggressiveness, or repeating questions. They may start to have problems with normal daily activities, such as eating, walking, bathing, dressing, or other self-care tasks. Those with advanced Alzheimer's need daily care and assistance. There are currently over 15.9 billion caregivers of people with Alzheimer's.
What Isn't Alzheimer's Disease?
Many believe that Alzheimer's Disease is just a normal part of getting older. While getting older is one of the most common risk factors (and most people with the disease are over the age of 65), it's not solely a disease of old age. There are about 200,000 Americans under the age of 65 who are living with early-onset Alzheimer's.
A diagnosis of Alzheimer's Disease also doesn't mark the end of one's life. With the assistance of supportive family, professional caregivers, highly experienced doctors, as well as use of effective treatments for symptoms, those diagnosed with Alzheimer's are often living in their home environments longer than ever before.
How You Can Take Steps to Decrease Your Risk Now
The prospect of developing Alzheimer's Disease can be a frightening one, but there are things you can do now to reduce your risk:
First, get regular exercise. Research has shown that exercise can reduce your risk by up to 50%. For most people, aiming for 150 minutes of moderate exercise a week is a good goal. However, it's important to consult with your doctor and to find the fitness options that are healthy and safe for you. Talk to your doctor about including resistance and weight training and/or balance and coordination exercises (such as yoga).
Eat at healthy diet. By eating healthy you can limit some causes of inflammation of the brain. Get lots of fruits and vegetables, and include plenty of omega-3 fatty acids. Cut back on sugar and avoid trans-fats. You may also want to add some supplements such as folic acid, vitamin D, and B-12. Of course, as with all dietary changes, it's a good idea to consult your doctor or a licensed nutritionist.
Stay social. The human brain does not do well in isolation. Join a club or volunteer. Staying mentally stimulated is also essential. Take a class at the local college or community center. It is also important that you get plenty of quality sleep and manage your stress.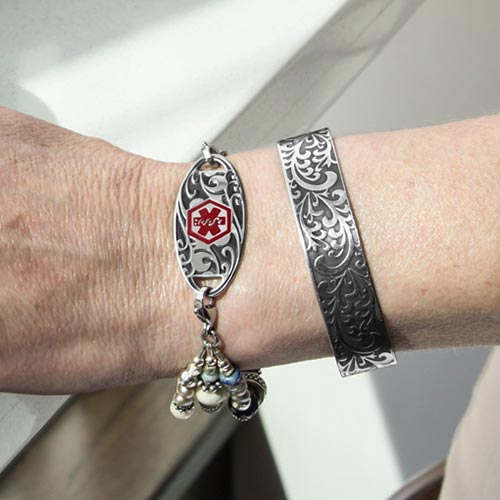 The Importance of a Medical ID
Alzheimer's Disease may present with disorientation. People with Alzheimer's sometimes have a high elopement risk (risk of wandering or fleeing when confused or disoriented), and they may not be able to self-advocate at times. All of this means wearing a medical ID is extremely important. When someone appears disoriented or has an altered mental state, EMTs and other First Responders work to identify the cause. They need to rule out head trauma, seizures, reactions to substances, drop in blood sugar, etc. However, if the first responders can flip over a medical ID and know that someone has Alzheimer's as a pre-existing condition, and that the person may appear disoriented as a baseline, they can focus more on reuniting that person with loved ones or caregivers. Make sure that the medical ID is engraved with the person's name, diagnosis, baseline (disorientation, memory loss, speech impairment), any other health conditions, and at least one emergency contact number.