Summer is often one of the most anticipated seasons of the year. It's finally time to spend your days outdoors, enjoying the warm weather and sunshine. Of course we all need to take appropriate measures to stay safe in the summer by protecting ourselves from heat, sun, stinging insects, and other outdoor-related safety risks. For those living with Type 1 Diabetes, there are additional challenges in the summer that require extra precautions and planning so everyone can stay safe and healthy. The change in seasons, higher temperatures, exercise, exertion, and dehydration can all lead to extreme blood sugar fluctuations that can make for dangerous situations, especially around water. Here are some key topics to consider when planning fun outdoor activities this summer when you or a loved one is living with Type 1. As always, consult your primary care physician or endocrinologist for the best advice for your personal needs.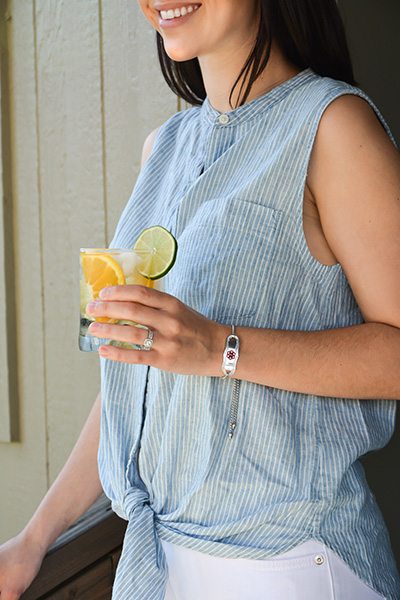 Stay Hydrated
Dehydration is a concern for anyone during the hot summer months, but it's even more of a concern if you are living with Type 1 diabetes.  Because dehydration can cause blood sugar levels to spike (hyperglycemia), it's always a good idea to carry plenty of water and stop often for drink breaks
Test Frequently
Heat causes your blood vessels to expand. This may speed up the body's insulin absorption, which can cause drastic lows. So when in the heat or when exercising, it's important to test, cool down, and take breaks.  It's also important to test  frequently in the hours following exercise or other physical exertion, as the effects of these efforts can linger longer than usual in the summer heat.
Adjust Your Insulin as Needed
You may find that you need to adjust your insulin dosages in the summer. Especially if this is your first summer season living with Type 1, it's important to pay extra close attention not only to your daily numbers but also to your levels overall and how they differ from cooler times of the year. Speak with your physician or diabetes nurse educator on how to modify your testing and insulin regimen during the warm summer months.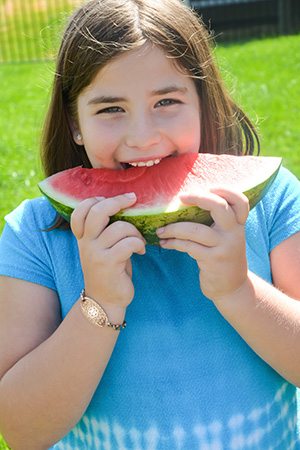 Keep Snacks on Hand
Living with Type 1 means carrying snacks and/or glucose products (glucose tablets or gels) with you at all times. In the summer, it may be helpful to keep a small cooler on hand so you always have fresh snacks when needed. Your diabetes nurse educator, dietician, or endocrinologist may have personal suggestions for you as to which types of foods to keep handy in the heat.
Hot Weather and Your Medication
Heat can damage insulin (and other medications) as well as test strips. There are some simple steps you can take to protect your supplies. Keep them cool by packing them in a cooler bag, but do not keep them on ice.  Both extreme heat and extreme cold can affect your test results and degrade your medications, reducing their effectiveness. Check the manufacturer's instructions for recommendations specific to your test supplies and medications.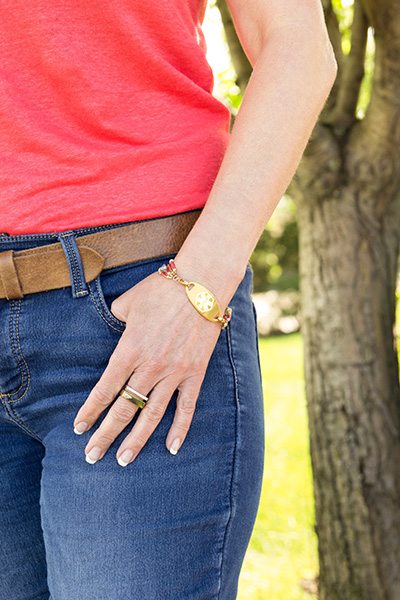 Know the Signs of Heat Exhaustion
Living with Type 1 Diabetes can make you more susceptible to heat exhaustion. So it's important to know the symptoms and make sure those around you know them as well. For most people, symptoms are similar to those of low blood sugar – dizziness, excessive sweating, headaches, nausea, confusion, fainting. Even if you think your symptoms are caused by the heat, it's a good idea to test so you know what's causing your symptoms and can get the right help right away.
Wear a Medical ID
Wearing a medical ID is important any time of the year, and going out to enjoy the warm summer weather is no exception. At the same time, using sunscreen is essential for spending any amount of time outdoors, and of course it should be reapplied frequently. Between sunscreen and water exposure, plus the rigors of outdoor activities in general, we recommend choosing a stainless steel, paracord or silicone medical ID for those hot summer days. Already have a beaded, interchangeable medical ID? You can keep your existing ID tag and swap out the bracelet strand so you always have exactly what you need.
Share Your Ideas About Type 1 in the Sun
What tips do you have for Type 1 sun safety? We want to hear from you in the comments below!