In our 24/7 online world, you may be wondering how you can use technology to assist in making sure responders know your personal conditions in the event of an emergency. The two types of products that help here are USB Medical Alert Bracelets and Tech IDs. Learn more about them, their uses, as well as pros and cons below.
What Is a USB Medical Alert Bracelet?
Known more as a USB bracelet, a USB medical ID can come in a variety of shapes, including necklaces, pendants, and keychains. Like a traditional medical alert bracelet, this type of ID is available in a stainless steel and silicone materials. However, its USB drive stores a great deal of medical information such as allergies, health care directives, current medications and anything else providers may need to know.
With today's consumers are drawn to the USB's digital functionality, this type of medical ID is becoming more and more popular.
Advantages of a USB Medical ID Bracelet
With storage that typically ranges between 2 and 4GB, a USB device has ample room to hold all your medical information, including extensive details. This makes it a great resource for non-emergency situations where healthcare providers have the time to insert the USB and scan the information on it. Plus, you can use it to store any other information you need, and because it is a medical device you wear at all times, you don't need to worry about misplacing it.
The digital format also makes it a cinch to change or update information as necessary. Having access to complete, accurate data can help your health care providers give you the right assistance and avoid potential pitfalls.
Disadvantages of a USB Medical ID
When selecting your medical ID, it is important to understand the drawbacks as well as the advantages. In spite of its versatility and convenience, the USB ID may not be the best choice in some situations.
One major issue is that information on the USB drive can take time to access. To read the data, responders must plug it into a device that runs compatible software. In an emergency, when responders may only have seconds to make a decision, this can cause a disastrous delay. In some situations, responders arriving on the scene may not even have a computer with them. If such a scenario does arise, chances are that emergency providers will proceed to take standard measures without reading the USB.
Emergency situations aside, many facilities have strict rules about plugging in outside uninspected USB drives for reasons of confidentiality and security. If the facility experiences computer glitches, responders can encounter even more problems while trying to access the USB data.
The USB chip, on its own, can potentially suffer water damage. While USB bracelet makers generally promise a waterproof case, it can be hard to know the extent to which you can rely on it. You probably don't have to worry about getting caught in the rain, but what if you regularly go swimming or diving? Leaving the device on can damage it, while removing it can cause you to lose protection while you engage in an activity where you may very well end up needing a medical ID. Other types of damage can also leave your information vulnerable, such as daily wear-and-tear.
Another issue in a time of constant identity theft concerns is the accessibility of your medical and personal information if your USB is lost or stolen. The sensitive data you need to store there can make you vulnerable if your device falls into the wrong hands.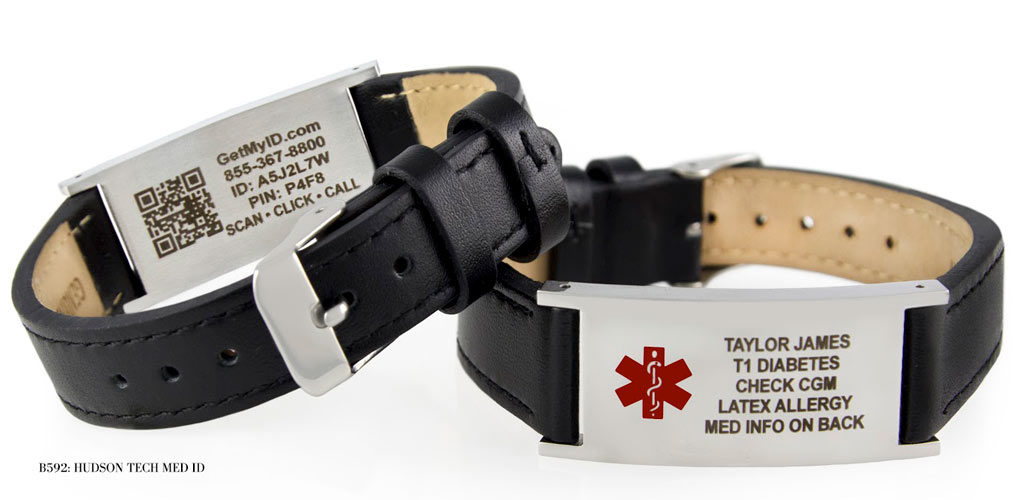 What Is a Tech ID?
A Tech ID retains the major benefits of the USB bracelet while also compensating for its drawbacks. This device consists of a simple band that gives first responders and medical professionals access to cloud-based medical information.
You can set up an online health profile to include all pertinent medical information. Your information can be accessed online directly via a URL, via a scannable QR code, or through a phone number. You can also manage your information by accessing the website or by using a free mobile app.
Benefits of a Tech ID Bracelet
As security and accessibility concerns lead more experts to promote cloud-based electronic health care records, Tech IDs integrate this approach into their hardware. Because your information is stored in the cloud, you or your caregiver can access it from anywhere, which makes updating information quick and convenient. The online health profile offers an optimal method for ensuring all your information is complete and up-to-date. This feature is especially important if you have a complex medical history, take numerous medications, or have medical or contact information that is often in flux.
Three easy access options allow first responders to get your information right away without having to use any specialized equipment. Even when no computer is available, your data is easily accessible by phone or another mobile device. Access also doesn't require downloading anything, bypassing potential security risks to the responders' facility.
If anything happens to your bracelet, your information remains safely in the cloud. All you will need to do is replace the physical ID band. If you lose your bracelet, you can go online to deactivate it so no one will be able to use it to access your data.
Like USB bracelets, Tech ID jewelry is available in a variety of styles that you can customize for fit and easily integrate into the look you want. Our many options include classic leather, as well as contemporary athletic styles with customizable elements.
Some styles can be engraved with custom information you want responders to have right away, even before they go to your profile for more details. Tech IDs made of silicone and stainless steel are waterproof as well, so you can keep them on at all times without worry.
USB Medical Alert Bracelets vs. Tech IDs
Tech IDs offer cutting-edge technology for providing vital information to health care providers and first responders. Its major advantages over USB bracelets include versatility and speed of access methods, as well as superior information security.
A USB bracelet includes the ability to store more extensive information than a traditional medical alert bracelet. However, having the information available may not help if responders can't access it in time to help you with the data they find. The below table above provides a helpful summary of the ways in a USB bracelet stacks up against a Tech ID.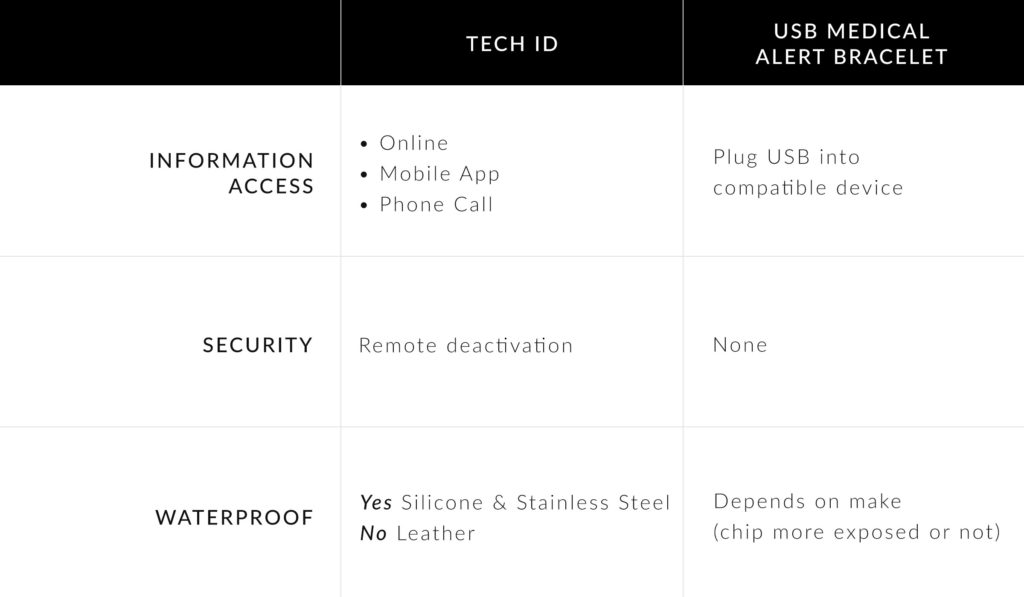 The purpose of a medical ID is to ensure first responders have enough information to provide the right care and avoid critical mistakes. For this reason, it's important for them to be able to access your data in seconds, without having to figure out multiple steps, or use equipment that they may not have with them.
A traditional medical alert ID provides easy information access, which is critical in an emergency. For those with extensive, medical histories, however, a tech ID, particularly one that my be custom engraved, is a great option.Tech IDs offer the best of both worlds: instantaneous access along with extensive data. Browse our wide range of tech IDs today.