A Guest Post by our friend Danielle Walk, Executive Director of the Myasthenia Gravis Association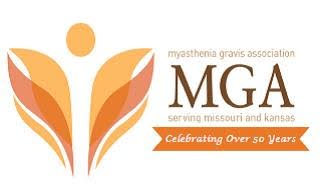 "Why does he never smile?"
"He doesn't look sick"
"I think she's drunk"
"She is just lazy. She was just fine last week. Maybe she's trying to get out of work…again."
These are some of the comments that someone with myasthenia gravis (MG) may not get to hear but are the type of remarks that are sometimes said by those not familiar with MG, and individuals with this rare disease seldom get the chance to set the record straight.
June is MG Awareness Month and the Myasthenia Gravis Association of MO & KS (MGA), as well as other chapters and individuals throughout the country, is involved in a variety of activities to promote awareness and education so that MG can be better understood.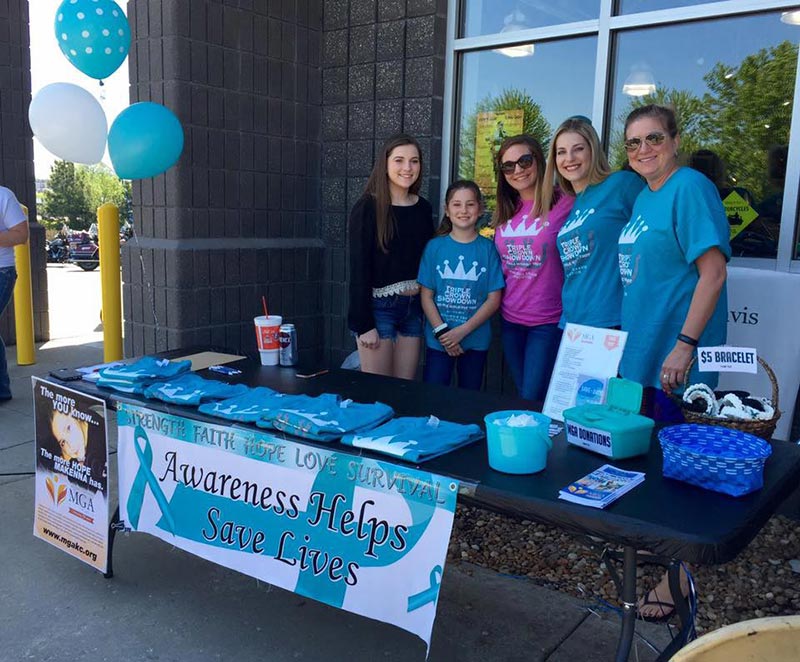 So, what is MG?
MG is an autoimmune, neuromuscular disease characterized by fluctuating weakness of the voluntary muscle groups. MG occurs in all races, genders, and at any age. It is a potentially fatal disease without a cure, however, with early diagnosis and proper medical treatment the disease can be controlled. The prevalence of MG in the United States is estimated to be about 1 out of 5,000. The symptoms include:double vision, drooping eyelids, slurred speech, difficulty chewing and swallowing, difficulty breathing and weakness in arms and/or legs.
Most people have not heard of MG and that is because it is considered one of the so-called "invisible diseases". Other chronic disorders such as lupus, rheumatoid arthritis, fibromyalgia, and chronic depression are examples of illnesses that generally aren't noticeable to anyone but the person who has the disease because they tend to not have any outward signs.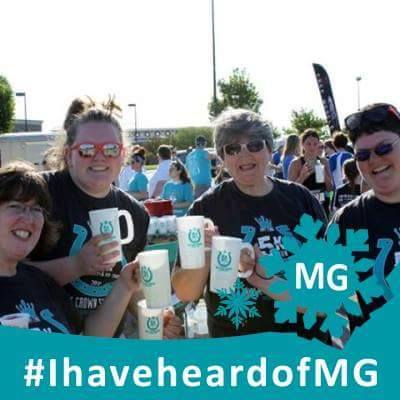 What does the MGA do?
The MGA is dedicated to improving the quality of life for those affected by this autoimmune, neuromuscular disease through awareness, education and member services. The MGA works with area neurologists who have established MG clinics to diagnose & treat MG. We also provide individualized education and advocacy, support group meetings, new patient packets and a quarterly newsletter.
During June, awareness activities include obtaining proclamations from local and state officials, providing information about MG to the media, holding MG awareness events, disseminating information via social networks, educating health care professionals and much more. Although June Awareness is just one month, awareness efforts will continue throughout the year in fulfillment of the MGA's mission of being dedicated to improving the quality of life for those who are affected by this autoimmune, neuromuscular disease through awareness, education and member services.
You can help us spread awareness by educating yourself and others about MG!
For More Information or to get involved, contact the MGA at (816) 256-4100 or mgakc@sbcglobal.net or visit www.mgakc.org
Lauren's Hope is a proud supporter of the MGA! When living with Myasthenia Gravis, medical ID bracelets and necklaces are a daily necessity and a great pro-active step in your healthcare. Do you wear a Myasthenia Gravis medical ID bracelet? We want to hear from you! Contact tara@laurenshope.com, or leave a comment below.