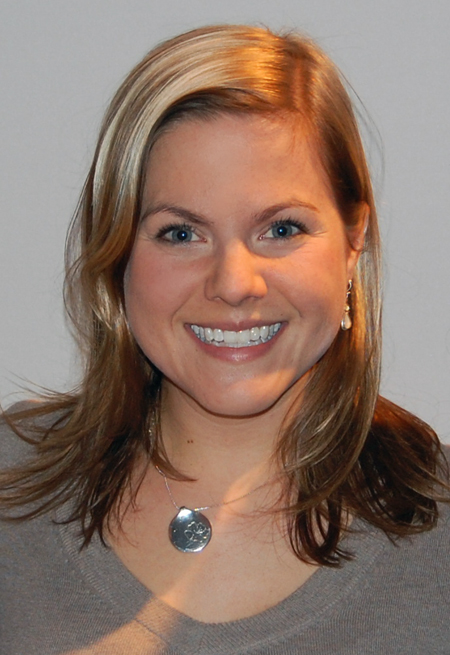 Thank you for visiting!
This give-away has ended.
Please check back soon.
Welcome to a very special Free Stuff Friday! This week, we've teamed up with our friend Kerri Sparling of www.sixuntilme.com to talk about traveling with Type 1 Diabetes and give away THREE travel- and summer-friendly medical alert bracelets right in time for vacation season! Kerri's post is below. Give it a read, check out her blog, and enter to win* one of the products shown in her article by commenting below with your own travel and safety tips! They can be anything from packing ideas to finding a local ER when you don't speak the language. Remember to list the product you'd like to win. Full product descriptions are listed at the bottom of this page, and the three winners will be announced both on the Lauren's Hope Facebook page and here on the blog tomorrow, Saturday, June 1st.
*Winners will be chosen at random.
It Speaks When I Can't
By Kerri Sparling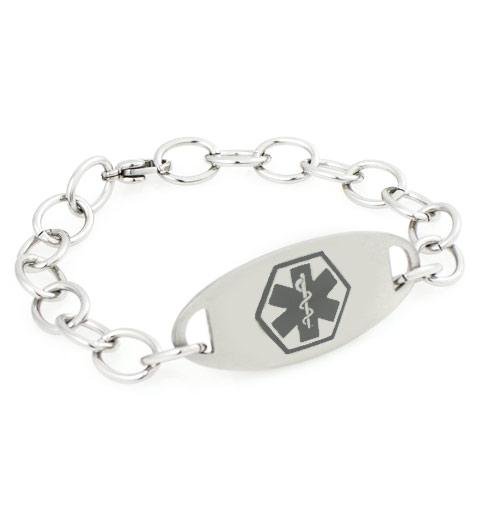 My job brings me on the road (and in the air) at least a few times a month, and for most of my business trips, I'm traveling by myself. This is a mixed blessing, because while I'd love to have my family with me when I'm away from home, doing the toddler-on-the-plane entertainment shuffle can be maddening. And when I travel, type 1 diabetes travels with me. (It refuses to be left at home.)
People without diabetes probably have a carry-on that's crammed with a spare outfit, or maybe their 3 oz toiletries. Me? My little roller suitcase is chock full of spare insulin pump infusion sets, glucose meter test strips, insulin pens in case of pump failure, glucose tabs, my continuous glucose monitor, and sometimes a book … if there's room for the book mashed in with all that diabetes stuff.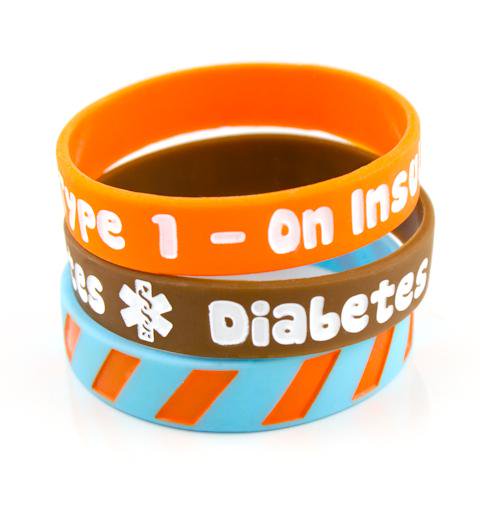 But one other thing that I ALWAYS bring when I travel is my medical alert bracelet. As a person with type 1 diabetes, low blood sugars are always a looming threat, and they can sneak up on me without warning. If my blood sugar were to tumble into hypoglycemia range, what would happen if I were to pass out? People would see a woman who was passed out, and would have no idea that diabetes could be in play. Paramedics (and people, in general) are trained to be on the lookout for medical alert jewelry, more so than they are trained to be aware of insulin pumps and glucose meters. Although I've never lost consciousness due to a low blood sugar, I have had moments when I've been unable to effectively communicate, and the power of simply pointing to my wrist has, perhaps, saved my life.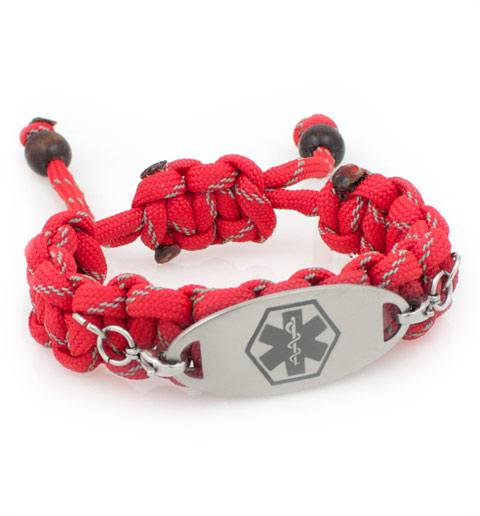 My medical alert bracelet is a big part of what makes me feel safer when I'm traveling, because it speaks for me in those scary moments when I'm not able to speak for myself. Thankfully, it's a small, discreet thing I can do that makes a huge difference in keeping me safe. Now if only I could make room for that book in my carry-on …
Remember to note your FREE STUFF FRIDAY product of choice in your entry comment below, along with a travel or safety tip! Here's a recap of what we're giving away with Kerri Sparling of Six Until Me today!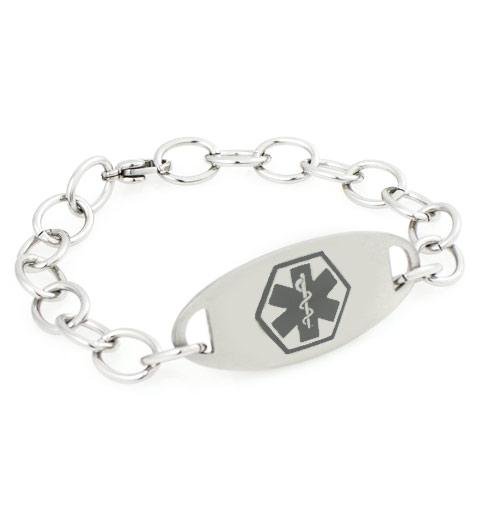 1. The Coronado: One of today's Free Stuff Friday winners will receive the effortlessly easy to wear, classy, durable Coronado medical ID bracelet. This sleek and waterproof medical ID bracelet features our oval stainless steel ID tag with a charcoal medical caduceus symbol measuring 1.5" long and .5" wide along with our "Cross Trainer" stainless steel chain. The back of the medical ID tag can accommodate up to 5 lines of your important medical information with 20 characters per line. Please note that The Coronado is not an interchangeable bracelet. The tag is stationary and does not come off for use with other strands.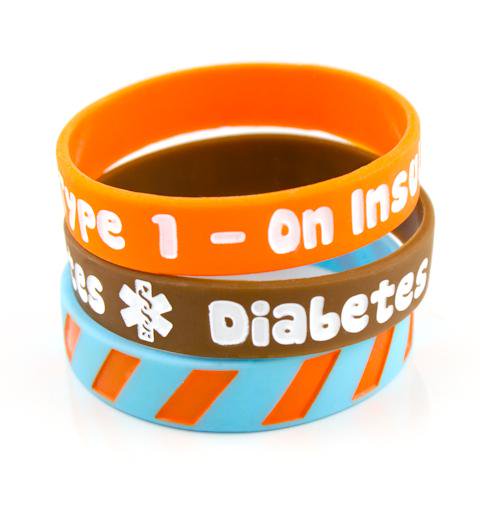 2. The Silicone Action Bands: Our silicone action bands come in a variety of styles and colors for people with Diabetes (On Insulin and Insulin Pump variations), food allergies, peanut allergies, and Epilepsy. Today's winner of the silicone action band set will receive his or her choice of one of these sets FREE!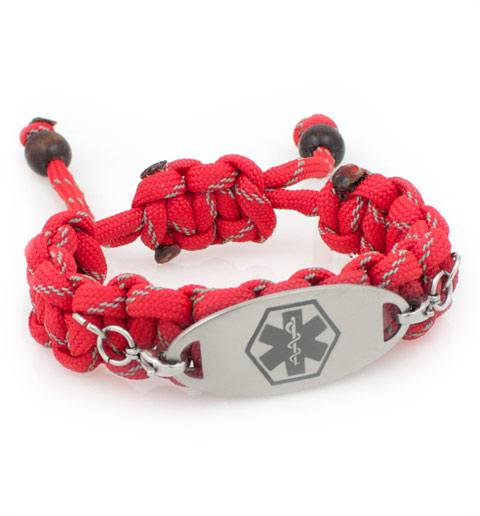 3. The Paracords: Paracord medical alert bracelets are the revolutionary new style in Medical IDs. This versatile and durable medical alert bracelet features an interchangeable oval ID Tag that can accommodate up to 5 lines of your important medical information. A slipknot closure allows for comfortable wear and adjustable sizing. Today's winner of the paracord will receive his or her choice of one of our 12 available paracord bracelets!
The winners will be announced here and on the Lauren's Hope Facebook page tomorrow, Saturday, June 1, 2013! Watch for updates! Good luck!
AND THE WINNERS OF THIS WEEK'S SPECIAL FREE STUFF FRIDAY WITH KERRI SPARLING ARE…
Lesley wins the silicones with this comment:
Great guest post Kerri! My best endo ever once threatened to drop me as a patient if I didn't start wearing a medical ID — haven't looked back since and I love all the styles that Lauren's Hope has!
My travel tip is GoPicnic boxed lunches. These little all-inclusive boxes have a complete meal made up of yummy and healthy foods that are easy on the carbs (the veggie ones I like are in the 34 – 45 g range total). They won't go bad and they are easy to pack in the carry-on in case you need some trustworthy food on your travels. We get them at Target but they are also available online at http://www.gopicnic.com (and I don't work for them or anything!) 
If we won, I would love the silicone band activity set for me or my daughter!
BB Adams wins the paracord with this comment:
I love the paracord bracelets. I had bariatric surgery 2 years ago and never thought it necessary to wear one until I read the suggestion on your website. Thank you for that!
My travel tip is this: When traveling with little ones, I always pack the same number of items … 5 binkies, 5 toys, 5 sippy cups ..etc. That way I know what I missing when packing up to go home. It sure has made my life easier over the years!
Lisa T wins the Coronado with this comment:
Hi! We love going places and like to camp a lot. We would love to win the Coronado bracelet for our 6-year-old fashionista in training. While we bring our meds with us and know how to get her help, if she is off with a group on an activity, one of these bracelets could save her life.
Travel tip: kids with special needs are still kids and they shouldn't be held back from doing things because of their special needs (with appropriate concessions as needed). So schedule something challenging for them to do so they know they can do anything other kids can!
Congratulations to our winners, and thank you to EVERYONE who entered with fantastic travel and safety tips!! Be sure to subscribe to the Lauren's Hope blog and follow us on Facebookso you'll get all our great blog articles AND be notified the next time we do… FREE STUFF FRIDAY! If you won, please email tara@laurenshope.com by noon Central time on Tuesday, June 4, 2013 to claim your prize! Enjoy!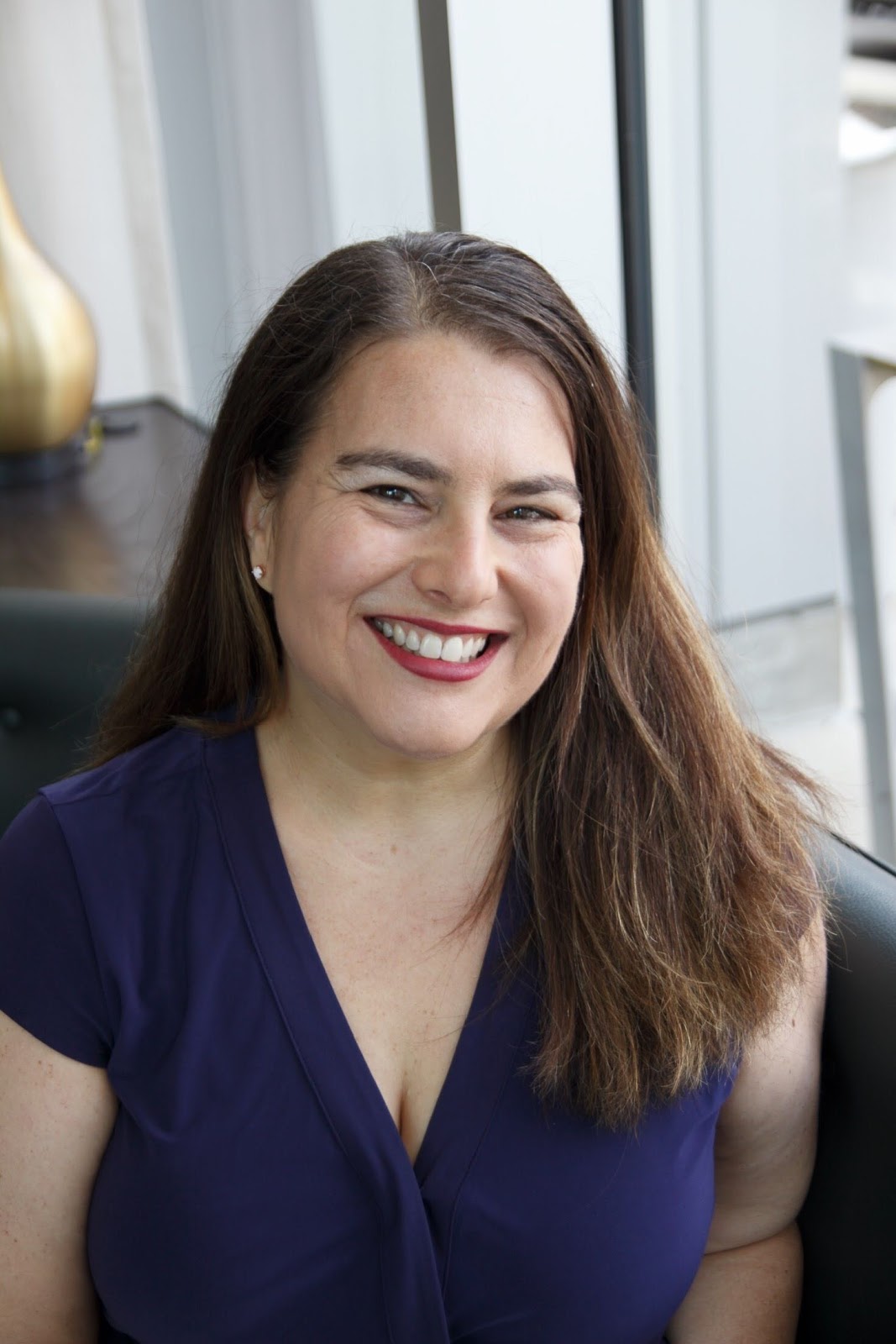 As Director of Sales, Marketing, and Business Development for Lauren's Hope, Tara Cohen is often the voice of Lauren's Hope. Whether she's writing the Lauren's Hope blog, crafting a marketing email, or describing a new product, Cohen brings a little personal touch to everything she creates.
Part of the LH team since 2012, Cohen has spent years learning about various medical conditions and what engravings are most helpful for each.
In addition to her years of experience at Lauren's Hope and all of the research she puts into writing for LH, Cohen draws on her own life experiences to bring a human touch to the LH blog.