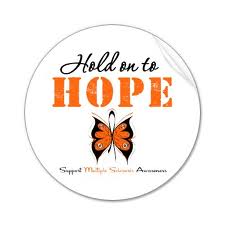 March is the Multiple Sclerosis Foundation's National MS Education & Awareness Month.  To help raise awareness for Multiple Sclerosis, we would like to feature two personal journeys with MS from Lauren's Hope customers.
Kevin Patrick was diagnosed with MS in 1992. He writes:
"It all started with what I thought was my socks sliding down and bunching up in my shoes on both feet.  I would take my shoes off and find that my socks were fine, so I didn't think much about it.  But this kept on for days.  Then I started having tingling and numbness sensations starting in my feet and moving up both legs.  My legs weren't actually numb but that's how they felt.  I went to the doctor and they ran blood tests.  Nothing was found.  They put me in the hospital overnight so that the neurologists would come and see me. They came in and did some tests, including a CAT scan but nothing ever showed up.  So the next day they released me.  The day after that the numbness feeling had progressed up to my waist.  So I called my doctor back and they told me to go back to the hospital immediately.  The neurologists came back and did a spinal tap (not the most fun I've ever had).  They were baffled.  They said that I either had a virus in the spinal cord or I had MS.  I was like, MS??  I really had no clue what that was.  They then did a series of MRI's and they showed me the areas in the brain where they suspected the MS was residing at the time. I took the MRI's and went to an MS researcher at Baylor Hospital in Houston.  I wasn't with him 10 minutes before he said, yes, indeed, I have MS."
After his diagnosis, Kevin and his doctors began to treat the disease.
"They started me out on a daily injection therapy.  At one point my fatigue had gotten so bad that they put me on an IV drip of basically heavy duty Prednisone.  That was done for 5 days, which was then followed up with oral Prednisone."
Presently, Kevin hasn't taken any meds for quite some time, as he explains,
"they really weren't doing much for me.  I have annual physicals and watch for any new signs.  I fight the mood swings and depression daily."
Kevin has a very positive outlook on living with MS.
"I am very fortunate because there are so, so many others that suffer so much from this disease.  I don't feel sorry for myself and never have."
Sara Westhead's father, Gerry Collins, was diagnosed with MS in the fall of 2007. According to Sara,
"he suddenly started having unusual symptoms, and after a series of tests, it was diagnosed as MS. He had had a history of varying medical problems, and, looking back, the doctors believed they were all pointing to MS. A few months later, that diagnosis was changed to Primary Progressive MS."
Sara and her family live in Bermuda, and her father now spends half his time there and the other half in the United States where he has more access to treatment.  Her father is very involved in the Bermuda Multiple Sclerosis Society.
Thank you to both Kevin and Sara for sharing your personal journeys with all of us.  Both of your stories underscore the importance for more education and increased awareness of multiple sclerosis.
Here are some great MS resources: