Lymphedema Alert Bracelets and Medical IDs for Breast Cancer
Last Updated: June 30, 2020
If you have, or are at risk for lymphedema, it is extremely important that you take daily precautions to help reduce your risk of developing or worsening this condition. One simple step you can take is wearing a lymphedema alert bracelet every day.
Lymphedema is a chronic condition that causes severe swelling, which can lead to a variety of other health challenges. According to the Mayo Clinic, "Lymphedema occurs when your lymph vessels are unable to adequately drain lymph fluid, usually from an arm or leg. Lymphedema can be either primary or secondary. This means it can occur on its own (primary lymphedema), or it can be caused by another disease or condition (secondary lymphedema). Secondary lymphedema is far more common than primary lymphedema."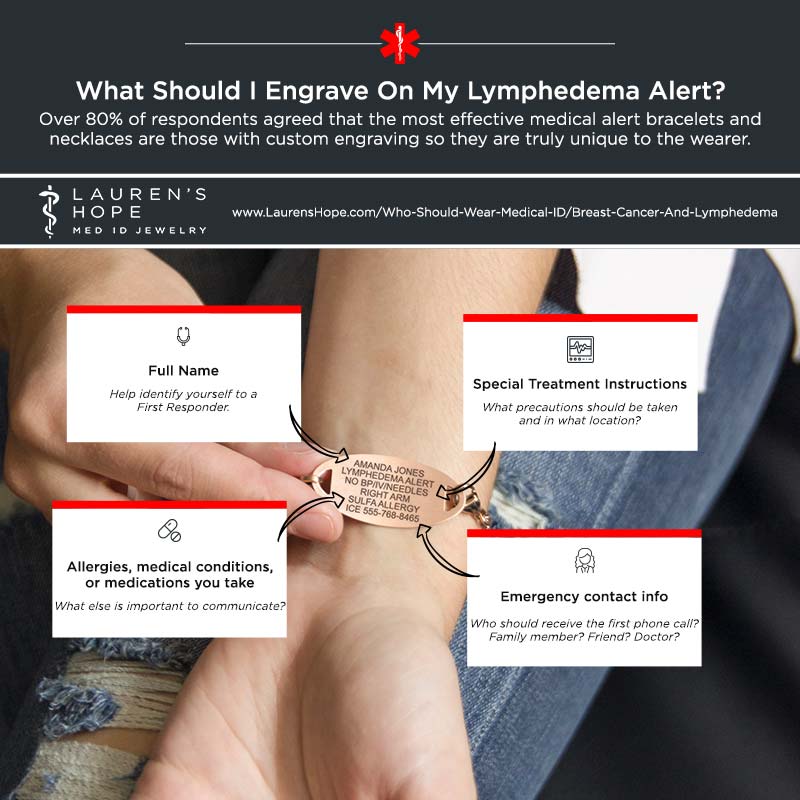 Why Wear Lymphedema Medical Alert Jewelry?
Protecting your impacted limb is one thing you can do to help reduce your risk of developing (or worsening) lymphedema. Again according to the Mayo Clinic, "Protect your arm or leg...If possible, avoid medical procedures, such as blood draws and vaccinations, in your affected limb."
This is where wearing a lymphedema medical alert bracelet (sometimes called a, "limb alert") comes in handy. In an emergency, a lymphedema bracelet helps medical personnel know that you are at risk of developing (or worsening) lymphedema. In this way, they can work to protect you by not performing tests on your impacted side if possible. Even outside of an emergency setting, a lymphedema risk bracelet may help you remember to avoid having routine blood draws or blood pressure taken on your impacted side.
Which medical alert jewelry should cancer patients and survivors wear?
The first thing to know about choosing your new ID is that the same bracelet one person chooses as a lymphoma bracelet is one another person may choose as a breast cancer medical ID bracelet. You are not limited to a small selection of jewelry because our products are custom engraved just for you.
BreastCancer.org shares some helpful information about jewelry and lymphedema risk, stating, "It's up to you to remind physicians and nurses about [your risk] at every appointment. You may wish to invest in a lymphedema medical alert bracelet you can wear on the affected arm." However, they also offer this advice: "Avoid wearing tight watches, bracelets, or rings on your affected hand or arm."
This is why we recommend that cancer survivors and others who are at risk of, or managing, lymphedema choose comfortable bracelets that are easy to put on and take off. Here are a few options:
Cuffs
: We highly recommend cuffs to those looking for a medical alert bracelet for lymph node removal or others at risk of lymphedema. You can easily pull them wider and gently squeeze them to your desired fit, making them excellent options for anyone experiencing swelling of the arm, wrist, or hand.
Adjustable Magnetics
: These adjustable styles slide on easily over your hand. The magnetic closure allows you to adapt the fit so it's comfortable and secure every day.
Stretch
: We hand-craft our stretch bracelets on high quality elastic, which means you can easily slide them on and off over your hand without clasping. Because swelling can cause dexterity challenges, these are great options when you want the look of a stylish beaded bracelet without the need to manipulate a clasp.
I look for any bracelet or necklace that has a clearly identifiable medical caduceus symbol. I need to know information that can help me [...] best assess you (i.e. no BP on right side)."

-Zachary DiGiusto, NRAEMT
What To Put On A Cancer Medical Alert
Once you've chosen the right style, it's time to decide what to engrave on your med alert. Whether it is for a history of lymphoma, breast cancer, uterine cancer, or any other cancer impacting your lymphatic system, or for a diagnosis of lymphedema, the recommended engravings will be quite similar.
Here are five things people engrave on limb alerts:
FULL NAME
YOUR LYMPHEDEMA RISK/STATUS
TREATMENT RESTRICTIONS
OTHER CONDITIONS OR ALLERGIES
EMERGENCY CONTACT NUMBER(S)
Resources