Diabetes Medical Alert Bracelets & Necklaces
Last Updated: June 18, 2020
According to the Centers for Disease Control and Prevention (CDC), "...in an emergency situation, it is of prime importance to identify yourself as a person with diabetes and any related conditions, so you can obtain appropriate care," making medical alert bracelets truly essential. Likewise, the American Diabetes Association recommends that a person with diabetes should always, "...wear a medical ID bracelet or necklace that shows you have diabetes."
What is The Best Kind of Diabetes Medical Alert Jewelry?
During the 2020 Lauren's Hope First Responder Survey*, involving over 100 first responders such as EMTs and paramedics, we specifically asked about medical IDs for people with diabetes. Over 80% of respondents agreed that custom-engraved medical alert bracelets and necklaces are the most effective types of medical ID jewelry. Further, over 95% of respondents state that wearing medical ID jewelry can help improve patient outcome.
of surveyed First Responders surveyed state that wearing medical ID jewelry can improve patient outcome.
What do you put on a medical alert bracelet for diabetes?
Custom-engraved medical alert bracelets and necklaces allow you to communicate everything a first responder might need to know, simply by flipping over your medical alert tag.
Here are 8 things you should have engraved on your medical ID tag if you have diabetes.
Name
Date of birth
Diagnosis (specify diabetes type)
Whether you take insulin and how (EG: pump vs. injections)
Drug allergies
Other medical conditions
Other medications you take
Emergency contact information
Why Choose Custom-Engraved Diabetes Medical IDs?
With the need for so much information, diabetic bracelets are truly most effective when it is a personalized piece of jewelry with the medical alert symbol on the front and room for custom laser engraving on the back.
This is why cheap medical ID bracelets that come pre-engraved with the word, "diabetes," may look like appealing options but ultimately fall short. These overly simple medical IDs may get the word, "diabetes" on your wrist, letting EMTs know to immediately check your blood sugar levels, but they fail to communicate your identity, emergency contact information, diabetes type, whether you are on insulin and by what method, what other medications you may be taking, and whether you have any other medical conditions, treatment considerations, or drug allergies.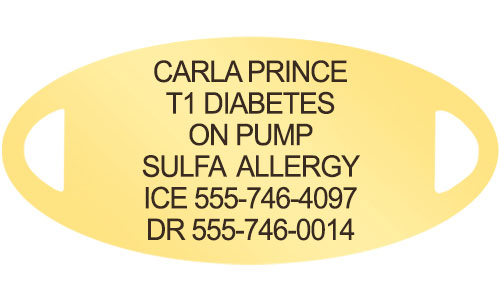 What About USB IDs For Diabetes?
USB medical IDs are simply ineffective in a diabetic emergency, or really any medical emergency for that matter. A full 100% of the respondents to the 2020 Lauren's Hope First Responder Survey* stated that they NEVER access patient information via USB medical IDs or patient flash drives because:
They do not have time in an emergency
They do not have a portable device on which they can safely access this information
They have agency-wide policies against connecting a patient's device with their own for HIPAA, data privacy, and data security reasons
"Medical ID's are a great way to let EMS know vital health information when you don't have family or friends around and you cannot speak for yourself. Medical ID's can speed up the diagnosis time allowing EMS to give life saving medications faster."- Austin B. EMT
Which Diabetes Medical Alert is Right For Me?
Because all of our medical ID jewelry is custom engravable, every Lauren's Hope medical alert necklace or bracelet can be personalized just for you. You can choose from a variety of styles such as beaded, sterling silver, stainless steel, and leather diabetes medical IDs. You can choose a necklace, bracelet, or both.
Here are a few other things to consider when choosing the best diabetes medical alert for your personal needs:
You will likely wear your medical alert 24/7, so it is important to have more than one medical ID in case you lose one.
Consider a stainless steel medical alert bracelet or necklace, as these are water- and workout-friendly, which is also helpful when wearing your medical ID full time.
Think about what you will truly want to wear every day. A medical ID is only useful if you wear it. Buy one you like, and have us engrave it just for you.
Resources