Medical Alert Bracelets For Gastric Sleeve and Weight Loss Surgery
Last Updated: July 1, 2020
Should gastric bypass patients wear medical alert bracelets?
Medical alert bracelets are beneficial for people whose diagnoses or medical histories can create emergency situations and for people who have conditions or treatment restrictions that EMTs and first responders need to know about in an emergency. If you've had gastric bypass or gastric sleeve surgery, you fall into both categories.
3 Reasons Gastric Bypass Patients Should Wear a Medical Alert
Blind NG Tubes:
Alert medical staff that you should not have a "blind" NG tube inserted. Weight loss surgeries alter your anatomy, which generally creates treatment restrictions in emergency situations. For instance, gastric bypass patients typically cannot have Blind NG Tubes placed but must instead be intubated using a lighted scope. This is why people engrave, "NO BLIND NG" on their gastric bypass and gastric sleeve medical alert jewelry.
Dumping Syndrome:
After gastric bypass surgery, excess sugar intake can create a risk of Dumping Syndrome. Because this can result in a medical emergency after your gastric bypass surgery, you'll want to have it noted on your medical alert bracelet in the event that you can't communicate clearly. Typically, people engrave: NO SUGARS
NSAIDS:
Your gastric bypass medical ID should identify issues with NSAIDs with a simple, "NO NSAIDS" engraving. After gastric bypass surgery, doctors may advise you to stay away from Non-Steroidal Anti-Inflammatory Drugs, which are common pain relievers, due to the irritation they can cause to the pouch over prolonged usage.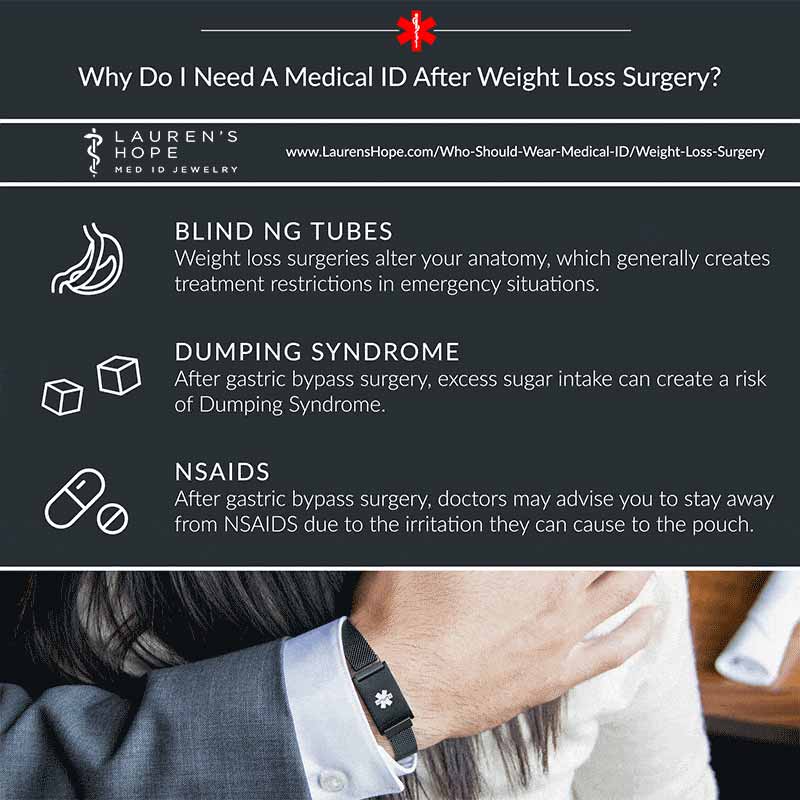 What kind of bariatric surgery medical alert should I wear?
What should I engrave on my medical alert if I've had gastric bypass surgery?
A gastric bypass or gastric sleeve medical ID bracelet is typically engraved with the following information. For example:
FULL NAME
TYPE OF SURGERY
MONTH AND YEAR OF SURGERY
TREATMENT RESTRICTIONS
ANY OTHER CONDITIONS OR ALLERGIES
EMERGENCY CONTACT NUMBER
Many people with gastric sleeves also carry medical ID wallet cards in addition to wearing custom-engraved gastric sleeve medical ID bracelets or necklaces. These cards are a great way to list secondary information and additional contact numbers.